Delicious new dishes on offer at The Cascade Room, El Camino's, The Union, and Charlie's Little Italian. 
The Cascade Company is mixing it up! A number of delicious dishes have recently debuted on the dinner menus at The Cascade Room, El Camino's and The Union. And, over at Charlie's Little Italian, a brand new brunch menu is on the table.
Gear up for summer and celebrate the longer days and warm weather with great food and chilled cocktails, combined with relaxed vibes and friendly service at the Cascade Company's eateries on (and just off) Main Street.
The Cascade Room
Executive Chef Tim Evans wanted to offer guests, "good, hearty, no-nonsense food, using in-season, local ingredients," and he has done just that. New dishes on the Cascade Room's dinner menu include an Heirloom Carrot and Hazelnut Tart with spring salad; pan-seared Haida Gwaii Halibut with chive and citrus arancini; and Red Deer Venison Chops served with coriander gnocchi. Check out the full menu, HERE.
El Camino's
El Camino's dinner menu is full of caliente new dishes, including: the Vegetarian Enchilada with cumin black beans; Queso Arepa – a white corn pocket loaded with smoked Monterey, feta and huancaina; Moqueca – a Brazilian seafood bowl with mussels, cod and prawns; Chorizo Chili Dog Bocadillo – a Mexican-style sub sandwich; and the Prawn and Arugula Salad – with smoked Chile prawns, arugula and pepitas. Check out the full menu, HERE.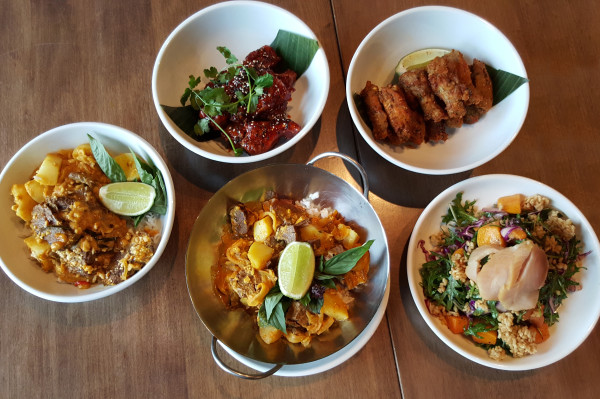 The Union
Featuring a number of new South East Asian-inspired dishes, The Union's dinner menu is designed to be shared. "I love seeing our guests enjoying different dishes with their friends and family, like our fun bar snacks, along with the new Massaman short rib curry and Cá Chiên, a whole fried Ocean Wise trout," says Chef Lisa Henderson, the creative culinary force behind the new menu. "It's the best way to experience more than one dish or cuisine at The Union." Other new and notable dishes include Ikan Salai – smoked Albacore tuna salad with baby kale and puffed brown rice and Tom King Gai – chicken and rice soup in a lemongrass, ginger, lime leaf coconut broth. Check out the full menu, HERE.
Charlie's Little Italian
Charlie's new weekend brunch menu features eight unique Eggs Benedict options – all served with a side of herbed potatoes, house-made ketchup and marinated watermelon. Favourites include the Vegan Benny with crispy tofu "eggs" and cashew saffron "hollandaise"; the Bolognese Benny with house-made Bolognese and crispy polenta; and a Smoked Salmon Benny with dill caper cream cheese and shallots. Check out the full menu, HERE.
About The Cascade Company
The Cascade Company is a well-established restaurant group known for its modern-designed eateries in Vancouver, including: The Cascade Room (a modern take on the classic UK pub); Charlie's Little Italian (rustic Italian fare dished up in a hip trattoria); El Camino's (a lively cantina showcasing Latin American-inspired tapas); and The Union (featuring the firecracker flavours of Southeast Asia). Welcoming and relaxing atmospheres, friendly and knowledgeable staff, inventive cocktails and craft beer selections, and consistent, value-priced menu items are all a part of the mix and magic that make these restaurants regular hot spots in the Mount Pleasant and (bordering) Chinatown neighbourhoods. thecascadecompany.com.