New Menus + Late Night Happy Hours 
The Cascade Company restaurants are happening spots. From new dinner and weekend brunch menus to late night happy hours from 10 pm onward, stop in at The Cascade Room, Charlie's Little Italian, The Union, and El Camino's to try what's new and enjoy a laid-back, fun and delicious time.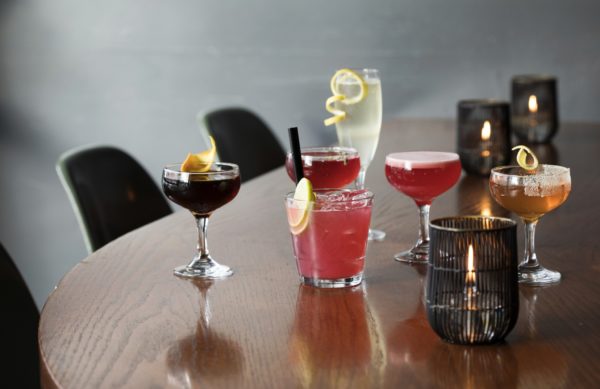 The Cascade Room
Staying true to Cascade Room's UK pub-inspired fare, Executive Chef Tim Evans has added a variety of hearty new dishes to the dinner menu. Entrée highlights include: Cider Braised Pork Short Rib, $24; Chicken Tikka Masala, $18; Pan-Seared Smoked Steelhead Trout, $22, and more.
Brunch selections sure to get the weekend off to a sunny start include: "The Classics," like the Full English Breakfast, $16, and Roasted Chicken Omelette, $14; a trio of "The Benny Hills" eggs benedict, $14 each; Belgian Waffles with a choice of two delectable toppings, $14; a variety of breakfast sandwiches, $11 each; and the classic Cascade Burger, $17. A kids' menu is also available for young diners, age 12 and under, with a Half English Breakfast, Lil' Bananas Belgian Waffle, and Baby Benny, $7 each.
Charlie's Little Italian
Charlie's Little Italian has added a variety of new, seasonally-inspired and oh-so-satisfying dishes to its dinner menu, including: Radicchio Salad with braised ham hock in an apple cider and gorgonzola dressing, $10; Crispy Fried Brussels Sprouts, $6; Carbonara with Two Rivers guanciale, $17; Chicken Cacciatore Pizza, $17; Vegan Lasagna with smoked moxarella cashew "cheese", $18; Braised Short Rib Risotto, $22, and more.
The Union
Get in on The Union's Late Night Happy Hour, every night from 10 pm until close, with specials on house red or white wine by the glass, starting at $5; draught beer, $5; highballs, $4; and a variety of Bangas (South East Asian-inspired cocktails served in jars), $8.
El Camino's
El Camino's is bringing the heat to its revamped dinner menu with an array of flavourful items, including: Causa, a Peruvian potato dish with tuna ceviche, $11; Barros Luco (grilled flat iron steak) Bocadillo, $14; Arugula Salad with crisp cauliflower, $10; three new Tacos – Gambas (lightly breaded prawn), Atun (ancho seared tuna), $8 each, and Vegetariano (cauliflower and black bean), $6.
In addition to tasty bites, guests can enjoy drink specials during the new Late Night Happy Hour, Monday to Saturday, from 10 pm to close, including: $4 Pacifico; $3 El Tigre shot; $6 Paloma cocktail; and house red or white wine by the glass starting at $5.
About The Cascade Company
The Cascade Company is a well-established restaurant group known for its modern-designed eateries in Vancouver, including: The Cascade Room (a modern take on the classic UK pub); Charlie's Little Italian (rustic Italian fare dished up in a hip trattoria); El Camino's (a lively cantina showcasing Latin American-inspired tapas); and The Union (featuring the firecracker flavours of Southeast Asia). Welcoming and relaxing atmospheres, friendly and knowledgeable staff, inventive cocktails and craft beer selections, and consistent, value-priced menu items are all a part of the mix and magic that make these restaurants regular hot spots in the Mount Pleasant and (bordering) Chinatown neighbourhoods. thecascadecompany.com