What's for dinner? According to statistics provided by the food delivery service JUST EAT, Japanese is the top cuisine choice among Vancouverites who are ordering in.
From UBC to Mount Pleasant, Gastown to Kensington-Cedar Cottage, in 8 out of 10 neighbourhoods studied, residents ordered Japanese food over all other types of popular cuisines.  As for what type of sushi ruled supreme, it was a mixed menu with everything from salmon nigiri and tuna tataki taking top spots.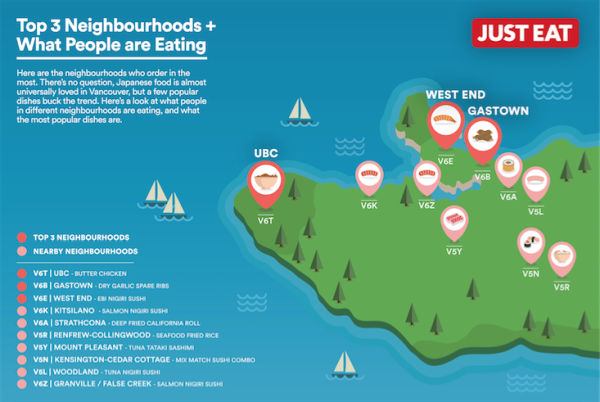 Last year JUST EAT delivered over 61,400 rolls or 9.2 kilometers worth of sushi in the city, enough to cover the distance from Metrotown to Science World, and enough miso soup to fill the average sized fuel truck, with buckets to spare.
Despite the popularity of Japanese food as a cuisine, when it comes to the most popular dish overall, Butter Chicken creamed the competition, coming in at almost 60 percent more orders than the number two choice, Pad Thai.
Vancouverites ordered 6,718 servings of Butter Chicken via JUST EAT in 2015, enough to fill one of the Expo Line train cars up to the top of the seat height.
"Butter chicken is such a rich, delicious dish, it definitely qualifies as comfort food," says Daniel Tallon, Marketing Director for JUST EAT.  "Plus, during the chilly and wet winter months, it likely hits the spot and is a good choice for those looking to stay in."
Further afield in other Lower Mainland municipalities, Japanese was tied with Chinese food in popularity, followed by pizza, Italian and Indian cuisine. Over one million data points were analyzed in the study.