Fanny Bay Brings Tide-to-Table Shellfish from Sea to City With Lunch, Dinner and Weekend Brunch Offerings as well as Daily Happy Hour Specials, Shellfish Market
The wave breaks on Downtown Vancouver's first true "tide‐to­‐table" dining experience today when renowned shellfish purveyor Fanny Bay Oystersopens the doors on Fanny Bay Oyster Bar at 762 Cambie St. in the heart of the city's Stadium District.
Featuring a 50-­seat dining room — which includes a dedicated oyster bar with seating for 16 — as well as a retail shellfish market where patrons can net fresh-­daily, take-­home catches like fresh, live or frozen oysters and clams, mussels, lobster and crab, Fanny Bay Oyster Bar offers daily lunch, dinner and happy hour specials as well as brunch service on weekends.
Part of the Taylor Shellfish Family of Farms that operates three eponymous oyster bars in Seattle, WA and a seafood shop at the Buckley Bay ferry landing on Vancouver Island, Fanny Bay Oysters is a fully integrated BC shellfish farmer and exporter and Ocean Wise-­certified partner that has been growing and harvesting oysters for more than three decades, and is the largest producer of shellfish in Canada.
"Our 'tide-­to-­table' concept is what makes Fanny Bay Oyster Bar unique," says industry veteran and General Manager Issac Martin del Campo, formerly a familiar face at both Rodney's Oyster House and Joe Fortes. "We're excited to offer a number of rare varieties of oysters delivered fresh from our farms each day, either to enjoy at the restaurant or to take home with you."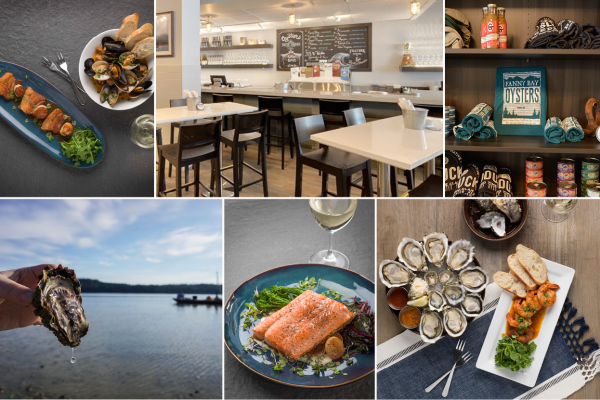 Fanny Bay Oyster Bar's ever-­changing selection of oyster offerings include BC-­farmed varieties such as the namesake Fanny Bay — available each day in the restaurant as a 12-­for-­$12 special — and Royal Miyagi (Fanny Bay) as well as imported delicacies from Washington State like Olympia and Totten Virginica (Totten Inlet). Head Chef Chris Andraza, also formerly of Rodney's Oyster House, has created a number of signature in‐house sauces to accompany each varietal, including Watermelon Chili, Apple Cider Mignonette, Mango Habanero and a special Chef's Signature Cocktail Sauce.
Beyond the bivalves, Andraza's menu also features an array of flavourful fare from both land and sea, including New England Clam Chowder ($9), Ceviche ($13), Scallops and Pork Belly($17), Jumbo Chipotle Prawns ($18), Grilled Ling Cod ($23), Bouillabaisse ($25), Oyster Mushroom Pasta ($18) and fresh Crab and Lobster chosen straight from the restaurant's live tanks (MP). Meanwhile, Fanny Bay Oyster Bar's seafood‐inspired weekend brunch menu includes Classic Crab Cake or Smoked Salmon Eggs Benedict ($13-­$15), a Hangtown Fry of smoked oysters, bacon, sautéed peppers, spinach and onions ($14) and a Kentucky Fried Oyster and Waffle with chili butter and maple syrup ($14), among other dishes.
The bar at Fanny Bay Oyster Bar features a wide selection of red, white and sparkling wine sourced from both BC and around the globe as well as local micro brews by the pint — including the custom-­made, small-­batch Fanny Bay Oyster Stout, brewed by BRB Co. — along with unique cocktail creations and daily happy hour specials.
Starting June 23, Fanny Bay Oyster Bar will be open Monday to Friday from 11 a.m. to close and on weekends from 10:30 a.m. to close with daily happy hour specials from 3 p.m. to 6 p.m., while the shellfish market will be open from 10 a.m. to 6 p.m. daily. Although Fanny Bay Oyster Bar is primarily walk‐in only, reservations will be accepted for groups of six or more.
---
ABOUT FANNY BAY OYSTER BAR | Just opened at 762 Cambie Street in Downtown Vancouver's Stadium District, Fanny Bay Oyster Bar brings a bounty of fresh, tide-to-table fare to the heart of the city, offering seating for 50 (including 16 at its oyster bar) and a full bar, as well as a shellfish market where patrons can purchase top-quality, take-home catches such as live, shucked, fresh and frozen oysters and clams, scallops, shrimp and prawns. Part of the Taylor Shellfish Family of Farms, Fanny Bay Oyster Bar offers lunch, dinner and weekend brunch as well as daily happy hour specials. www.fannybayoysters.com
762 Cambie Street, Vancouver, B.C. V6B 2R5 |  Restaurant: (778) 379-9510;
Retail: (778) 379-9511 | Monday – Friday 11 a.m. to close; weekends 10:30 a.m. to close
Twitter: @fannybayoysters | Instagram: @fannybayoysters | Facebook: /fannybayoysters