On September 24, the Duke and Duchess of Cambridge arrive in Canada for a royal tour across British Columbia and the Yukon – and TWG Tea, the finest luxury tea brand in the world, invites you to celebrate with the Palace Breakfast Tea Set, a majestic selection of morning teas to stimulate the mind and rouse the spirit in truly royal fashion.
Empower yourself with the Breakfast King Tea (100g), a vigorous blend of broken and whole leaf black teas that emboldens the palate with an invigorating intensity. Balanced by rare ginseng root and hints of sweetness, this regal blend imparts calm and strength for the day ahead, and is presented in a stately crimson tin and box.
For a gentle start to bright and dewy mornings, the Breakfast Queen Tea (100g), packaged in a soothing turquoise tin and box, bestows a vivacious blend of green teas to awaken the senses, delicately balanced by notes of sweet lemon and a hint of noble rose – a tea to soften awakenings and welcome the dawn.
Presented together in a royal blue box and sleeve stamped with gold, the Palace Breakfast Tea Set is a gift fit for the king or queen of your heart!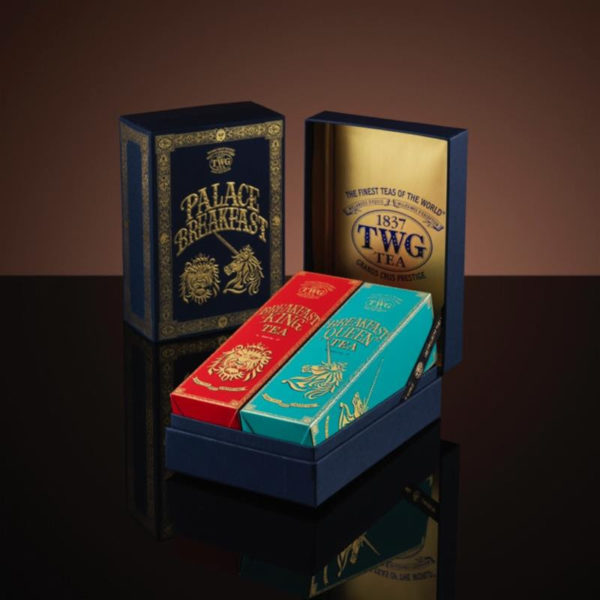 The Palace Breakfast Tea Set ($112 CND) is available for purchase in Canada through The Urban Tea Merchant online at Urbantea.com.
About The Urban Tea Merchant
The Urban Tea Merchant is a luxury retail company offering fine tea and tea ware, founded in 2004 by Karinna & Tom James. Since then, The Urban Tea Merchant has become Vancouver's premier location for a luxury tea experience. Exclusive to TWG Tea, the world's finest luxury tea brand, The Urban Tea Merchant carries the largest premium tea selections in Vancouver.
The Urban Tea Merchant is proud of their exclusive distribution partnership in Canada with TWG Tea, the finest luxury tea brand in the world. Tea enthusiasts can now discover the finest array of TWG Tea blends at any of The Urban Tea Merchant locations and partnership venues.
Their flagship Tea Salon and Boutique, located midtown Vancouver on Alberni Street, "Vancouver's Mini Rodeo Drive" where customers can experience the selection of the more than 300 TWG Tea blends. TWG Tea is also available for purchase and shipped anywhere in North America through The Urban Tea Merchant website, www.urbantea.com.
About TWG Tea
TWG Tea, the finest luxury tea brand in the world, was established in Singapore and celebrates the year 1837 when the island became a trading post for teas, spices and fine epicurean products. TWG Tea, which stands for The Wellbeing Group, was founded in 2008 as a luxury concept that incorporates unique and original retail outlets, exquisite tea rooms and an international distribution network to professionals. Committed to offering teas directly from source gardens, TWG Tea's collection is the largest in the world, with fine harvests from every tea producing country and exclusive hand crafted tea blends. Internationally recognised as a true innovator with the creation of new varieties of tea every season in collaboration with the world's most renowned estates, TWG Tea also offers exquisite signature modern tea accessories and delicate tea-infused sweets and savouries.
After launching its first Singapore tea salon & boutique at Republic Plaza in 2008, TWG Tea has opened in iconic destinations such as ION Orchard, Marina Bay Sands and Takashimaya Singapore. Expanding its presence internationally, TWG Tea has heralded the opening of exquisite Tea Salons & Boutiques in Bangkok, Dubai, Guangzhou, Hong Kong, Kuala Lumpur, Taipei, Tokyo, Manila, Jakarta and Shanghai.  In addition, TWG Tea's exclusive collection of the finest teas of the world is available from TWG Tea Boutiques in Harrods Knightsbridge, London and Dean & DeLuca Madison Ave, New York. The premier tea supplier to the finest hotels, restaurants and international airlines, TWG Tea is retailed around the world in gourmet épiceries, including El Corte Ingles in Portugal, Feinkost Kaefer in Germany, David Jones in Australia and GUM in Moscow, Russia, and salons de thé including The Urban Tea Merchant, Canada and served in all Nippon Airways Business Class, First Class and Suites and on-board Singapore Airlines.
TWG Teas are available in Singapore, Australia, Azerbaijan, Belgium, Cambodia, Canada, China, Czech Republic, Denmark, Estonia, Germany, Hong Kong, India, Indonesia, Japan, Kuwait, Macau, Malaysia, Maldives, Mauritius, Mexico, Morocco, New Caledonia, New Zealand, Pakistan, Philippines, Portugal, Qatar, Russia, Saudi Arabia, Seychelles, South Africa, South Korea, Spain, Taiwan, Thailand, Turkey, Ukraine, United Arab Emirates, United Kingdom, United States of America, and Vietnam. European online orders can be made at www.Harrods.com; online orders within the USA can be made at www.DeanDeluca.com; Canadian orders may be made online at www.UrbanTea.com; worldwide online orders can be made directly from the TWG Tea e-Boutique and m-Boutique at www.TWGTea.com.