Experienced wine country chef heads up award-winning winery restaurant in Okanagan Falls
Fall brings fresh new ingredients and a new face to the kitchen team at Liquidity Bistro. Executive Chef Simon Bouchard has an experienced approach to wine country cuisine, with a background that includes roles as catering chef at Mission Hill Winery, sous chef at The Bear Foot Bistro in Whistler and, most recently, chef at The Vineyard Kitchen at Black Hills Estate Winery.
"I'm excited to build on the success of the award-winning culinary program at Liquidity Bistro," says Chef Bouchard. "The surroundings are stunning and I'm looking forward to continuing to work with local farmers and producers and getting to know the terroir of the Okanagan Falls region."
Liquidity Bistro, named one of the 100 Best Restaurants in Canada by OpenTable diners for the past two years, focuses on fresh, clean and simple food that respects the ingredients that local farmers work so hard to produce. The food, service and wine are paired to deliver a wine country experience that is unique to Okanagan Falls.
Every season Liquidity Bistro's menu evolves to show off the region's amazing bounty and the best produce from local farmers. Select ingredients are also chosen from the winery's on-site garden in the vineyard. An extensive range of wines from all members of the Okanagan Falls Winery Association are featured; fully showcasing this distinctive microclimate at the south end of Skaha Lake.
Take a table inside the 48-seat dining room or eat outside on the 48-seat patio on a warm fall day, overlooking a spectacular vista of the vineyards, Nature Trust lands and Vaseux Lake below. Visit the tasting room (11am-6pm) before lunch or dinner to sample wines and make a selection to pair with dishes in the bistro, or shop for a favourite bottle to take home and enjoy.
Liquidity Bistro is currently open seven days a week from 11am through 9pm. Lunch is served 11am-4pm, with light bites 4-5pm and dinner between 5-9pm. From October 10 to December 11, both the Liquidity tasting room and bistro will be open Thursday through Sunday. The tasting room will be open from 12-5pm, and the bistro will serve lunch from 12-4pm, light bites from 4-5pm, and dinner from 5-8pm. Reservations are recommended, please call 778.515.5500 or book online.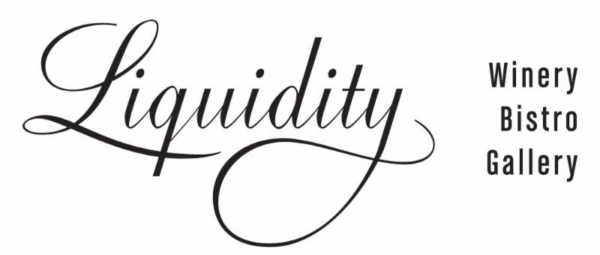 About Liquidity Bistro
Nestled atop a vineyard with a priceless view that could hang in one of the great galleries of the world, Liquidity Bistro reflects the winery's artistic approach to life with an eclectic selection of artwork adorning the walls and colourful vibrant dishes produced by Chef Simon Bouchard and his kitchen team. Honouring the seasons that dictate the life of the vineyard, food is freshly sourced from local farms and paired with fine wines from Liquidity and neighbouring Okanagan Falls' wineries. Come and taste true wine country cuisine at Liquidity Bistro. For more information visit Liquiditywines.com/bistro.