Experience a modern take on wine country cuisine at Okanagan Falls' most picturesque winery
Catch a stunning vineyard sunset at Liquidity Bistro with the launch of their new summer hours: savour farm-fresh food surrounded by incredible patio views and an eclectic selection of amazing artwork on the walls of the minimalist style bistro. Enjoy an extended opening seven days a week, from 11am to 9pm, and experience fresh new menus that showcase a modern take on classic wine country cuisine. 
Imaginative dishes, such as the colourful heirloom carrot salad with pickled and roasted local carrots, farm greens and blood orange marshmallow ($14), are a reflection of the Okanagan Falls' unique terroir. Every season the menu evolves to show off the region's amazing bounty and the best produce from local farmers, such as the fire roasted pork loin with quince glaze, rustic garlic mash and mustard pan sauce ($29). Select ingredients are also chosen from Executive Chef Rob Walker's own on-site garden in the vineyard. An extensive range of wines from all members of the Okanagan Falls Winery Association are featured; fully showcasing this unique microclimate at the south end of Skaha Lake.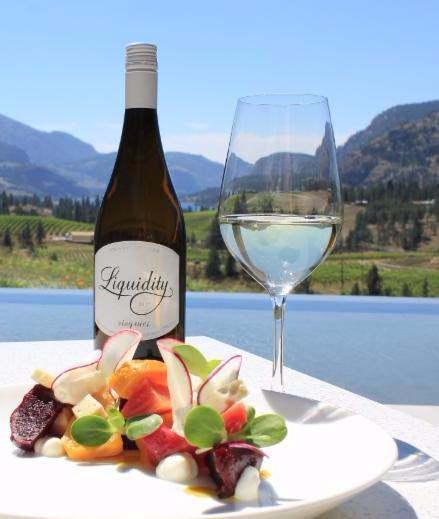 Displaying influences from around the Okanagan Valley and the Pacific Northwest, Executive Chef Rob Walker loves his local roots and has fostered relationships with Okanagan farmers and suppliers over the years. Chef completed his apprenticeship through the Culinary Arts program at
Okanagan University and trained with the International Sommelier Guild through UBC's wine program before returning to Kelowna to help pioneer the farm to table movement as Executive Chef at two of the area's leading resorts.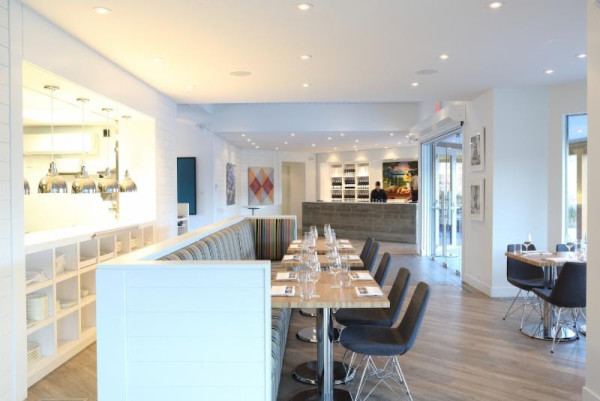 Liquidity Bistro, named one of the 100 Best Restaurants in Canada by OpenTable diners for the past two years, focuses on fresh, clean and simple food that respects the ingredients that local farmers work so hard to produce. The food, service and wine are paired to deliver a wine country experience that is unique to Okanagan Falls. Take a table inside the 48-seat dining room or eat outside on the 48-seat patio, overlooking a spectacular vista of the vineyards, Nature Trust lands and Vaseux Lake below. Visit the Tasting Room (11am-6pm) before lunch or dinner to sample wines and make a selection to pair with dishes in the bistro, or shop for a favourite bottle to take home and enjoy.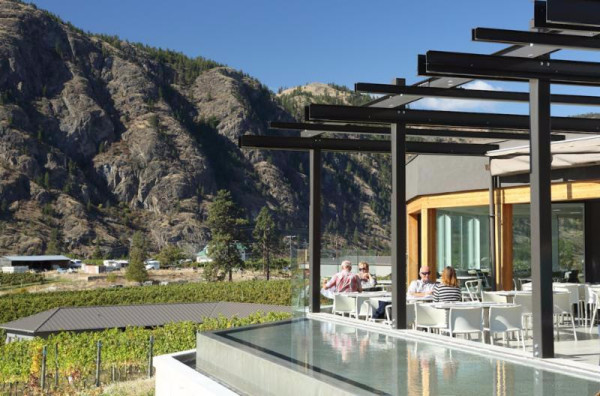 Visit on a Thursday to try Chef Walker's Throwback Thursday spin on comfort food classics with a special menu for $29.99. Liquidity Bistro is now open seven days a week from 11am through 9pm. Lunch is served 11am – 4pm, with light bites 4pm – 5pm and dinner between 5pm – 9pm. Reservations are recommended, please call 778-515-5500 or book online Liquiditywines.com/bistro.
About Liquidity Bistro
Nestled atop a vineyard with a priceless view that could hang in one of the great galleries of the world, Liquidity Bistro reflects the winery's artistic approach to life with an eclectic selection of artwork adorning the walls and colourful vibrant dishes produced by Chef Rob Walker and his kitchen team. Honouring the seasons that dictate the life of the vineyard, food is freshly sourced from local farms and paired with fine wines from Liquidity and neighbouring Okanagan Falls' wineries. Come and taste true wine country cuisine at Liquidity Bistro.
 For more information visit Liquiditywines.com/bistro.