Small-scale haunted houses join terrifying full-size counterparts to ensure the whole family gets entertained
Bundle up your little terrors this Halloween season and give them a thrilling experience at Potter's House of Horrors, now in its 14th year and complete with a Li'l Haunters attraction geared towards kids 12 and under. One of the top-rated haunted houses in the Lower Mainland and one of BC's largest Halloween haunted events includes: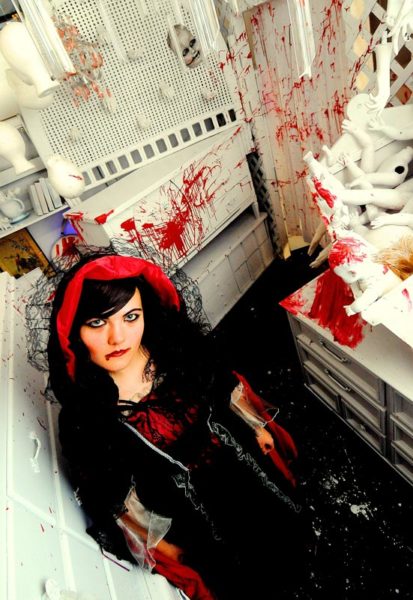 House #1 Monstrosity. Full of rotting zombies, evil things partially dead, vampires, ghouls, creepy gothic villages and more, Monstrosity is a brand new haunted house set to chill your inner soul and make you scream for mercy. With horrifying surprises around almost every corner, we think Monstrosity will make your teeth chatter and knees knock in the most cartoonish manner possible. Get ready for some ultra-scary fun.
House #2 The Swampin' Slaughterhouse is a creepy Southern haunted mansion in a Louisiana swamp setting, including haunted libraries, spooky cellars, and a chilly old swamp with who-knows-what lurking at the bottom. Roaming the halls, you'll find classic monsters and ghouls along with a few truly terrifying surprises.
NEW FOR 2016:
L'il Haunters, a kids-only attraction with two mini haunted houses that aren't too dark or scary and contain no animatronics or actors. House #1, Mystic Village, includes a slightly creepy ghost town that sets the tone for fun to follow with the magic and mystery of House #2, Spooky Castle. Children 3 and under and parents/ guardians are always free.
Braver kids may want to check out Family Hour at Potters House of Horrors, recommended for children ages 10 and up.
Partial proceeds will go towards Critter Care Wildlife Society.
ADDITIONAL FEATURES:
Coffin Ride – Experience what it's like to be buried in a coffin.
Haunted Photo Booth – Three freakish photos sent directly to your phone or email.
Xtreme Paintball Massacre – Shoot 50 rounds at haunted props and spooky animatronics.
King Kong's Hoop-of-Hard-Knocks – Basketball shots on Kong's shaking hoop to win prizes.
WHEN:
Saturday, October 1 through Monday, October 31
(Closed Oct 3 – 6, and Oct 10)
4 to 10 pm nightly.
4 to 7 pm is Li'l Haunters, suitable for kids 12 & under.
4 to 6:30 pm is Family Hour at Potter's House of Horrors, a tamer version of the scariest haunt show in town, for younger guests or the faint of heart.
7 to 10 pm is the regular (ultra-scary) show.
WHERE:
Potter's Farm & Nursery
12530 – 72nd Avenue
Surrey, BC (one block west of Kwantlen University and a couple blocks east of Strawberry Hill cinemas)
pottershouseofhorrors.com
Note: Parking is free. Open rain or shine. The haunted house, box office line, and lines to enter the haunt are all indoors. Concession and snacks are available on-site.
ADMISSION RATES AND TICKETS:
Tickets are available for purchase in advance, online, or at the door.
Discounted tickets are available online for specific nights.
More details: http://pottershouseofhorrors.com/schedule.htm
ABOUT POTTERS HOUSE OF HORRORS:
Every fall, Potter's staff converts the grounds from an enjoyable, plant-filled garden centre into a maze of terror with all the latest animatronics, digital sounds, high-tech scares and trained actors to put on a fun and scary event that sends chills down the spines of all those who enter. Every year the main "scare crew" get together in early summer to plan themes and room ideas. Some of the fun themes and scary rooms from past years include Scary Tales, The Hell Pen Penitentiary, Zombie Town, Clown Central, The Sewer of The Damned, The Possessed Jungle and The Snakepit.
Who We Are – Potter's Farm & Nursery is a local garden centre supplying plants, pottery and garden gifts to Surrey, Delta, Langley and White Rock since 1990. Potters is the only garden centre in Canada that converts its entire premises from a nursery into a haunted house each year for Halloween. Planning for the annual event begins in March and construction starts in August. The event, now in its 14th year, welcomes approximately 20,000 Halloween enthusiasts each year.
Why We Do It – Besides loving the spooky Halloween season, the haunted event is a good way to increase business in a challenging season for garden centres and it keeps Potter's staff employed. (Besides this, it's really, really, really fun to scare people.)
How We Do It – Scouring the globe for the latest ghoulish props and animatronics, Potter's staff designs terrifying custom haunted houses every year to the delight of people of all ages. Whether it's attending trade shows geared towards the haunt industry, or buying props locally, the scare team is dedicated to providing the creepiest and most enjoyable scares we can possibly concoct.