British Columbia Enchant, the world's largest Christmas light maze will be coming to Vancouver for its inaugural event, starting November 25th, 2016.
The family friendly festival will include a 55,000 square foot maze of light sculptures, a 64 foot Christmas Tree, live performances, an outdoor fire pit, and a sprawling marketplace including food and drink vendors serving mulled wine, specialty coffees, and holiday beers. Enchant will run from November 25th and end on New Year's Eve with a firework finale.
Enchant's Christmas market will combine a variety of local vendors and artisans for holiday shopping, and guests will get a chance to browse speciality products from talented craftsmen/women, as well as enjoy delicious seasonal treats from 12 food trucks. There will also be a licensed eating area where of age guests can enjoy a sip of their favorite holiday drink, including mulled wine, craft beers, buttered rum, eggnog, and much more.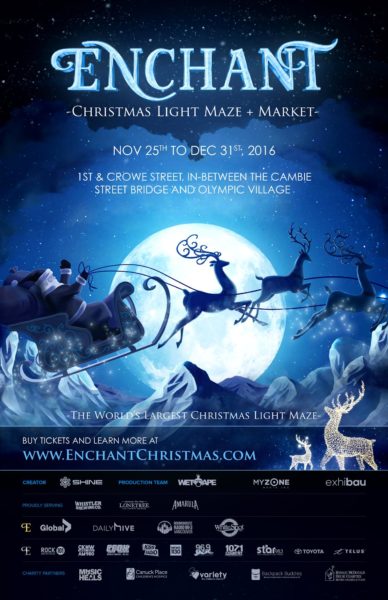 Enchant will also feature a VIP lounge for private parties and holiday gettogethers.
Guests can enjoy a private lounge with a beautiful atmosphere where they can relax, socialize and celebrate in style. The VIP Lounge includes an exclusive entrance into the light maze, a private bar, access to all of the food trucks, and customizable entertainment options.
Lastly, Enchant 2016 will debut a special new Christmas storybook written by local storyteller Leanne Johnston and illustrated by Sebastian S.C. The story follows the aftermath of a disastrous snowstorm that hits the North Pole the night before Christmas. Children around the world are asked to explore the enchanted light fields of the North and search for the missing reindeer in an attempt to help Santa and save the world's biggest holiday.
Guests will be able to bring home this beautifully illustrated storybook as a souvenir of this unforgettable event. It'll be available for purchase at the exit of the light maze or can be preordered with tickets.
Event Creator: Shine Lighting Group Inc:
Shine is a Vancouver based professional Christmas light company, and has been serving Canada and the US for the past seven years. Shine specializes in the design and implementation of tailor-made lighting experiences for public spaces. Their passion is to craft a visual experience that encourages interaction and creates a festive atmosphere for guests to enjoy. www.shinemorelight.com
Production Partner: WetApe:
Wet Ape was established in 2007 for the purpose of creating and developing unique sport, music, and cultural events across Western Canada. Wet Ape is the proud owner of Canada's hottest beach festival, Center of Gravity, which draws over 30,000 guests every summer; the Keloha Music and Arts Festival which drew over 15,000 guests each year for the last 3 years; and Harvest Haus which drew over 5,000 guests in its inaugural year.
 Production Partner: myZone:
myZone Media is an event marketing and ticketing company based in Vancouver, BC. Made up of a talented team of marketing, ticketing, and design experts, the myZone Team gets together with event promoters and organizers from all around the world to make their dreams and ideas a reality. This year, the company collaborated with Wet Ape and Music Heals to bring Vancouver its first ever immersive backyard BBQ, Unbuckled. Equipped with industry leading technology and over 40 creative minds from all around the globe, the entire team at myZone channels its energy towards one mutual goal: making unforgettable events come to life.