If you're looking to escape the shopping mall crowds and find gifts made by local companies and artisans, check out the West Coast Christmas Show & Marketplace on November 18 to 20, 2016 at the TRADEX Trade and Exhibition Centre in Abbotsford, BC. Over two hundred vendors, including over 140 select artisans will offer items for your friends and loved ones, items not found in the usual mall outlets.
In addition check out some of the special newsworthy features of this year's show:
NEW SHOW EVENT:
The BC Artisan Marketing Society's
SHARING TREE
In co-operation with
ARTISAN, SHARON HUBBARD 
To benefit the local charitable organizations participating in
the FESTIVAL OF TREES
For a minimum donation of $5 you may write a card and place it on the Sharing Tree and keep one of the artisan's handmade ornaments from the tree as a keepsake of your contribution.
Click her for more details on this new feature
On our Home For The Holidays Stage:
Chef Thompson Tran – Grammy Award Nominee, 2010
In 2002 Chef Thompson obtained a Bachelor of Music degree in classical guitar and spent several years performing around Western Canada. Four years later he took a two-year hiatus from cooking to pursue a musical dream that culminated in a Grammy Award nomination.
Click here for a full lineup of the presenters on the Home for the Holidays Stage
In Santa's Workshop
The youngest entrepreneurs in the West Coast Christmas Show, Calla & Noelle were only 7 and 9 years old when with the help of their mother, Kathi of the Li'l Ol' Craft Company started a letter writing to Santa service for all the little kids visiting the Christmas Show and wanting to get a wish list sent off to Santa Claus.
Now aged 10 and 12, Calla & Noel are back for the fourth year at the West Coast Christmas Show and headlining the activities taking place in Santa's Workshop of children's activities which include
Letters to Santa provided by Calla & Noelle of the Li'l Ol' Craft Company
Christmas Cookie Decorating, decorate your own Christmas cookie
Fraser Valley Scale Modelers Club – Model plane making
Sand-Art – create.pictures with coloured sand
Christmas Tree Ornament, decorate your own ornament and take home to hang on your tree
Click here to see all of the activities in Santa's Workshop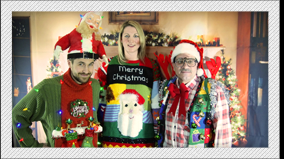 THE UGLY SWEATER CONTEST, SECOND ANNUAL
Don't have one? Or didn't bring with you?
Check out the selection at
Kea Embroidery & Designs & Greener Valley Trading 
Here's how it works:We take your picture and post it on FaceBook www.facebook.com/westcoastxmas
the sweater with most 'likes' by November 27th is the winner.
Great prizes to be won!
LOVE ETSY?
Then check out a full range of our Etsy Vendors product lines at the show:
BRAINYCAKES DOG BARKERY
CEDAR AND STAIN
ERON HAMILL ARTISAN JEWELRY
HANNAH STONE
JAR GIRL, THE
JULU DESIGNS
KOOTENAY SPOONS LTD
LILAC BLUE DESIGNS
MEDITERRA SOAPS
MY CHEEKY BABY INC
PERSONAL TOUCH GIFTS
PICK ME UPCYCLED
RED LEMON NATURAL LIVING
For The Male Hipsters In Your Life!!!
Bad Ass Beard Balm Grooming Kits – for shaving and beards
Wayward Distillation House – Unruly Vodka
Mapacity – digital maps
Wolf – exotic socks for men
The Sounds of the Holidays Stage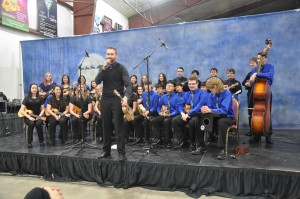 Click here for more information on the performers below:
List of Performers
Abbotsford Traditional Secondary School
Bakerview Music Academy
Cascadia Wind Ensemble
Central Fraser Valley Fiddlers
Chicks With Sticks
Chilliwack Community Band
Chilliwack Harmony Chorus
Collage Singers
Dynamic Music Instruction
Inspire Arts Academy
Joy Vox Community Choir
Langley A & B ukulele Ensembles
Les Echos Du Pacifique
MEI Bel Canto Singers & Junior Chorale
MEI Chamber Singers
Opus One Women's Choir
Sm:)E band
Soundscape Chorus
Trinity Western University Concert Choir
West Coast Christmas Show Essentials:
Tickets are $6 for adults, $5 for seniors, and a $1 discount applies if bought online. 
FREE admission for youth & children 16 and under. 
FREE PARKING + 
FREE parking lot trolley shuttle service by the Vancouver Trolley Company
For more information, visit westcoastchristmasshow.com.
Hours:
Friday, Nov 18, 2 pm -9pm
Saturday, Nov 19, 10am – 6pm
Sunday, Nov 20, 10am – 5pm
TRADEX Address: 1190 Cornell Street, Abbotsford, BC, V2T 6H5