We all have bucket list items.  Some are big, like a trip to Tuscany in Italy, while others are more achievable such as going skiing in Whistler, or eating sashimi for the very first time.  One of my bucket list items for a long time has been to have High Tea at the Empress Hotel in Victoria.  But as usual, getting busy with life keeps these dreams at bay.  Until now.  Thanks to meeting Robin Esrock, who has experienced many bucket list items from around the world, and written about them, along with Ford Canada, I was able to scratch off this bucket list item from my personal list.  Robin has written many bucket list books, such as one about Canada.  You can find out about Robin's Canadian bucket list book here.  Ford Canada provided me with a Ford Escape Titanium and some funds to partially pay for my trip to Victoria and Royal High Tea at The Empress Hotel.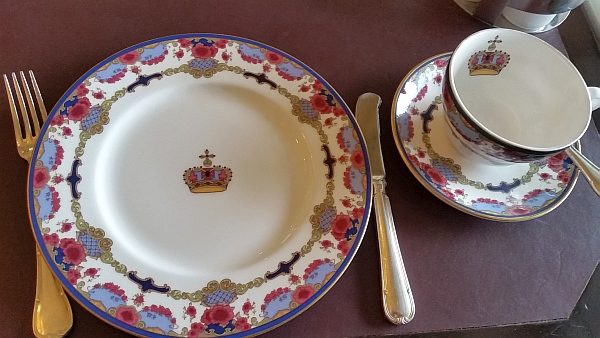 Having High Tea at The Empress is impressive, but this time it is even more special as the menu was tweaked for the visit by Prince William and Duchess Kate just a few months ago.  This modified "Royal" High Tea menu is available till the end of November, so you do have a chance to go to Victoria and try it as well, before it reverts back to the regular High Tea menu.  I arrived at The Empress, and even though it was cold and drizzly outside, the thought of Royal High Tea had me in high spirits.
The menu contains both sweet and savoury dishes, along with a selection of teas. Our menu items, are all favourites of one or more Royal Family members.  The menu from the Empress:
ROYAL AFTERNOON TEA PRESENTED BY FORMER EXECUTIVE CHEF TO THE ROYALS CHEF DARREN MCGRADY SMOKED SALMON WITH SUEDOISE SAUCE One of the most popular sandwiches served at Balmoral Castle. Members of the royal family often caught so much fresh salmon, it would be cured and used for canapes and tea sandwiches.
ENGLISH CHEDDAR AND TOMATO Cheese and tomato finger sandwiches can often be on the garden party menu at Buckingham Palace.
CORONATION CHICKEN MAYONNAISE Coronation chicken has been on the palace menu since 1952, at the Queen Elizabeth 11 coronation.
ROAST BEEF WITH GOLDEN BEETROOT AND HORSERADISH CREME FRAICHE Princess Diana loved healthy beets and with them, the combination of the beef and horseradish.
JAM PENNIES A favourite sandwich of Queen Elizabeth 11 and her sister Princess Margaret when they were growing up in the royal nursery. Still on the royal tea menu today, it is the only sandwich that is served round – cut into a circle the size of the old English penny.
WARM SCONES WITH CLOTTED CREAM AND FRAISE DES BOIS COMPOTE Scones are the only teacake that appeared on the royal menu every day. Alternating between plain one day and with raisins the next; we made the frais de bois compote with berries picked from the Balmoral Castle gardens. It lasted the rest of the year for the other royal residences.
CHOCOLATE BISCUIT CAKE Her Majesty would have one large cake that she could cut into herself every day.  Sometimes a fruitcake, other times a ginger cake, or a lemon sponge cake.  The chocolate biscuit cake was her favourite, and the only "cut cake" that she requested the following day and the next until it had all gone. It is also Prince William's favourite cake. So much so that he chose the recipe as his grooms cake when he married.
VANILLA BEAN SHORTBREAD A favourite of Lady Sarah Armstrong Jones, Princess Margaret's daughter. She would take a dozen cookies back to college with her when she visited The Queen.
RASPBERRY TARTLETS WITH LEMON CHEESE A popular tea pastry usually served in Scotland. Especially when The Queen and Princess Margaret had been raspberry picking.
CARAMEL BANANA CAKE A popular recipe made at Kensington Palace for Princes' William and Harry as young children. They loved any recipe with bananas and this became one of their favourites.
EARL GREY FRUITCAKE A favourite of Prince Philip, he enjoyed this cake with soft salted butter.
BATTENBERG CAKE Sarah Ferguson, The Duchess of York loved this cake and would request it every time she came to Buckingham Palace.
To start this experience, our server offered us a choice of teas; some which are covered in the price for the High Tea, while others, cost a few additional dollars.  As I was at the Empress, I chose the Empress blend, which is described as "EMPRESS BLEND Malty and full bodied with hints of floral flavor and a touch of oakiness."  The tea was fuller bodied, with medium drying tannins and did have a light floral character, which did match up nicely with a few of the dishes.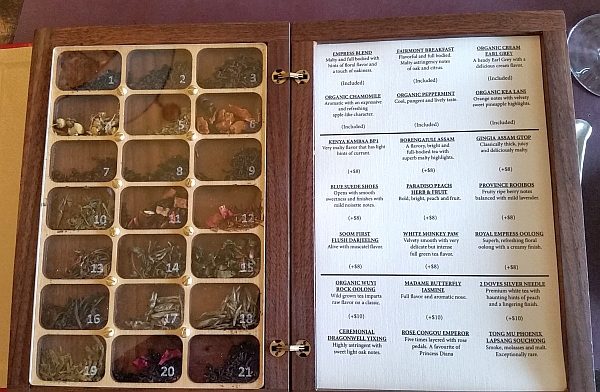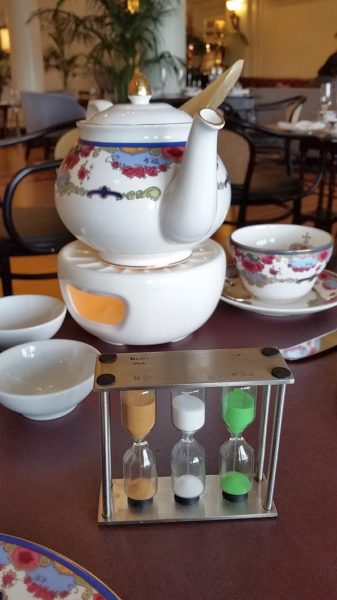 The server brought over a tri-level tray with the top level containing dessert, the 2nd, middle layer raisin scones together with clotted cream and jam, and the bottom level, our savoury finger sandwiches.  We were told to start with the middle layer.  The scone was very light and buttery soft in texture.  Split in half, I spread the clotted cream on one half and the strawberry compote on the other half.  The compote was not overly sweet and went nicely with the light, buttery texture of the scone.  An elegant way to start this Royal High Tea.
Moving on to the savoury dishes, I decided to taste them in the order of Cheddar and Tomato sandwich first, followed by Smoked Salmon, then the Roast Beef with golden beets and horseradish, the Chicken Mayonnaise, and finally the Jam Penny.  All dishes were terrific, although you can tell the jam penny is a dish that children would prefer, as it was quite sweet and fruity.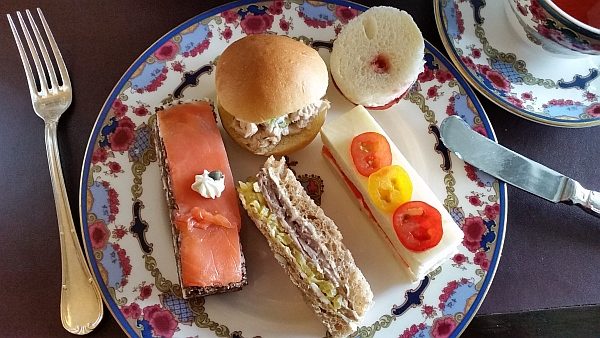 I delighted in the cheddar and tomato sandwich; the acidity from the small cherry tomatoes, combined with the creaminess and sharpness from the cheddar cheese was very harmonious.  A step up, more full-bodied was the smoked salmon on rye bread.  The rye bread was not heavy and dense; rather it was quite light and paired well with the smoked salmon.  The smoked salmon also has a hint of dill, which of course is a classic pairing.  The roast beef sandwich had a surprise in it; finely chopped, cooked golden beets.  The beets had a slightly golden greenish hue, which initially made me think it could have been a pickle or pepper, but upon sampling a corner of the sandwich, it was not either.  Asking our helpful waiter, he pointed out that it was golden beets.  Once I knew this, and took another bite, the beet flavour did become apparent.  I really enjoyed the texture of the beets with the beef.  Another component to this sandwich was the horseradish, which came across as a hint, rather than a hammer, which I prefer.  I would enjoy having this sandwich again.  Our final bite, the Coronation Chicken Mayonnaise sandwich, came on a small round bun.  This was a delightful sandwich, as the mayonnaise was mixed with onion and pimento, and was very flavourful.  My cup of Empress blend tea was a nice complement to this sandwich.  Another sandwich I would love to have again.  The one, non-savoury, sandwich on this try was the jam penny; a sandwich made with a round of white bread, spread with sweet strawberry jam. It was a bit too sweet for me, but I can see how it could be a favourite for a younger child.
Finally time for the dessert level tray.  I started with the smallest dessert, the Caramel Banana Cake, which looks much like thimble-sized muffin, topped with a creamy topping and crunchy sugar pearls.  The Raspberry Tartlet with Lemon Cheese was my overall favourite pastry.  Fresh raspberries, tart and aromatic, paired with the citrus and creamy combination from the lemon cheese, was pure enjoyment.  Lovely with tea as well.  Next was the Chocolate Biscuit Cake, a firm cake, not like a sponge cake, more like a fruit cake or a cookie.  Mixed with the chocolate biscuit was a lemon biscuit.  Deep and dark chocolate flavour, wrapped in chocolate.  The last biscuit was the Vanilla Bean Shortbread; a cookie I look forward to every Christmas.  The biscuit was soft and buttery.  Everything I enjoy in a shortbread cookie.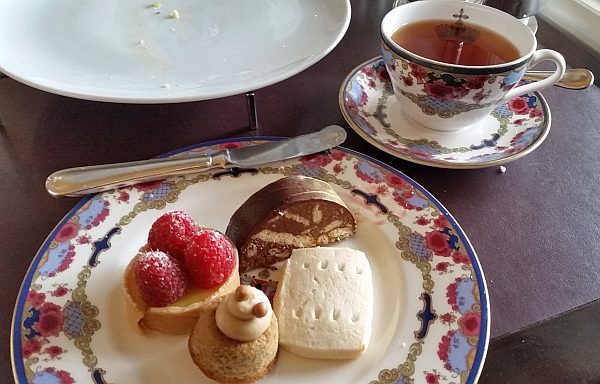 An Earl Grey Fruitcake and Battenberg Cake choice was offered after these main desserts.  I was able to get a slice of each.  The Earl Grey Fruitcake was thinly sliced and mainly filled with raisins.  No candied cherries and overpowering sweetness that you get from many commercial fruitcakes.  Quite enjoyable.  I had never heard of a Battenberg Cake.  According to Wikipedia, "The cake was purportedly named in honour of the marriage of Princess Victoria, a granddaughter of Queen Victoria, to Prince Louis of Battenberg in 1884. The name refers to the town of Battenberg,"  It has a 2×2 grid alternating between pink and white squares.  It is wrapped with marzipan to keep the cake together.  The marzipan flavour does come through.
Full, but not busting at the seams, we left the Royal High Tea, sated, and walked the hallways of The Empress, checking out the gifts and bantering with the ladies selling poppies for Remembrance Day.
This was a delightful bucket list item to experience, and one quite close for anyone in Vancouver to undertake.  I would like to thank Robin Esrock and Ford Canada for offering me this opportunity to have Royal High Tea, and I invite you to experience your bucket list items, whether big or small.
Thanks to Ford Canada for the use of this great vehicle: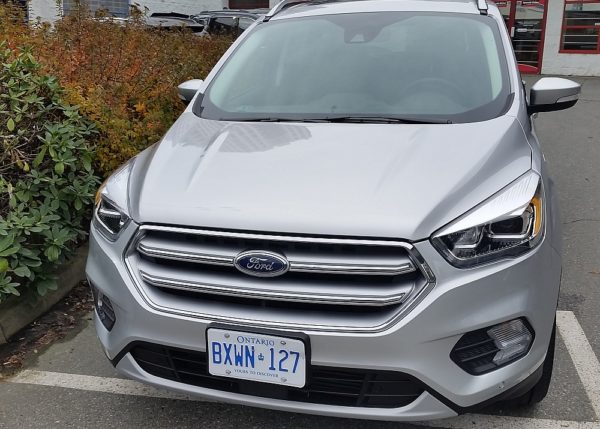 For more "road trips" with Ford Canada https://myvancity.ca/2016/07/26/family-road-trip-vancouver-island-cruising-ford-edge/