When you think of pies, many ideas and memories come to mind. It could be from the original nursery rhymes we learned about Little Jack Horner, the Pieman or even Sing a Song of Sixpence, proving the pie is an ancient food. It could be the traditional apple pie with cheese or ice cream, the perfect dessert, or the saying "easy as pie".
When Patrick and Lisa Beecroft think of pies, it is with love and pride, as if they and Gabi and Jules, their "pie" bakery, was another one of their children.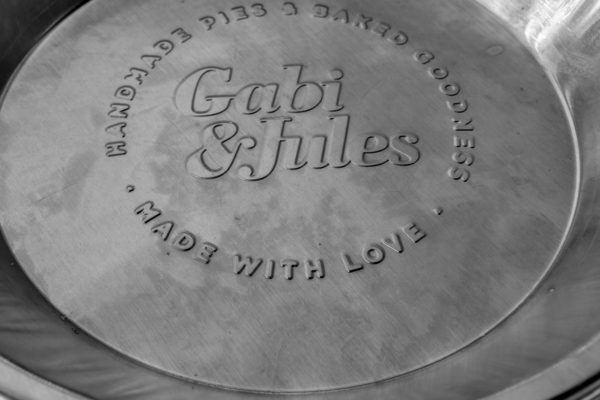 Gabi and Jules is named for their daughters and especially built with Jules in mind. Julianne is autistic and they have made the commitment to build a place their girls can come and feel safe, where Jules can help and develop and where part of the funds from sales go to the Autism Foundation and other local autism charities. Future employment opportunities would follow.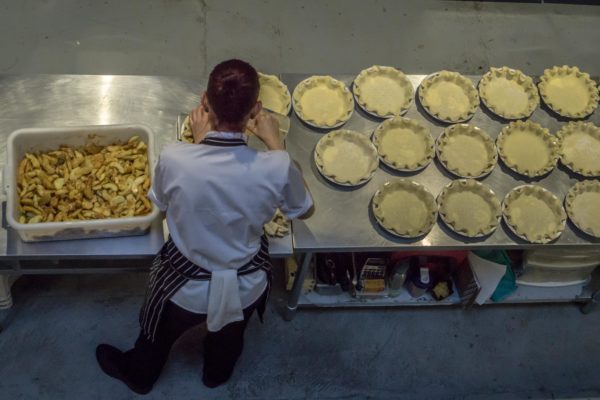 Food has been a source of joy to Patrick since he was a child and his mother complimented him on his cooking skills. He has built on that vote of confidence, first Cornerstone Catering, then Caffe Divano, three popular coffee cafes around the TriCities and Burnaby area.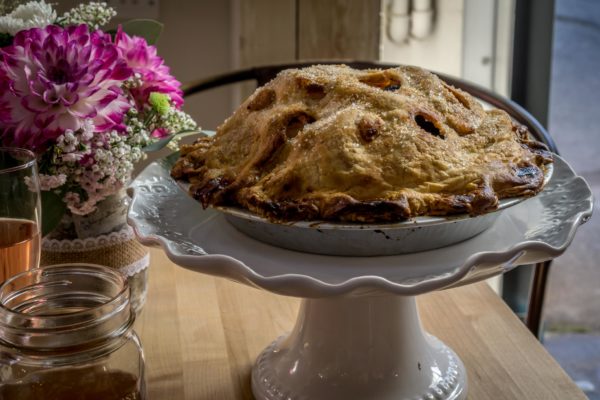 It seemed only natural that those relaxing with a great cup of coffee would want a delicious snack and a while ago, they started baking pies.  If you are seeking something healthy, homey, and satisfying, nothing beats a piece of pie full of nutritious fruit in a flaky pastry, and low on sugar.
The concept took off and soon people were asking to buy pies for home. A stand alone bakery, Gabi and Jules, became the next child, an opportunity to share and give back to the community.
They have created an amazingly attractive setting in an old two story warehouse where all of their children can grow. Decorated with antique windows, magic doors, some creating walls, the vision for the bakery included an upstairs area where people, including kids, can come and create their own crostata or galette and have a social gathering. You can look over the railing and see the pies come to fruition. An outside, grassy picnic area has been added to the tables inside the bakery.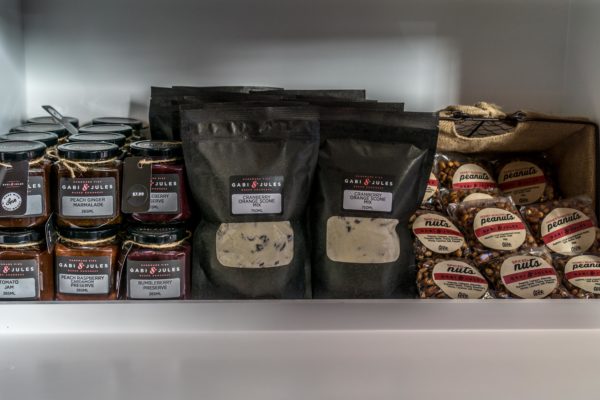 A perfect place for that cup of coffee and a piece of pie in its personalized pie pan!
The pies are baked with minimal sugar and are fresh daily.  In fact, most sell out before the day is over.  Traditional apple or more  exotic variations like blueberry nectarine, blackberry apple, or strawberry ginger peach, a signature pie were available the other day.
All ingredients have to be healthy and natural, and more products have been created. Fruit jams, marmalade, granola, scone mix, all made on the premises by the staff are for sale on artistically arranged shelves. Aprons, onesies, and shirts add to the collection. Beautiful wooden carry boxes are available as part of Lisa's vision and great business acumen.
Gabi and Jules love visiting their parents place of business, the home where special coffee and pie is served but so are love, dreams and hope.  Hope for a sustainable future, providing employment for Jules and many others, all are part of that beautiful piece of pie.