The Cascade Room is welcoming six BC-based cideries for a special "Cider Tap Takeover", October 15-22. The following BC-produced ciders will be on-tap and available for guests to enjoy by the glass every day during the week-long promotion (which coincides with BC CiderWeek 2016, hosted by the Northwest Cider Association):
•Wards Hard Cider (Kelowna): Ginger Apple, followed by Picker's Hut Winter Spice
•BC Tree Fruits Cider Co. (Kelowna): Broken Ladder Apples, followed by Broken Ladder Apples & Hops
•Howling Moon Craft Cider (Oliver): Rebellion
•Sea Cider Farm & Ciderhouse (Saanichton): Rumrunner
•Tod Creek Craft Cider (Victoria): Tod Cider
•Left Field Cider Co. (Logan Lake): Big Dry
"Autumn, with its harvest vibes, is the perfect time to raise a glass of cider," says Justin Taylor, Cascade Room's General Manager. "There are really talented BC producers crafting excellent ciders and we're thrilled to have a number joining us for this tasty tap takeover."
To complement the ciders, Executive Chef Tim Evans will be cooking up some cider-inspired food specials as well.
A select number of the cider companies will be onsite offering special tastings to guests on various days during the Tap Takeover, including Wards Hard Cider, which will launch its new Ginger Apple cider at Cascade Room on Wednesday, October 19th from 5 pm onwards.
The Cascade Room
2616 Main Street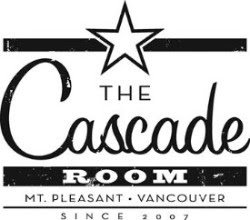 About The Cascade Company
The Cascade Company is a well-established restaurant group known for its modern-designed eateries in Vancouver, including: The Cascade Room (a modern take on the classic UK pub); Charlie's Little Italian (rustic Italian fare dished up in a hip trattoria); El Camino's (a lively cantina showcasing Latin American-inspired tapas); and The Union (featuring the firecracker flavours of Southeast Asia). Welcoming and relaxing atmospheres, friendly and knowledgeable staff, inventive cocktails and craft beer selections, and consistent, value-priced menu items are all a part of the mix and magic that make these restaurants regular hot spots in the Mount Pleasant and (bordering) Chinatown neighbourhoods. thecascadecompany.com