Last night I got to check out Cider Tap Takeover happening at The Cascade Room. I'm a big fan of ciders so I couldn't wait to try some new local brands. As a new Vancouverite from Toronto- we don't get a great selection of ciders so it's definitely one of the perks of living here so far (oh and the mountains and ocean to name a few others).
The Cascade room is featuring six BC-based ciders during Cider Tap Takeover, which is from October 15-22. This is running alongside BC Cider Week, which is hosted by the Northwest Cider Association.
The six ciders being featured throughout the week are:
Wards Hard Cider (Kelowna): Ginger Apple, followed by Picker's Hut Winter Spice
BC Tree Fruits Cider Co. (Kelowna): Broken Ladder Apples, followed by Broken Ladder Apples & Hops
Howling Moon Craft Cider (Oliver): Rebellion
Sea Cider Farm & Ciderhouse (Saanichton): Rumrunner
Tod Creek Craft Cider (Victoria): Tod Cider
Left Field Cider Co. (Logan Lake): Big Dry
I got a chance to speak with Justin Taylor, General Manager at The Cascade Room. Normally a beer drinker, he admits his opinion has been shifted by the great ciders coming from the Okanagan. Typically The Cascade Room doesn't offer a wide selection of ciders, but now they will have a rotating cider tap. "We are always looking for experimentals outside of the core brands," says Taylor. "Now that cider has officially blown up in Vancouver, we want to make sure that we are capitalizing on this trend."
The Cascade Room is the perfect place to try out local ciders, beers, or great cocktails with a unique spin on pub fare. Located on Main St. just south of Broadway, it's a great space with a friendly vibe, cool décor and great staff. "The Cascade Room is all about local and the community. Main St. could really use a healthy dose of great service and a place that people feel welcome," says Taylor. From the moment I walked in, I definitely felt welcomed, and will be returning for the full Cascade Room experience.
Lucky for me, I came on the night that Tap Takeover was launching Wards Hard Cider: Ginger Apple. Before I got a chance to try it myself, Justin shared with me his thoughts on the new Ward's flavour. "It's incredible. I will admit, when I first heard about it my reaction was a bit hesitant, but this one is fantastic. The ginger isn't overpowering or spicy, it's just got a really nice hint to it. Bone-dry, thirst-quenching and not super sweet." He couldn't have been more right! Not only was I a huge fan of the cider, I left being a huge fan of the Wards brand.
Ward's Hard Cider has deep roots in the Okanagan dating back to 1922. Their land, situated in south-east Kelowna, belonging to the family for over five generations is both a cidery and a winery! Wards Hard Cider and The View Winery are led by President, Jennifer Turton-Molgat. Jennifer was at the launch of her new Ginger Apple cider, along with some of her team members. She gave me a great background on the brand's history and her secrets on cider success. Whether it's a secret ingredient, or the deeply rooted history in the Okanagan, they're doing something right over there.
"We pride ourselves on the fact that our ciders are very clean, crisp and not too sweet. It becomes food worthy with these types of qualities. It's not just the party beverage, you can also serve it alongside food which is why tonight we are serving it with 14 hour slow cooked cider-braised pork chop sliders" says Molgat. The combination of ginger cider with the apple infused pork chop was delicious, and the cider is definitely food worthy. I can imagine that this cider would also pair very well with Asian dishes.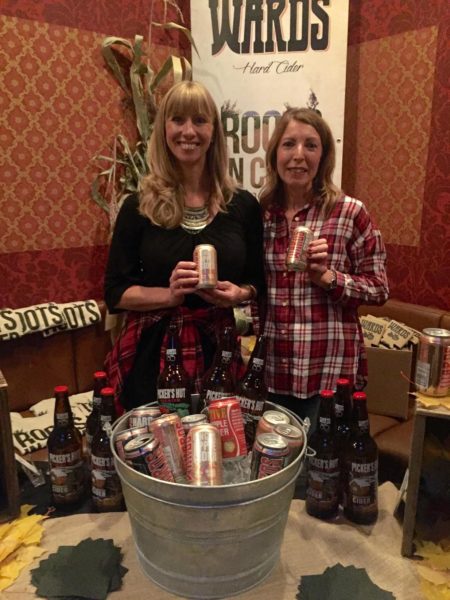 A close second favourite was the Picker's Hut Winter Spice Cider. Jennifer described it as a "hug from Santa" but I would drink this cider year-round. A great feature of this cider is that it can be enjoyed warm for those chilly winter evenings.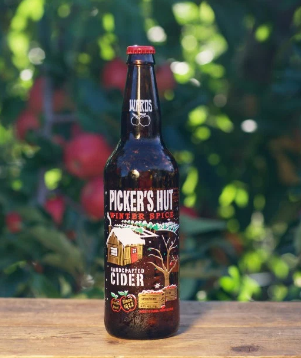 I really enjoyed my time at Tap Takeover and I hope that more events like this take place so expose great local brands like Wards. Justin, General Manager at The Cascade Room assured me this was not their last event like this and they are definitely going to continue working with Wards. The Cascade Room currently has 2 kegs of the Ginger Apple, following up with the Picker's Hut Winter Spice. If I were you I would head down and grab a glass (or two) before they run out of this awesome cider!