Traversing Canada's North on an Epic Culinary Adventure 
Rugged, pristine wilderness; ancient peoples and places, local folklore and art; food replete with local ingredients and bold flavours that evoke this magical time and place – Edible Canada's culinary journey "Across the Top of Canada" will create memories that can never be replicated. If you're looking for an unbeatable gift for the adventure lover on your list, look no further.
The trip will see 60 adventurous Canadians jet through Canada's north on a private Air North 737 to dine in remote and unique locations with some of the country's best chefs. The trip packs the journey of a lifetime into eight incredible nights over both Canada's 150th birthday and the summer solstice.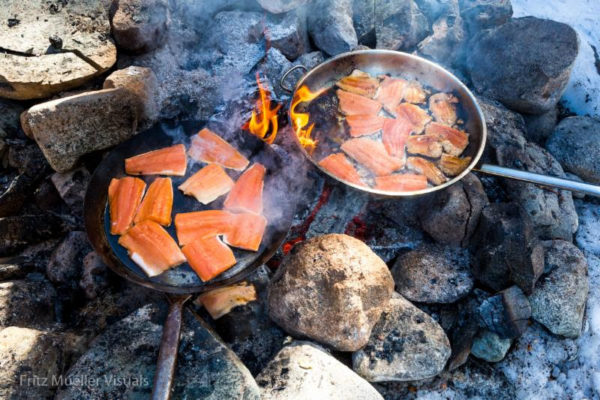 Dine in Extraordinary Settings with Meals prepared by Canada's Top Chefs
Edible Canada's President and Founder, Eric Pateman, will be escorting the group as they travel round-trip from Vancouver, BC, through the Northern Territories. The many stops are created to experience the culture and wild landscape of this rarely explored land. A pre-departure dinner hosted by Executive Chef Colin Burslem at the Fairmont Vancouver Airport Hotel will celebrate the beginning of the adventure.
Acclaimed Canadian chefs joining the trip include Ned Bell of Chefs for Oceans, Rob Gentile of Buca Osteria and Bar, Stéphane Modat of Restaurant Champlain and Bistro Le Sam, and Montreal's Derek Dammann of Maison Publique. These renowned chefs will be collaborating with local chefs at each stop to create Arctic-influenced meals under the midnight sun. On the final night of the trip in St. John's, Newfoundland, guests will sit down to a meal at Canada's top rated restaurant, Raymonds, where chef Jeremy Charles and his team will make sure it's a night to remember.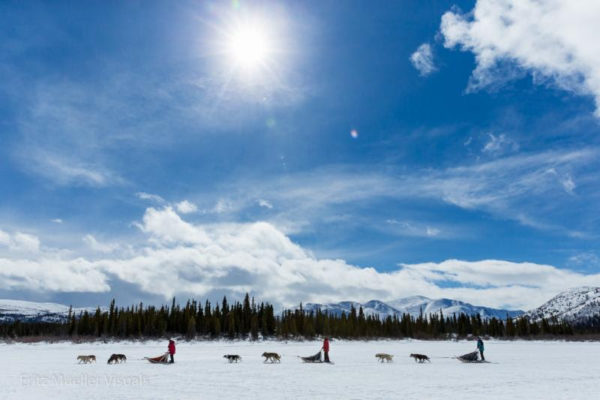 Experience the Wild Beauty of Canada's North First Hand 
During the journey, the on-board concierge team, fitness and lifestyle coach, and photographer will invite travelers to make the most of this expedition. Excursion add-ons tailored to each individual guest's preferences include: wildlife viewing, hiking, flight-seeing, art tours, cooking classes, photography lessons, and visits to remote villages to experience the culture of First Nations communities.
Those looking for more adventure can add two nights at the exclusive  Fogo Island Inn where guests will mingle with all participating chefs and experience a delicious meal hosted by Food Network Canada chef, Michael Smith. Fogo Island has been recognized by Bloomberg and played host to high-profile guests including Gwyneth Paltrow and Prime Minister, Justin Trudeau who touted its magical location.
The $11,995 price tag (based on double occupancy) includes private Boeing 737 round trip airfare from Vancouver (with all stops included), accommodations, four collaborative epic dinners, full-service concierge team, on-board cocktail service with Fairmont's chief mixologist, daily fitness with lifestyle coach Catherine Roscoe Barr and so much more. Each ticket purchased also supports the sustainable seafood foundation Chefs for Oceans.
The Fogo Island add-on is an additional $2,500 per person +tax (double occupancy) and includes travel to and from St. John's, as well as accommodation, all meals and gratuities.
Create a memory for yourself or a loved one this holiday season by gifting the experience of the north. This once-in-a-lifetime opportunity is sure to exceed the expectations of any adventurer's travel bucket list. The full itinerary can be found at  acrossthetopofcanada.com.
To book your seat, contact Eric Pateman at 604.351.9758 or via email at epateman@nullediblecanada.com

About Edible Canada 
Edible Canada – sightseeing for your taste buds – is Canada's largest culinary tourism and locavore retail company. Offering a variety of services including a retail and online artisan food shop, chef guided tours, demonstrations, a bistro, and popular newsletter and Amuse Bouche blog. Edible Canada calls Granville Island in Vancouver home, a hub that connects a community of locals, visitors, professional chefs and passionate foodies.
For more information on Edible Canada visit www.ediblecanada.com or connect socially on Facebook, Twitter or Instagram.