Last month, as those who follow MyVanCity know, I had the pleasure of attending "A Taste of Wines from Italy" at the Terminal City Club. Despite a few enthusiast friends who have brought over some great bottles for dinner parties, I really hadn't spent too much time thinking about Italian wines. It wasn't until the Italian Trade Commission event that the quality jumped out in a very big way. It has since kicked off a month of deeper exploration, which has actually been quite exciting.
Part of that exploration was a meeting with Rodrigo Redmont, the co-founder and Winemaker of Talamonti Wines, an up and coming winery from the Abruzzo region. My new fascination for Italian wine began when I discovered how dramatic the differences were in the wines across the many different regions in the country. We all know the Toscana and Veneto region, and many more recently have become acquainted with Sicilia and the Prosecco wines from Venezia. So having the opportunity at lunch to dive in deep into one particular district not so well-known was both interesting and informative.
Rodrigo's goal is to raise the profile of the Abruzzo region. As many of us wine lovers know, the Italians were not always the first choice when it came to fine wine. Cheap and cheerful were often the adjectives attributed and the pairings were generally Spaghetti and Pizza. The wine industry in Italy at that time was dominated by co-operatives whose focus was more on quantity than quality. While two of the top ten wines from Italy sold in BC Liquor stores come from the Abruzzi, there is superior level of quality from family estate wineries that are often not recognized as they should be.
The setting was Cibo Trattoria where we had the opportunity to try their current lineup of wines paired with some truly delicious entrees prepared by Executive Chef Ryan Bryd. For the Primo, we had chitarra with clams accompanied by Trebi – Trebbiano 'Abruzzo and Trabocchetto – Pecorino Colline Pescaresi, two delicious whites perfect for sipping and seafood. The Secondo was a braised pork belly with red lentils and mirepoix matched with Moda' and Tre Saggi – both vintages of Montepulciano d'Abruzzo. Tre Saggi is currently available in BC Liquor Stores which I highly recommend adding to the shopping cart. For the finale, Formaggi e frutta served with three glasses of their signature label Kudos – Colline Pescaresi, pours from three different years, 2011, 2007 and 2003, that illustrated not only the quality of these wines but how well they age.
Great food and delicious wine is always a terrific in and of itself, but what elevates the experience to a whole new level is being entertained by your host. It's pretty rare to find an individual who can capture your interest for an hour and a half simply sharing his knowledge and telling stories. But Rodrigo is your guy. 'I'm Italian and we like to talk' said Rodrigo. A true Italian entrepreneur, he founded the Talamonti estate winery in 2001.
The first surprise is his accent. Born in Brazil with a Portuguese mother and an American father, he grew up in Rome but attended college in Boston. A quick aside, it's almost comical to hear an Italian with a Bostonian accent. After college, he spent ten years working for a number of wineries including such well-known brands as Banfi and later others from the Marche region. In that time, he recognized that the adjoining Abruzzo area had this incredible potential that was not being exploited. While the cooperatives dominate in the region, there were family estate wineries such as his current vineyard neighbor, Valentini Estate, whose leading wines can fetch upwards of $250.
Rodrigo's vision is to redefine the meaning of value for the region. Value not only means a good price. He sees the Abruzzi as the Langedoc of Italy – Value is also Quality at a good price.
Rodrigo says it's not just the wine maker, but also the "terrior" – the land. Abruzzo is known as "the greenest region in Europe." One third of its territory, the largest in Europe, is set aside as national parks and protected nature reserves. Situated at the same latitude of Rome, the Abruzzo Region is somewhat isolated from other parts of Italy with the Apennine mountain range towards the west, the Maiella mountain range towards south, the Sibylline massif towards North. The surrounding mountains and the Adriatic Sea provides a moderating Mediterranean climate. Renowned for its variety and richness, the area is well-known around the world for high-end culinary delights like olive oil, saffron and truffles with the Abruzzo kitchen being among the best in Italy.
The dominant varietals of the region are the red Montepulciano grape and the white Trebbiano d'Abruzzo. While these varietals are common in other districts, the Abruzzo wines have maintained a distinct character not found elsewhere. The isolation of the region kept the winemaking there distinct from the influence of the ancient Romans and Etruscans in Tuscany.
In 2001, Rodrigo saw this uniqueness and partnered with Valentini, a winemaker who receives accolades for the best Trebbiano d'Abruzzo wine in Italy, and 17 others to form today's Talamonti. He has definitely succeeded in his vision, his goal reached in providing the quality and value he was striving for. In the 15 years of operation, his success has allowed him to buy out his original partners and make the operation into a true family estate. Today, the Talamonti vineyards are managed in an organic manner and the estate's energy is 100% sourced from renewable wind power.
Many of his wines are not yet available in BC, but those here are very much worth the price point. Here are three of my recommendations:
TRE SAGGI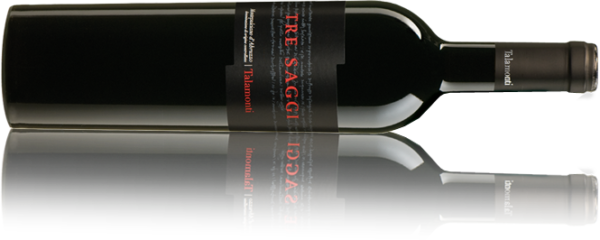 AREA OF PRODUCTION – Select vineyards located near the village of Loreto Aprutino in the Montepulciano d'Abruzzo area.
GRAPE VARIETIES – Montepulciano d'Abruzzo (100%).
SOIL – Stony, calcareous, structured and drained. Altitude: 300 meters above sea level.
VINIFICATION – Following a rigorous hand harvest in mid – October, the grape stalks are removed. Alcoholic fermentation with skin contact takes place with select yeasts during 14 days with periodic pumping over. Malolactic fermentation follows in 300 liter French barriques (Allier and Troncais). Subsequently, the wine is aged for twelve months in 300 liter French oak barrels. The cycle ends with a 12-month bottle rest.
FLAVORS – Dark ruby-red with violet undertones. Complex wild berry notes framed by elegant oak spices. Blackcurrant, spicy cherry integrated with hazelnut and coffee.
TRABOCCHETTO

AREA OF PRODUCTION – Select vineyards located near the village of Loreto Aprutino in the Pecorino IGT area.
GRAPE VARIETIES – Pecorino 100%.
SOIL – Stony, calcareous, structured and drained. Altitude: 350 meters above sea level.
VINIFICATION – Following a selective hand harvest in mid-September, the grape stalks are removed and the subsequent crushed grapes undergo a cold maceration in stainless steel. A soft pressing follows. The clarified must is subsequently fermented with select yeast in temperature controlled stainless steel vats for 12 days at 16°C to preserve the natural 100% Pecorino fruit and inimitable freshness of the wine.
FLAVOURS – A brilliant pale straw color. A wonderful bouquet of white pulp fruit. Explosive flavors of ripe pear, renetta apple, ginestra flowers and jasmine accompanied by a gentle and refreshing acidity.
KUDOS

AREA OF PRODUCTION – Select vineyards located near the village of Loreto Aprutino in the Montepulciano d'Abruzzo area.
GRAPE VARIETIES- Montepulciano d'Abruzzo (70%), Merlot (30%).
SOIL – Deep, calcareous, stony, well structured and drained. Altitude: 350 meters above sea level.
VINIFICATION – The two varieties are hand harvested separately in early October for best ripening and vinified separately with 15-22 days of maceration. Subsequently the wines are individually aged in 300 – liter French barriques (Troncais and Allier) for 12 months. At this point the wines are blended and further aged for 12 months in 300 liter French barriques and 12 months of bottle rest follow to end the cycle.
FLAVORS – Intensely deep ruby red color with violet reflections. Complex fresh berry character with notes of cherries, blueberries and currants, further integrated by the elegant oak spices hinting of coffee and vanilla. Rich fruit, great concentration, complex, with diverse layers of supple tannins. A powerful wine of great elegant stature.