To enjoy a little laughter in preparation for this wonderful day, and if you are an adult slightly jaded by the rush of the season, make time to take in SantaLand Diaries at Presentation House in North Vancouver. You will come out with a smile on your face, having seen yourself in one of the characters in this Famous Artists Production, produced and co-directed by Bill Allman.
We all know the joys and stresses of this lovely season.
For children it is a time of Santa Claus and anxious anticipation.
But, for parents it becomes an anxiety filled season that has them scheduling the visits to Santa Claus, wanting a great photo of their offspring, and then finally, trying to fulfil the wishes shared with the jolly man himself.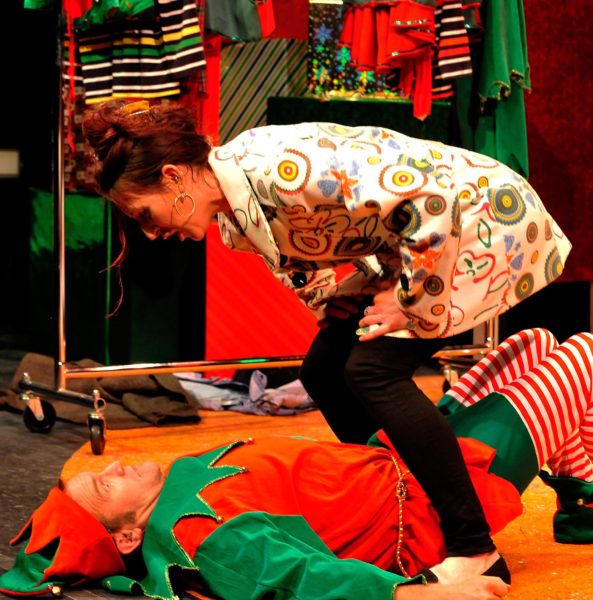 In SantaLand Diaries, we see a third view of this special visit by sharing the experiences of an elf working to make that visit all that it can be.
David Sedaris writes of his time employed as an elf at Macy's Department Store and shares a view of the many and varied parents and children that he escorts through the magic land.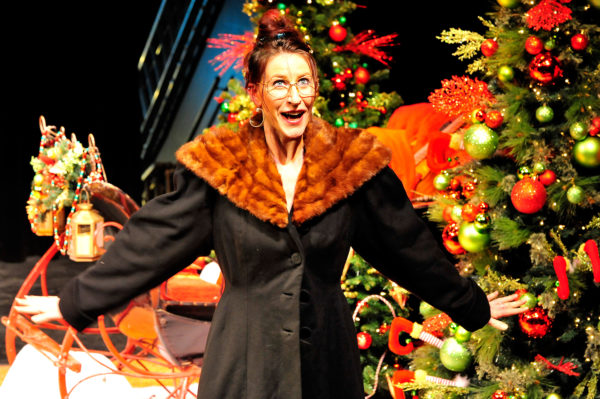 The script is hilarious, ranging from self deprecating to slightly sarcastic but always focussing on human nature and the way parents react to the stress of this season.
Alan Marriott co-directs and stars as the actor hoping to secure a role in his favourite soap opera upon his arrival in New York City but finding himself having to play a department store elf in red striped tights instead, to make money to survive. He brings his wonderful expressive face and changing voice to describe and bring to life each and every type of parent and child, fellow employee and Santa.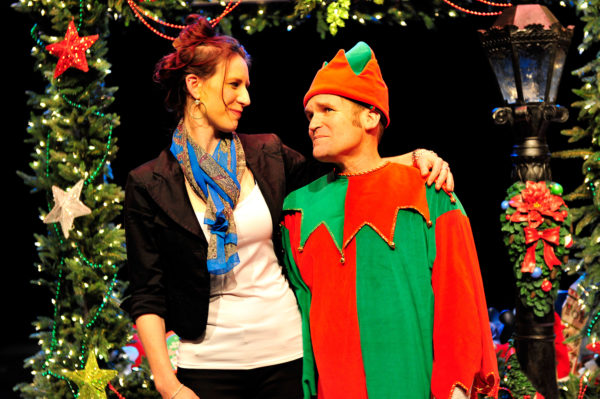 A tight script, moving between characters is handled deftly by this accomplished actor, who has performed on stage in  Shakespeare, TheatreSports and movies as well as being a voice over artist. He brings all of this experience into his portrayal of the hopeful actor reduced to playing an elf in a ridiculous costume.
We laugh with him, at him, and at ourselves, seeing the parents lined up two hours early to get the best Santa photo, the ones who have lost all control of their children and themselves!
Joining Alan is Sandra-Mae Luykx who displays both her musical and acting talent in her many roles. She enters playing a tenor saxophone, becomes a Human Resources Director, a trainer of elves, a parent, as well as countless other roles, all requiring costume and character changes. She, too, uses her expressive face and body to help us identify with the many unique characters we are, as parents and people. The quick change costumes that helped round out the characters played by Sandra-Mae, were designed by Kathleen Gibbs, also an associate producer. We see demure to dumb, sexy to officious, all changing in a few moments with the appropriate clothing. Sandra-Mae uses her hips and her walk to effectively change the characters.
The two actors, Alan and Sandra-Mae are fabulous in their roles and blend together perfectly to create a wonderful ninety minute production that moves quickly and smoothly towards Christmas Day.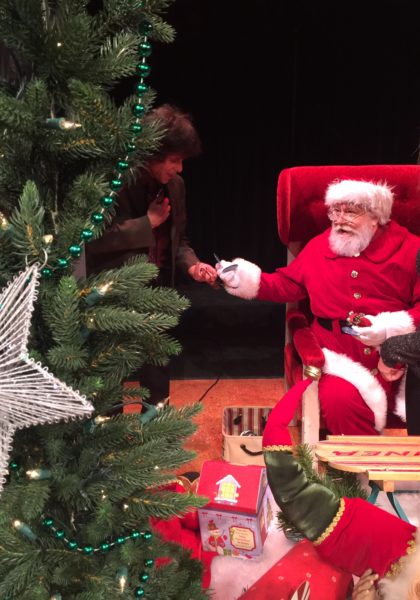 We enjoyed the theatre and the clever setting with three areas that provided cover and changed as needed. At the end, the jolly man himself was available for photographs and there was a lovely Christmas spirit in the air.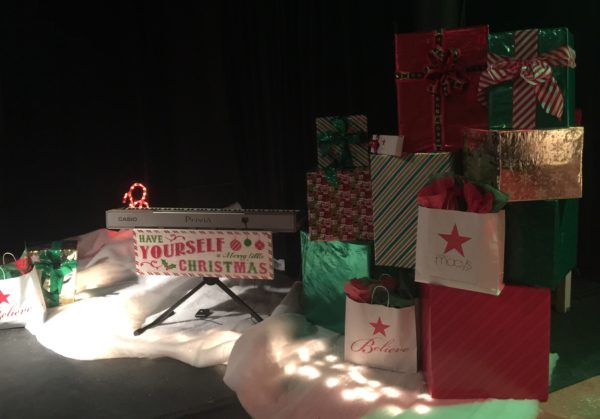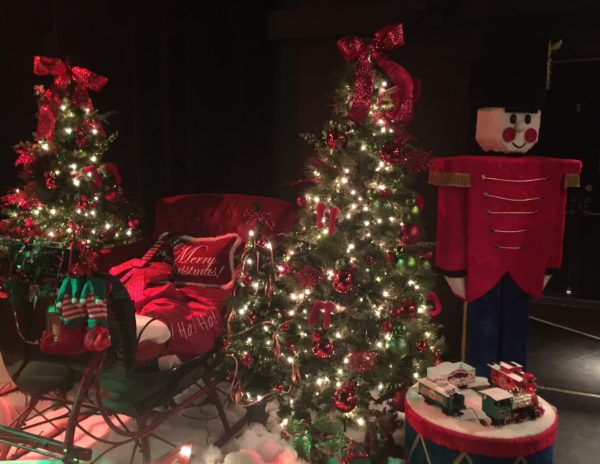 Perfect to venture out and enjoy the season and snow ahead! Runs until December 17.
Feature image: SantaLand Diaries Alan Marriott – photo credit Chris van der Schyf