What better way to say good-bye to 2016 and welcome in 2017, that with a delicious glass of BC bubbly. We are so lucky to have so many top quality, locally made sparkling wines to choose from in our province.
One of the very first was Stellar's Jay, which captured a lot of attention and set the stage for what our cool climate region could do. Now, 30 years later, BC can boast sparkling wines from over 40 producers. BC bubbly tends to be crisp, clean, refreshing and very versatile when it comes to food pairing. You can find everything from Prosecco styled easy quaffers to elegant and sophisticated 'can't believe this isn't Champagne' wines.  BC makes a sparkling wine for every taste and every budget.
This list only scratches the surface and is not by any means inclusive of all BC sparkling wines. Search out your favourite winery and see what they offer. You just might be surprised. Make that pleasantly surprised.
Prices listed are from the wineries web site and may vary depending on location.
8th Generation:
Integrity, a Frizzante styled blend of Chardonnay, Pinot Gris and Kerner $20.00
Confidence (Rosé) Pinot Noir with just a touch of Pinot Gris to give it flare $20.00
Bella – nothing but bubbly here, with a focus on Chardonnay and Gamay based terroir focused sparklers. Look at this line up:
Sparkling Blanc de Blancs – B2 $24.90
Sparkling Blanc de Blancs – Keremeos $25.90
Sparkling Blanc de Blancs – Orchard House $25.90
Sparkling Rosé Brut Natural – Westbank $25.90
Sparkling Rosé Brut Natural – Cavada $25.90
Sparkling Rosé Brut Natural – Orchard House $25.90
Methode Ancestrale Rosé $40.00
Methode Ancestrale Brut $40.00
Blue Mountain – an early adopter of sparkling wine.
Gold Label Brut $23.90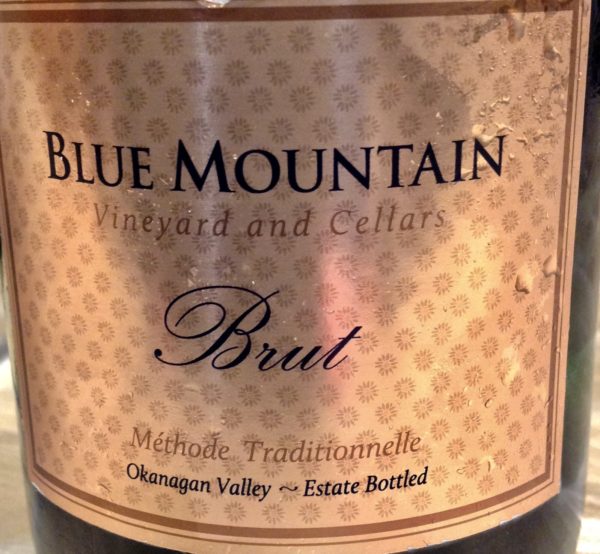 Brut Rosé $32.90
Blanc de Blancs $39.90
Reserve Brut $39.90
Daydreamer:
A just released Sparkling Shiraz. $20?
Evolve – four offerings:
Effervescence (Pinot Blanc and Chardonnay)      $19.99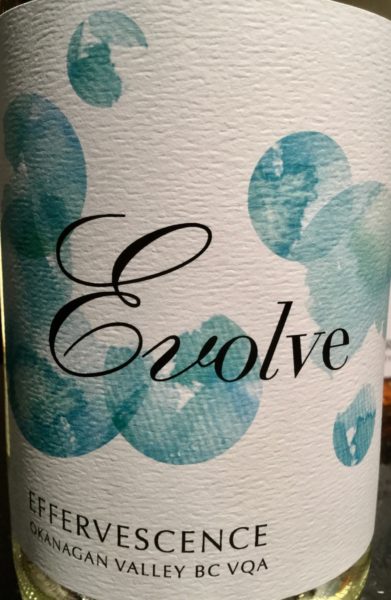 Pink Effervescence (Pinot Blanc with a splash of Merlot)           $19.99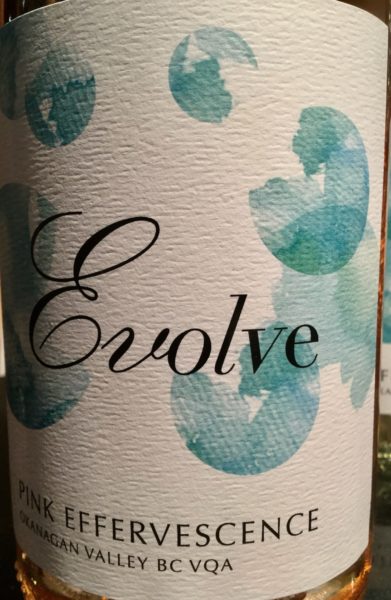 Pink Brut Rosé $32.90
Blanc de Blanc $39.90
Reserve Brut $39.90
Fitzpatrick Family Vineyards:
Fitz Sparkling Brut is a blend that contains slightly more Pinot Noir than Chardonnay. $33.00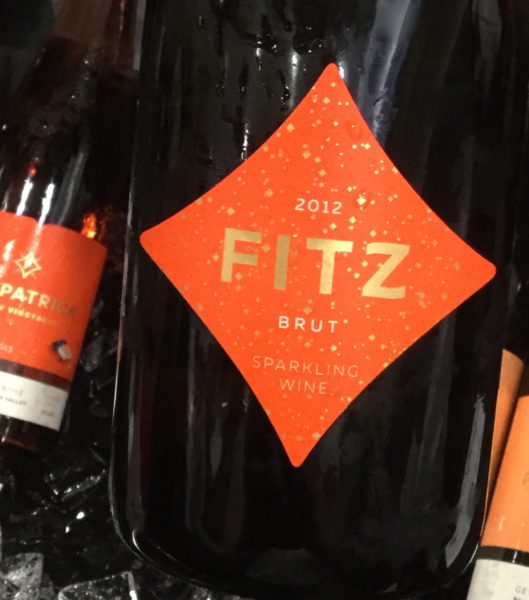 Giant's Head:
Blanc de Noir one hundred percent estate grown Pinot Noir grapes. $27.74
Gray Monk – One of BC's original estate wineries offers three choices of bubblies:
Odyssey White Brut made from Riesling, Pinot Blanc and Chardonnay Musque, $21.99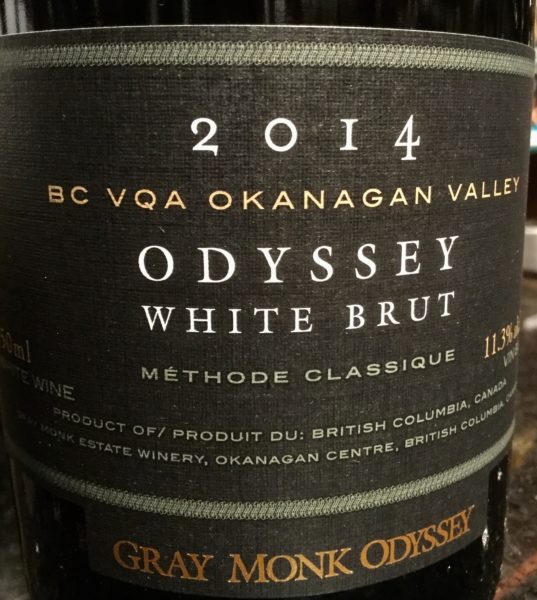 Odyssey Rosé Brut a blend of Pinot Meunier and Pinot Noir $17.39
Odyssey Traditional which blends all three traditional Champagne grapes $26.09.
Intrigue:
I Do – a pink sparkler made from Riesling and a touch of Merlot. $19.90
Jackson Triggs:
Sparkling Chardonnay $NA
Joie:
Plein de Vie Brut, a pink bubble made from, Pinot Meunier, Chardonnay and Pinot Noir. $19.00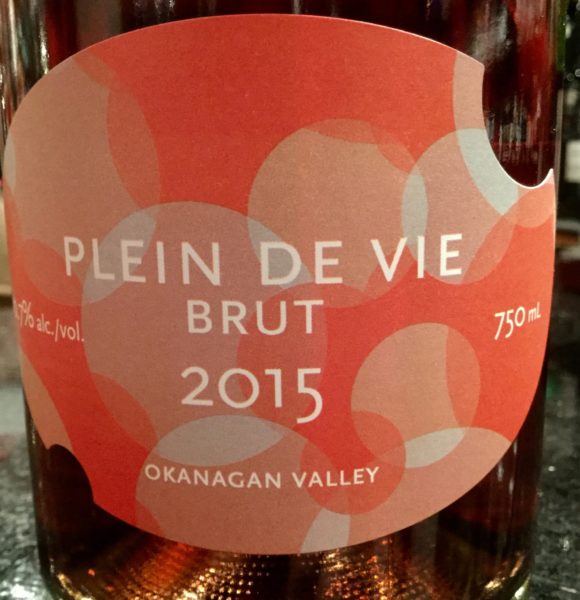 Joie Brut, mostly Riesling with 10% Chardonnay. $25.00
Lang:
Pinot Noir Bubble. $21.00
Maverick:
Ella is a Pinot Noir led blend (80%) with 20% Chardonnay. Currently sold out at the winery. $35.
Meyer Family Vineyard – A brand new venture for MFV, which some would say was overdue given their focus on the classic grapes of Burgundy.
Traditional Method Extra Brut NV – a blend of 70% Chardonnay and 30% Pinot Noir. $40
Noble Ridge:
The One is a Chardonnay Pinot Noir Blend made in the traditional method. $39.90.
Okanagan Crush Pad:
The Bub, Chardonnay and Pinot Noir. $29.90.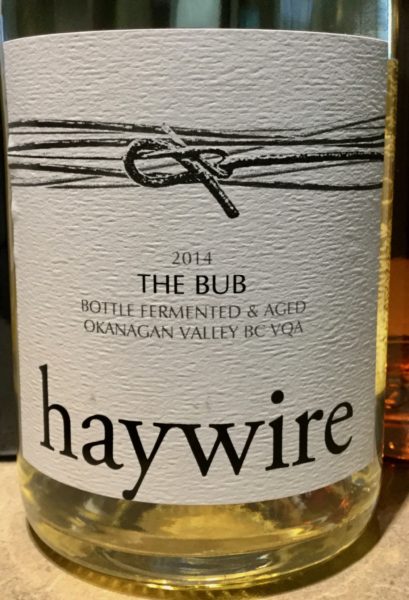 Pink Bub a little different proportions of Chardonnay and Pinot Noir. $NA
JY Ancient method Pinot Noir (from the Wine Campus program) $39.90.
Orofino:
Moscato Frizzante. Made from two vineyards of Muscat and a touch of Riesling and Pinot Gris to hit just the right pizzazz. $25.00
Perseus:
Sparkling Chardonnay. $24.99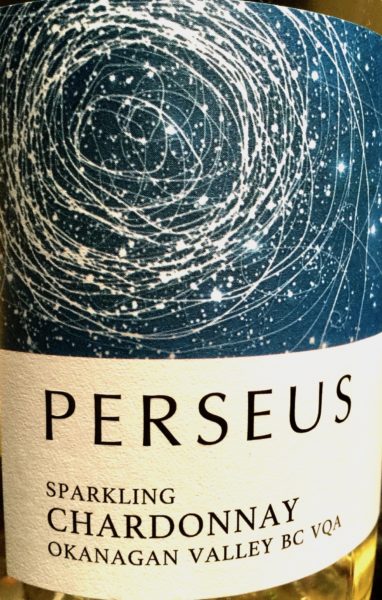 Robin Ridge:
Sparkling Finch is a blend of Chardonnay and Pinot Noir. $26.90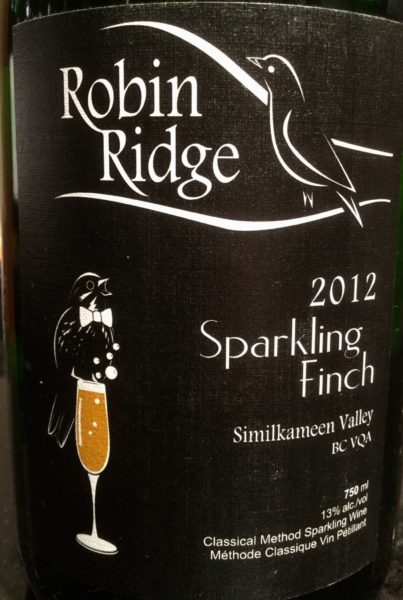 Road 13:
Chenin Blanc bubbles. $40.00
See Ya Later:
NV Brut, a traditional method bubbly. $21.99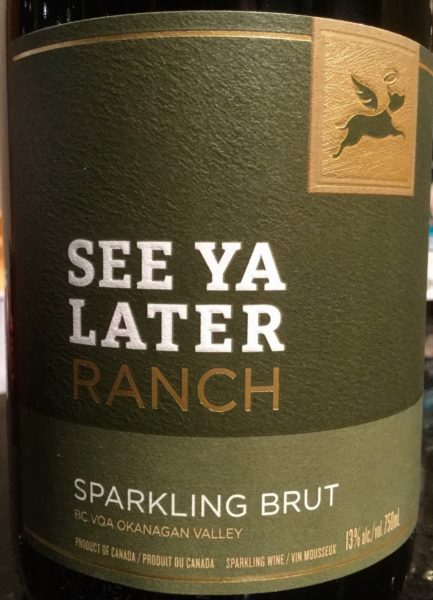 Serendipity:
Sparkling Truth, 100% Chardonnay. $50.00
Sperling:
Sper….itz a low alcohol 'spritzy' wine $22.00
Sparkling Brut $40.00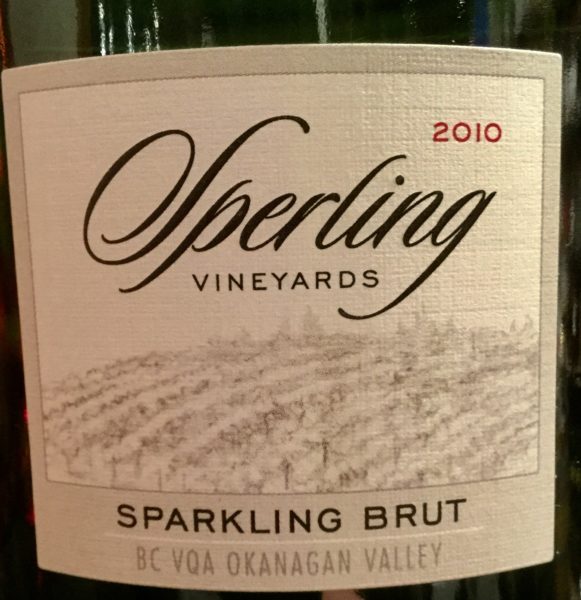 Sparkling Brut Reserve $49.95
Brut Rosé for $42.00.
Stoneboat:
Grand Piano Brut, Pinot Blanc based and Prosecco styled. $26.90.
Faux Pas Rosé Brut. $24.90
Sumac Ridge – the original home of BC sparkling wine and famous for Steller Jay
Steller Jay Sparkling Brut $25.99
Steller's Jay Sparkling Pinnacle $35.00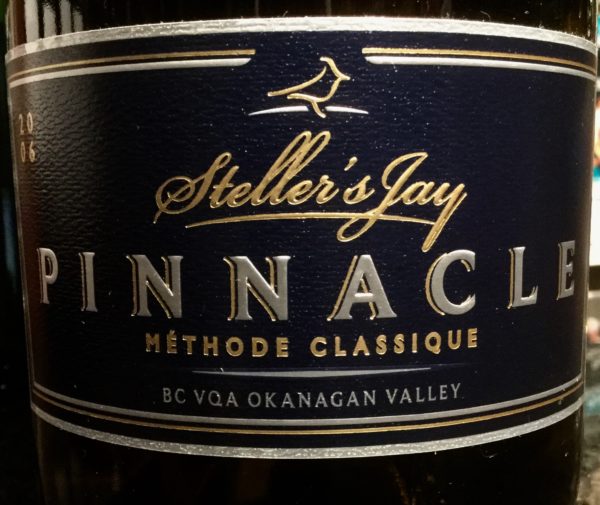 Sparkling Gewurztraminer $21.79
Sparkling Shiraz $24.95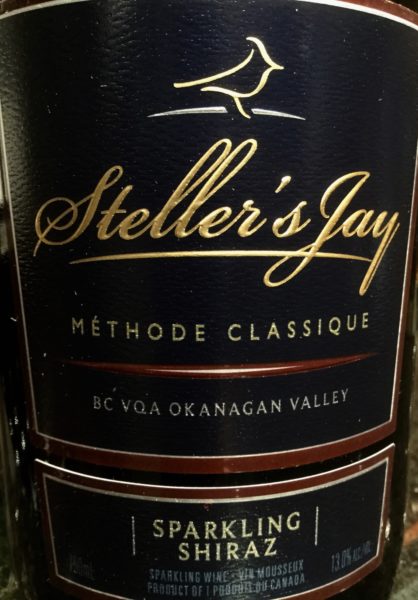 Summerhill – nine sparkling wines to choose from in a range of styles, some dating back to 1996. These are the 'Pyramid Wines'. Prices range from under $30 to over $100. Here is a sampling:
Cipes Brut (Riesling, Chardonnay and Pinot Blanc) $28.64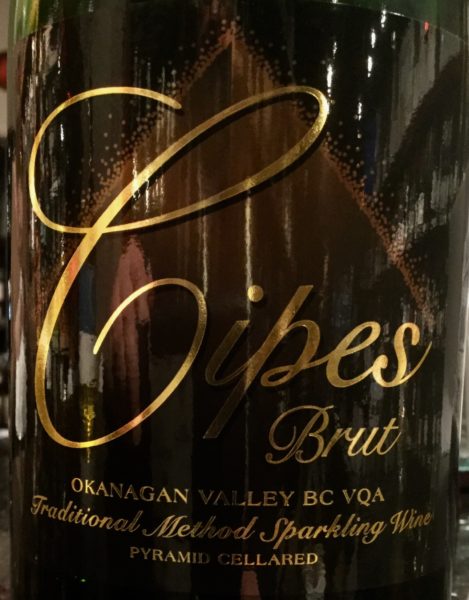 Blanc de Noirs (Pinot Noir) $36.80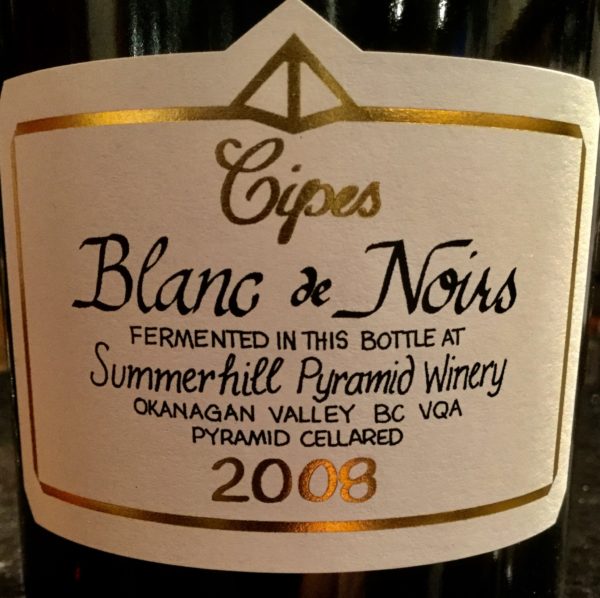 Blanc de Franc – a Rosé made from Cabernet Franc $44.85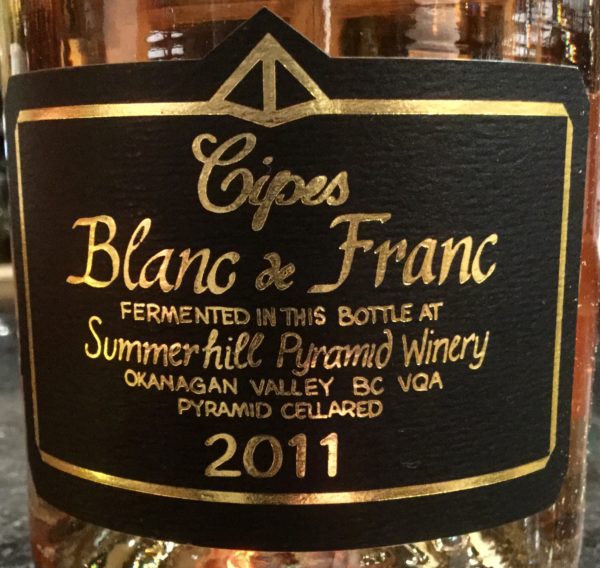 Ariel Premier Cuvee $88.55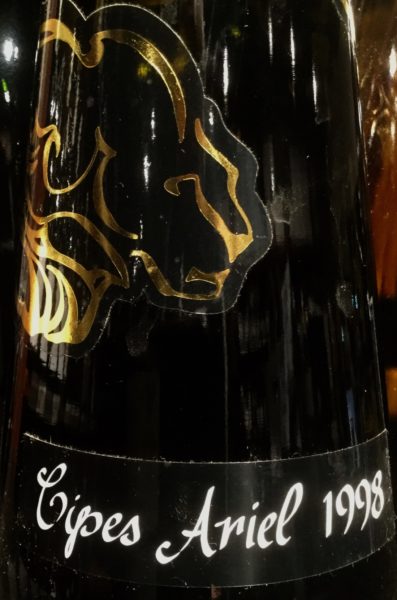 Tantalus:
Blanc de Noir $27.74
Old Vines Riesling Natural Brut $34.70.
Therapy:
Fizzio Therapy Blanc – made from Chardonnay with a small addition of Orange Muscat to keep things interesting. $19.99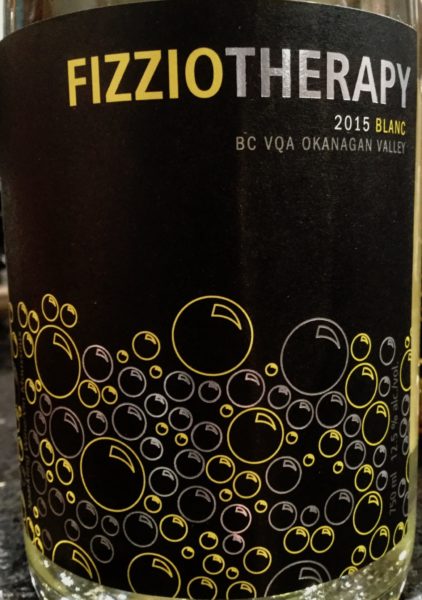 The View:
Distraction, a Pinotage led blend with just enough Riesling, Ehrenfelzer and Gewürztraminer to 'tart' it up. $19.95
Some of these wines use the traditional Champagne styled cork while others use an easy opening crown cap. It must also be said that many, many Vancouver Island wineries such as Averill Creek and Blue Grouse among others also produce sparkling wines, though due to limited quantities, most are not available on the mainland.
* With thanks to John Schreiner for additional information.