Fe-BREW-ary launches on Wednesday February 1st at Donnelly Group pubs across Vancouver, combining a rare and delicious craft beer and donations to a great charity. Donnelly Group has partnered with Postmark Brewing to exclusively offer their limited edition Mosaic Hop IPA and will be donating $1 from every beer sold to the Salvation Army, on behalf of the Donnelly Fund.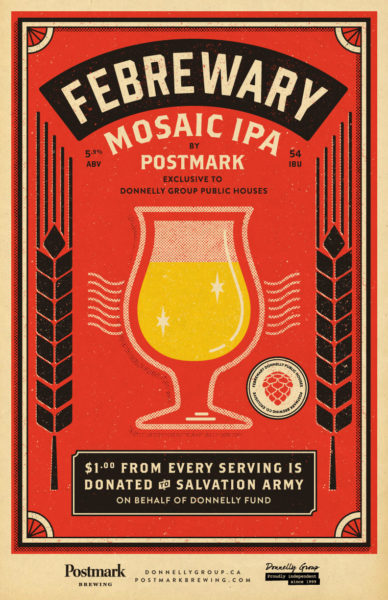 Postmark Mosaic IPA Is a classic hop-forward Northwest IPA that comes in at 5.9% ABV/54 IBU with notes of passionfruit and other tropical fruits from the aromatic Cascade-grown hops. Over the last few years, beers made with Mosaic hops have been some of the most in-demand, loved by beer aficionados for their clean flavour and dense aromatics. This is a delicious beer that will only be found at Donnelly Group Pubs.
Executive Chef Alvin Pillay has also created a new feature dish that will be offered at all locations to pair with the Mosaic IPA. The Postmark Ale Cumberland Sausage (made by Two Rivers Meats) with Patatas Bravas is a delicious match and will be on the menu throughout Fe-BREW-ary.
The Salvation Army has been a long time charitable partner of Donnelly Group, through its foundation the Donnelly Fund. Over the last 15 years, Donnelly Group's annual Toy Drive has raised over $1 million in donations for the Salvation Army including thousands of toys which are distributed to deserving families in the Lower Mainland.
"Fe-BREW-ary brings two of our favourite things together—BC craft beer and community," said Donnelly Group Beverage Director Trevor Kallies. "And we're looking forward to sharing another delicious exclusive beer in our pubs and raising more money to support a cause that's near and dear to our hearts."
Visit www.donnellygroup.ca to learn more about Donnelly Group, or visit a pub soon to support a worthy cause while drinking outstanding craft beer.