Odd Society Spirits Set to Release Amaro on February 10, 2017
There is a whole lot of love brewing in East Van this Valentine's Day with the release of Odd Society Spirits' first amaro, Mia Amata, on February 10, 2017. Known for creating award-winning European liqueurs, distiller Gordon Glanz produced this Italian digestif with his daughter Mia Glanz. Along with being a nod to her name, Mia Amata translates to "my beloved" in Italian. "My first-born Mia [Glanz] is the creator of our beloved amaro," said Gordon Glanz, Odd Society Spirits founder and distiller. "I acted as a resource to her during this three-year passion project but it really is her baby."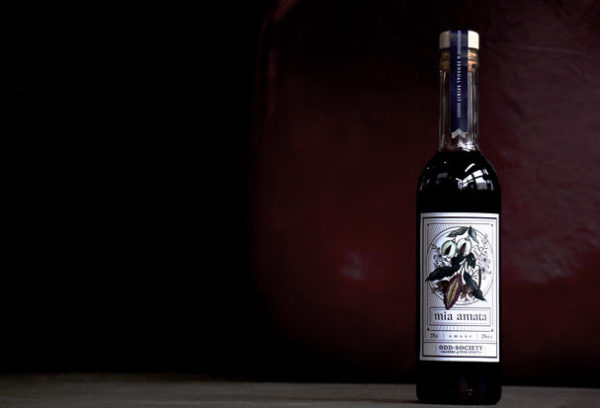 Before opening in 2013, Gordon had amaro on his mind. At the time, Mia was studying ethnobotany at the University of British Columbia. She discovered that many indigenous cultures living in the Amazon used specific tree barks as aphrodisiacs. After extensive taste testing with many different varietals, together they discovered that the barks have beautiful bitter notes perfect for making amaro. Mia researched plants based on their known aphrodisiac qualities but selected the final ingredients for their individual flavour profiles. In addition to developing the recipe for the amaro, Mia was involved in each component of the liqueur carefully selecting the evocative illustration drawn by artist Katie So and incorporated into the label by Cause + Affect.
Just as traditional Italian liqueurs delighted in the bounty of the spice trade, Mia Amata unites expressive fruits, flowers, barks, roots and resins from the four corners of the world. At its heart are indigenous aphrodisiacs from Brazil blended with myrrh gum from Somalia, kola nut from West Africa, candied plum from Persia, cacao and vanilla bean from Mexico, mace from India, and elderflower and magnolia from British Columbia. Catuaba is probably the most notable of all the Brazilian aphrodisiac plants infused in this sensual spirit.
Mia Amata is available in 375mL for $22.00 at Odd Society Spirits Distillery and Tasting Lounge starting February 10, 2017. Prices will vary at select private British Columbia liquor stores.