Odd Society Spirits Releases Second Edition of Wallflower Oaken Gin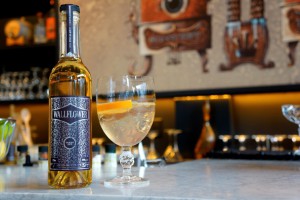 Odd Society Spirits is set to launch their second release of Wallflower Oaken Gin on 

Friday, April 17, 2015

. The East Van distillery doubled their production for this limited edition gin, aging 200 litres in American white oak rye casks for six months. With approximately 500 bottles available, Odd Society Spirits Wallflower Oaken Gin is sure to sell quickly. 
Time spent in oak gives the gin a smooth texture and adds richness to the spirit, elevating notes of spice and complementing citrus flavours. The floral qualities of the gin are still present but pleasantly integrated with vanilla characteristics from the wood.  The Oaken Gin is available in 375mL bottles and priced at $28 at the distillery (prices will vary at private liquor stores throughout Vancouver). 
Guests attending the provinces' premier micro-distillery festival, BC Distilled on 

April 18

 will be among the first to try the new batch. Odd Society will be pouring the Oaken Gin at the festival and it will be available for purchase onsite from the Legacy Liquor Store Pop-Up Retail Store. 
Odd Society Spirits Sm'oak'in Recipe (pictured above) 
2oz Odd Society Spirits Wallflower Oaken Gin 
Combine gin and tonic over ice, garnish with an orange wheel and a cinnamon stick. 
About Odd Society Spirits:
Odd Society Spirits is a small-batch B.C. Craft-Certified distillery located in the heart of East Vancouver
. Dedicated to combining old-world distilling traditions with new-world ingredients and ingenuity, Odd Society Spirits has created a family of spirits that entice and intrigue. Open Thursday through 
Sunday
, Odd Society Spirits distillery and cocktail lounge is 
located at 1725 Powell St.