This Wallflower Reaches Mighty New Heights with Oak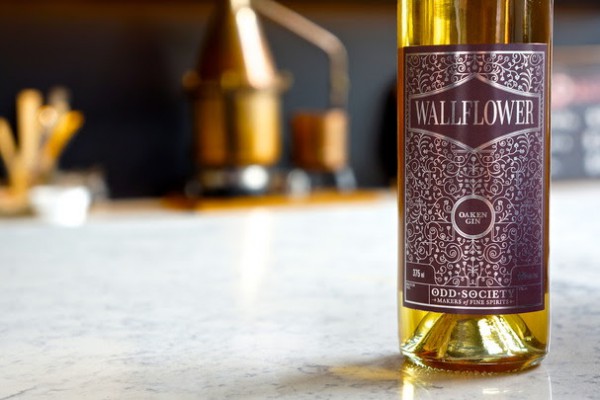 Odd Society Spirits is set to launch a limited release of Wallflower Oaken Gin on Friday, October 17, 2014. Aged in American white oak rye casks for 5 months, this specialty spirit is sure to wet any gin aficionado's appetite. With just over 300 bottles available, Odd Society Spirits' Oaken Gin is guaranteed to sell out quickly.
The oak softens the floral notes of its Wallflower comrade while awakening bright citrus flavours with hints of caramel and offering a subtle woody undertone. An extremely versatile gin, it is recommended to be enjoyed straight, on the rocks, with tonic or incorporated into a classic cocktail like the Negroni. Oaken Gin is available in 375ml bottles and priced at $28 at the distillery (prices will vary at private liquor stores throughout Vancouver).
In honour of the Wallflower Oaken Gin's debut, Odd Society Spirits will be celebrating at the distillery's cocktail lounge from 1PM – 9PM on Friday, October 17 with featured Oaken Gin cocktails, plus the Tacofino Food Truck will be joining the festivities at 5:30PM.
About Odd Society Spirits:
Odd Society Spirits is a small-batch B.C. Craft-Certified distillery located in the heart of East Vancouver. Dedicated to combining old-world distilling traditions with new-world ingredients and ingenuity, Odd Society Spirits has created a family of spirits that entice and intrigue. Open Thursday through Sunday, Odd Society Spirits distillery and cocktail lounge is located at 1725 Powell St.
Contact Odd Society Spirits:
F: facebook.com/OddSocietySpirits 
T: @oddspirits 
E: info@nulloddsocietyspirits.com
P: 604.559.6745