VANCOUVER URBAN WINERY PRESENTS SUNDAY SCHOOL: THE #400 SERIES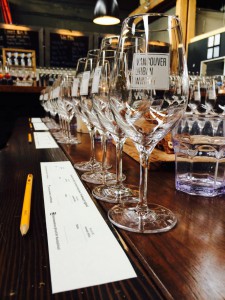 After a sobering summer break, The Settlement Building's Vancouver Urban Winery is back for its fourth series of wine-soaked Sunday School seminars.
The Fall/Winter semester of drinking in school commences on October 26th with BC vs. the World: Round 4. Additional classes run on November 16th – Sommelier Smackdown IV: the Grudge Match – and December 14th – The Price Is Wrong!
Once again hosted by professional Sommeliers, David Stansfield and Lisa Cook, Sunday School is introducing a couple of exciting formatting changes for the new semester. Seminars now take place in the afternoon, which means spilling out of class and into Belgard Kitchen for post-session snacks and Postmark Brewing beers. They've also moved into the back, production half of The Settlement Building, nestled comfortably among wine barrels and beer tanks.
What hasn't changed about Sunday School is the mission statement: wine is booze. Booze is fun. Learning about it should be too. "Too often, talking about wine scares people. It seems daunting," states Stansfield. "At Sunday School, we drink that fear under the table." So, whether returning or a newcomer, novice or enthusiast, all are welcome, and guaranteed a good time.
"Basically, these classes are just great excuses for us to get together with a room full of people who like drinking, and talking about drinking, as much as we do," adds Cook. "And if we can pass on some useful knowledge at the same time, even better."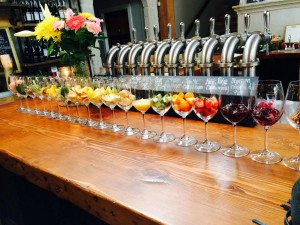 Each seminar features multiple flights of wine loosely structured around a set theme and served blind. Unlike public schools, class sizes are limited – and guaranteed to sell-out. Tickets are available through the Vancouver Urban Winery directly for $40 by phoning 604.566.9463, emailing info@nullsettlementbuilding.com, or directly from the Belgard Kitchen, which is open daily from 11am to 11pm. Tickets are also available online through Eventbrite.
IN BRIEF:
VUW Sunday School: #400 Series – Back in Session
Dates:
1. October 26th – #401: BC vs. The World – Round 4
2. November 16th – #402: Sommelier Smackdown IV: Grudge Match
3. December 14th – #403: The Price Is Wrong!
Times:
Doors: 2:30PM
Seminar: 3PM – 5PM
Tickets: $40 per
Available directly. Phone: (604) 566-9463. Email: info@nullsettlementbuilding.com
Online: http://www.eventbrite.ca/o/vancouver-urban-winery-2046361959
In person: Belgard Kitchen, 55 Dunlevy Ave., within The Settlement Building