Odd Society Spirits Crème de Cassis Awarded First Place By Sip Northwest 
Sip Northwest Magazine's 2016 Best of the Northwest issue hits newsstands today. Odd Society Spirits, a craft-certified distillery located in East Vancouver, took first place for their crème de cassis in the Best Fruit Liqueur category beating out submissions from distilleries across the Pacific Northwest region in both Canada and the United States. Last year Odd Society Spirits Owner and Distiller Gordon Glanz was recognized in the annual issue as an influencer in his field and this year the fruits of his labour took top honours.
"Our crème de cassis is made with blackcurrants we source from Abbotsford," says Gordon Glanz. "This award speaks to our province's incredible bounty as much as it does to our liqueur."
Odd Society's crème de cassis is based on the secret recipe of Master Chef Hervé Martin, head chef and owner of The French Table and once the personal chef to the late King Leopold III of Belgium. Made with the finest B.C. grown blackcurrants, it's the perfect autumn dinner table accompaniment. With a fruity and sweet flavour balanced by crisp acidity, Odd Society's award-winning crème de cassis is a premium liqueur for discerning palates.
Odd Society's crème de cassis can be purchased direct from the distillery located at 1725 Powell St. in Vancouver, and at various private beer, wine and liquor stores across British Columbia.
BC Royale for Thanksgiving 
0.5 oz Odd Society Spirits Crème de Cassis
B.C. Sparkling Wine
Pair your turkey dinner with this local adaptation of a Kir Royale. Pour half an ounce of Odd Society Spirits Crème de Cassis in a flute glass. Top with your favourite B.C. sparkling wine. Serve.
You can find Odd Society Spirits at these Vancouver Farmers Markets
Mt Pleasant 
Sunday, October 9
Kitsilano 
Sunday, October 16
Trout Lake 
Saturday, October 22
About Odd Society Spirits: 
Odd Society Spirits is a small-batch B.C. craft-certified distillery located in the heart of East Vancouver. Dedicated to combining old-world distilling traditions with new-world ingredients and ingenuity, Odd Society Spirits has created a family of spirits that entice and intrigue. Open Thursday through Sunday, Odd Society Spirits distillery and cocktail lounge is located at 1725 Powell St., Vancouver, B.C.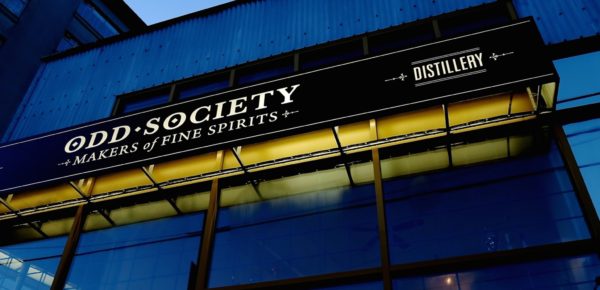 Contact Odd Society Spirits:
F: facebook.com/OddSocietySpirits
T: @oddspirits
E: info@nulloddsocietyspirits.com
P: 604.559.6745
Feature image: photo credit RD Cane