Come join Tonari Gumi's (The The Japanese Canadian Volunteers Association) popular tasting event, now in its 15th year at the grand ballroom of The Coast Coal Harbour Hotel, featuring a wide range of sake and spirits in 'spirit' to Japan and the Japanese Community.
Experience products from Artisan Sake Maker, Axis Planning, CMC Sake + Wine Merchants, Jizake Japan, Kanaya Shuzouten, Kanazawa Wines, Odd Society Spirits, The Parkside Brewery, Powell Street Craft Brewery, PureSake4U and special selections from The Consulate General of Japan in Vancouver.
Food and appetizers will be provided by Miku Restaurant, Ryuu Japanese Kitchen, ShuRaku Sake Bar + Bistro and our Tonari Gumi kitchens.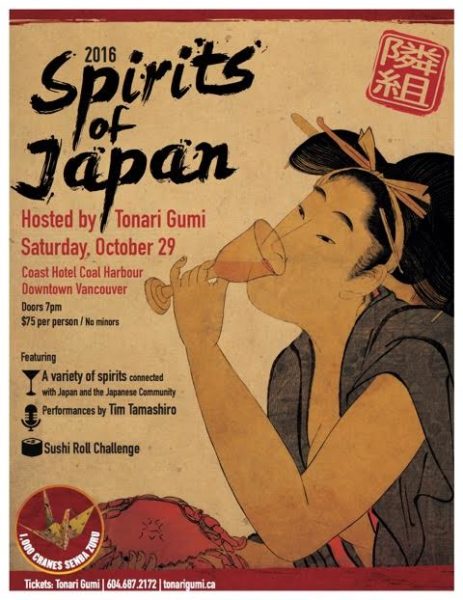 Coast Coal Harbour Hotel
1180 West Hastings Street, Vancouver BC V6E 4R5
Twitter: Tonari_Gumi
————————————————————————–
TICKETS:
$75 per person (19yrs+)
Can be purchased by phone by calling Tonari Gumi (604) 687-2172 or online through Eventbrite.
Tickets are limited so get yours early!
————————————————————————–
The night will also feature:
*Performance by Tim Tamashiro – jazz singer and the host of Tonic, a nightly jazz program on CBC Radio 2.
*Ocean Wise™ Sushi Roll Challenge – chefs from each restaurant will concoct their own version of the "Spirit Roll" that will be tasted by all audience members and guest foodie judges. All rolls are sustainable and ocean friendly, in partnership with the Vancouver Aquarium's Ocean Wise program.
*Media Wall created by Suki's – featuring fantastic head pieces created by Vancouver's favourite hair salon, and showcasing kimonos provided by Tonari Gumi.
*Costume Contest – In the spirit of Halloween, we welcome you to come in your most creative costumes! Prizes will be awarded for the best costumes, chosen by the audience.
*Silent Auction Items, Raffle Prizes and more!!
Be a part of a festive community building fundraising event that supports programs for seniors and others at our Japanese Community Resource Centre located at 101–42 West 8th Avenue, Vancouver, BC. For more info, please visit: www.tonarigumi.ca
**Special hotel rates available. Please plan a safe trip home.
>>Tonari Gumi (The Japanese Community Volunteers Association) is a non-profit community organization, committed in serving the needs of the Japanese Canadian community through volunteerism, support and outreach. We help seniors and other vulnerable individuals lead independent and healthy lives. It is through events such as this Spirits of Japan Tasting Night, that we are able to raise funds to run the many activities and programs at our centre.
To learn more about our fundraising efforts, through the 1000 Cranes (Sen Ba Zuru) Fundraising Initiative, please visit: http://donations.tonarigumi.ca/