East Van Vodka Takes Home Multiple Awards from the 
2014 San Francisco World Spirits Competition
The 14th annual San Francisco Worlds Spirits Competition officially announced their 2014 winners yesterday. Odd Society Spirits received multiple awards for their East Van Vodka,taking home gold for package design, and silver in the vodka category. The San Francisco World Spirits Competition is regarded as one of the most respected spirits competitions in the world. Products are evaluated by leading spirits professionals and are judged blind, making this annual competition one of the most reputable and recognized competitions in the spirits industry.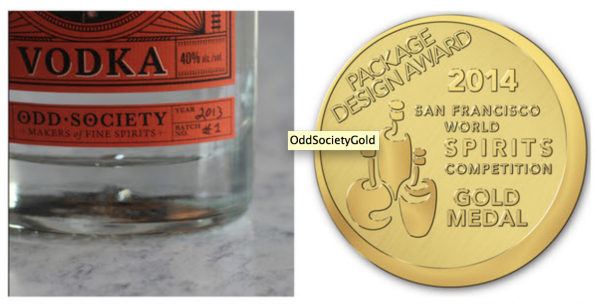 Thirty-nine spirits experts convened at the Hotel Nikko in San Francisco for the 14th Annual San Francisco World Spirits Competition 
March 20 through March 23, 2014
. Distillers and importers from 63 countries submitted 1,474 spirits into 89 different categories. 
The packaging portion of the competition was judged independently and took place in a single day. A panel of four distinguished graphic and packaging design professionals awarded 78 medals for excellence in design from 201 packaging entries.
"It is an absolute honour to have our vodka recognized in multiple categories at such a prestigious competition," says Gordon Glanz, Founder and Distiller of Odd Society Spirits. "Being able to compete on an international level is thrilling. Being awarded for our packaging as well as our spirit is overwhelming."
The East Van Vodka recipe was perfected by Distillers/Co-Owners Gordon Glanz and Joshua Beach, while the package design was created by the brilliant team at Cause + Affect. East Van Vodka was created as a tribute to East Vancouver, where the distillery is located. Made from 100% malted barley grown in Prince George, East Van Vodka is distilled in custom-designed European-made copper stills and proudly blended with purified Vancouver tap water. The whimsical label features artwork of 
an owl named 'Cornelius' sporting a mustache, pipe and naval uniform, illustrated by local artist Shwa Keirstead.
---
About Odd Society Spirits:
Odd Society Spirits is a small-batch B.C. Craft-Certified distillery located in the heart of East Vancouver. Dedicated to combining old world distilling traditions with new world ingredients and ingenuity, Odd Society Spirits has created a family of spirits that entice and intrigue. Open Thursday through Sunday, Odd Society Spirits distillery and tasting lounge is located at 1725 Powell St.