WE'RE HOLDING A "SING FOR A CAUSE" EVENT TO BENEFIT MUSIC HEALS, ON WEDNESDAY MAY 24 2017 AT ST JAMES HALL, KITSILANO:
• On Wednesday May 24, 7.30 to 10pm, at St James Hall in Kitsilano everyone that attends (Yes! Everyone!) will be given lyric sheets and the whole venue will be taught to sing three songs in harmony (that's 200 people!). This is not a spectator event, crowd participation is absolutely required! The songs are Happy by Pharrell Williams, Happy Together by The Turtles and Shiny Happy People by R.E.M. The event is called HAPPY! A Singing Fundraiser.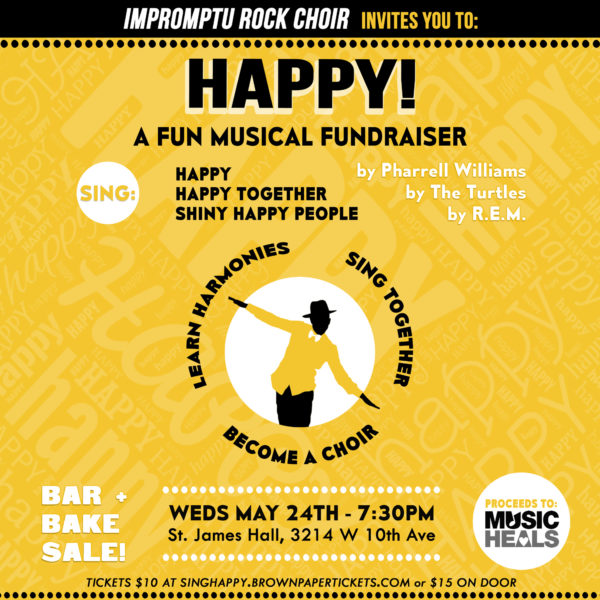 • There is no need to have any singing experience to attend the event. Singers and non-singers are welcome. Instruction is fun and easy to follow. And there's no need to read music to sound wonderful singing in a group! (however, if anyone wants to sneak in a practice they are welcome to come along to one of our drop-in choirs – we're singing Shiny Happy People May 16, 17, 18 & 23).
• It's $10 for advance tickets (available at our drop-in choirs) and $10 (plus fees) online at http://singhappy.bpt.me $15 on the door. There will be a bar and a bake sale (donated home-baked items are welcome!)
• So many of our singers have commented that they feel better after singing that music therapy is a very appropriate cause for us to support! This event is to fundraise for Music Heals who enable a wide range of music therapy services locally, increasing access to music therapy for patients in children's hospitals, senior's centres, palliative care, AIDS & HIV programs, at-risk youth, and as bereavement support.
• Will this be the biggest "impromptu" choir in Vancouver? Come along and find out!
• Impromptu Rock Choir are fun, informal, local community choir that sing rock, pop and indie songs. The format is flexible and runs on a drop-in-and-sing-any-week basis and we meet all year round. There's no need to commit to a whole term. Different to most choirs – there's also no need to audition, join a waitlist, read music or have musical experience. Established for over three years, we hold three choirs a week: Tuesdays at the Wise Hall in East Vancouver, Wednesday at St James Community Square in Kitsilano and Thursdays at Presentation House in North Vancouver, 7.30pm all venues. The usual drop-in fee is $10 ($5 for students with ID).
• Contact: info@nullimpromptumusic.ca 604 613 6842 Choir "Mother" Fiona is a non-musical organizer and singing/fun enthusiast. Choir Director Matt is a loveable very-musical, teach-people-to-sing enthusiast!