The Botanist Gin "Forager Edition" requires Main Street area bartenders to use a hyper-local foraged ingredient in their bars' entries in competition
The Cascade Room will play host on June 5th to the second Main Street Cup, a bi-annual cocktail tournament open to any bar within a one-block radius of Main Street, from Crab Park to Marine Drive.
The Cascade Room will select a maximum of ten area bars to participate. Each bar will be given free rein to create its own signature cocktail using the selected spirit for the competition, The Botanist Gin. This event features a unique twist. Competitors must "forage" an ingredient or item used for their cocktail from anywhere on Main Street. This could be dandelions from someone's front yard, or a special ingredient purchased at one of the many shops along Main Street.
There are absolutely no limitations to the ingredients used, although of course, the objective is to produce the tastiest cocktail. Points will be awarded for the creativity of each bartender, and proof of the provenance of his or her "foraged" ingredients will be required.
"We're really excited to see what's shaking for the second Main Street Cup," says Justin Taylor, General Manager of The Cascade Room. "The competition is designed to embrace the unique Main Street community and with the addition of the foraged ingredient, we will challenge the bartenders to search harder within their community to find those special ingredients. This is a fantastic opportunity for many businesses on Main Street to get involved."
Each bar will have two competitors working in tandem. Teams will present three full-sized cocktails to the esteemed judging panel, and 80 one-ounce samples to the audience at The Cascade Room.
There are two ways to win at the Main Street Cup:
1) Receive the highest score from the judging panel (Gez McAlpine – Botanist Gin Brand Ambassador; Nikki Bayley – Vancouver-based freelance journalist; Charmaine Carpenter – Mount Pleasant BIA Marketing and Promotions Ambassador) and receive a coveted prize from Islay, Scotland's The Botanist Gin.
2) Be awarded the highest score from the audience and keep the trophy on your bar until the next event, when you'll get an opportunity to defend your title.
Creativity is encouraged. Nothing is off the table, be it costumes, props, fireworks, flair, music, cheerleaders — whatever you need to do to win the hearts of the entire room.
"The Main Street Cup is a great challenge for our neighbourhood bartenders," says Taylor. "Guests will be amazed at just how creative these bartenders can get."
The Cascade Room's Main Street Cup II
2616 Main Street, Vancouver
Monday, June 5
4 pm – late
(Local band, Bonfire Ballerina, will be performing following the competition, at approximately 7:30 pm)
For more information, visit: mainstreetcup.com.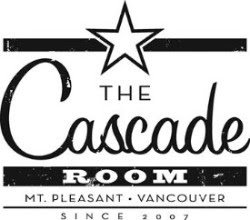 About The Cascade Company
The Cascade Company is a well-established restaurant group known for its modern-designed eateries in Vancouver, including: The Cascade Room (a modern take on the classic UK pub); Charlie's Little Italian (rustic Italian fare dished up in a hip trattoria); El Camino's (a lively cantina showcasing Latin American-inspired tapas); and The Union (featuring the firecracker flavours of Southeast Asia). Welcoming and relaxing atmospheres, friendly and knowledgeable staff, inventive cocktails and craft beer selections, and consistent, value-priced menu items are all a part of the mix and magic that make these restaurants regular hot spots in the Mount Pleasant and (bordering) Chinatown neighbourhoods. thecascadecompany.com