Tom Lee Music is marking the opening of its new flagship store at 728 Granville Street with a two day celebration this weekend on Saturday, June 3 and Sunday, June 4. The event which includes door crashers, live performances and workshops and will be the first chance for the public to explore the beautifully renovated open concept 14,000 sq. ft. location.
A great deal of thought has gone into the design of the store. According to Graham Blank, vice president and director for Tom Lee Music Canada, the intent was to create a space where people would want to come, to explore and to get help with their desire to make music. Each department, including music technology, has its own section, and all flow seamlessly into one another. The City Stage space, located upstairs, seats 70 and will be used for concerts and workshops. Blank said that, if they had signs throughout the store, those signs would read "Please touch".
One unique feature is the 26 ft. high ceiling, and the 250 acoustic lanterns which hang from it in the piano area, diffusing and enhancing the sound of the instruments as they are played.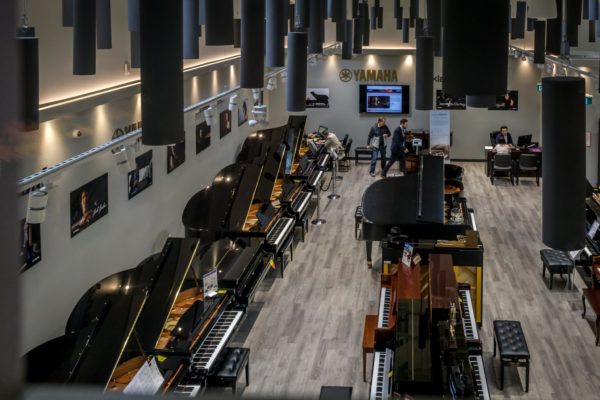 Visitors will be dazzled by the variety of musical instruments – the selection of acoustic and electric guitars, pianos, children's guitars and banjos, string instruments, horns and technology is remarkable, but is not the entire story. The on-line division of the store will have an even greater selection and will be able to deliver instruments either to the store or to the (local) buyer's home the day after it is ordered.
Media were privileged to hear three performances in different areas of the store. Vancouver guitarist Shaun Verreault, of Wide Mouth Mason, played a lap steel guitar in the City Stage,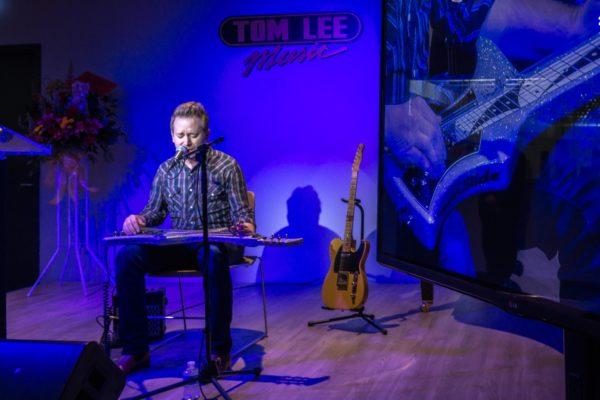 Don Adler demonstrated his amazing fingerstyle ability on his Yamaha guitar in the acoustic room,
and Steinway pianist Ian Parker demonstrated how the new Spirio piano is able to record what is being played, and then play it back perfectly.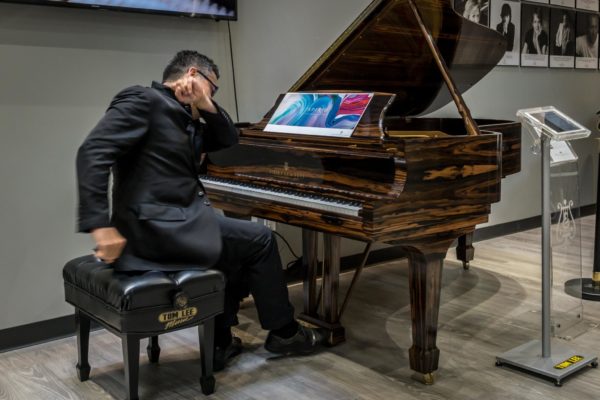 For more information and to register for workshops and performances by these and other musicians, see the Tom Lee website at: http://tomleemusic.ca/grandopening
Judy Robb