It's always good to stop into 8th Generation when I am in Summerland, though it is seldom good for my credit card balance. Usually I stop by to see if they still have some of their unique Pinot Meunier Rosé or to pick up some of their award winning Rieslings. I go in with the intention of buying 2, 4 or perhaps six bottles of wine, but after sampling their other wines, I always walk out with a case or more.
8th Generation? Yes, both Stefanie's family and Berndt's have been in the wine business in Germany for that long. So it should come as no surprise that this couple knows how to make Riesling and make it very well. It is in their blood.
In the tasting room, my friend and I had the great pleasure of being taken care of by Yolanda. Yolanda is friendly, outgoing, knowledgeable and entertaining. No wonder she has won an award for outstanding customer service.
My friend, from Ontario, used to drink Riesling as his go to white wine but then found too many poorly made and often overly sweet ones. However, a stop at 8th Generation reinstated his appreciation for this grape. He was impressed at how good it was.
8th Generation has a new tasting room, which has been open for a little more than a year now. If you haven't been there for a while, they have moved out of the winery and into the beautifully renovated house at the front of the property. It is a very attractive and comfortable tasting facility without being pretentious or over done.
Here are the wines we sampled that day and my very brief notes (I was too busy being entertained by Yolanda):
Chardonnay 2016
Apple, citrus and buttery vanilla. Impressive
Riesling 2015 Selection
Wild yeast, low yield, elegant, lime and mineral, honeyed, creamy texture, well integrated fruit, long lingering dry finish. This wine continued to evolve as it opened up. If you find it, buy it. Actually buy several and try to hang on to a few for cellaring.
Riesling Classic
Luscious and delicious. This is what Riesling is all about. The acid and sugar are perfectly balanced. Wow!
Riesling 2015
You can expect a touch more residual sugar in this one, which brings out all the luscious fruit flavours and makes it a good social or patio wine, yet it is perfectly balanced and is certainly not cloying.
I was very disappointed to find out that the Pinot Meunier Rosé was not available that day.
Integrity Sparkling wine
50% Chardonnay, 25% Pinot Gris and 25% Kerner (of all things) gives this Prosecco styled wine a unique, ripe and juicy, fruity quality. You won't go wrong serving this to anyone. This is Yolanda's gardening wine.
Confidence Sparkling wine
Another sparkler, this time made from 90% Pinot Noir with 10% Pinot Gris added to jazz it up. This pink delight, rich with red berry aromas and flavours, shows best when served in a classic Pinot Noir glass.
Pinot Noir
Very good body, great fruit notes, especially cherry and strawberry with hints of earth and forest floor. Again, this wine was even more impressive when served out of a PN Riedel glass. I love it.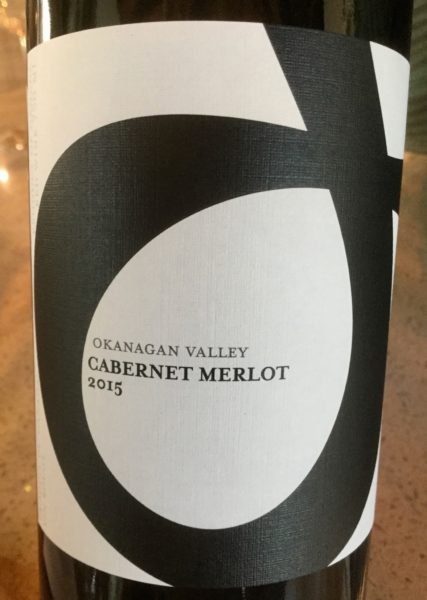 Cabernet Merlot
We were then given an Eiseh breathable glass to sample the Cabernet Merlot and it opened the wine big time. The difference compared to a regular tasting glass was impressive to say the least. The Merlot dominant blend shows aromas and flavours of dark fruit and berries, in particular, black currant, dark cherry and blueberry.
The Red One
This wine, lies stylistically in between a rosé and a red wine. The Spanish use the term 'rosado' for wines like this. Be sure to serve this tasty one chilled. Lots of juicy red fruit on this perfect summer wine for those who 'only drink red'.
Syrah 2010 Ice Wine
Delicious with richly integrated flavours followed by a long lingering finish. As delicious as this wine is, it is also excellent in a martini (just ask Yolanda), drizzled over French toast, crepes, or splashed on prawns and scallops atop rice noodles.
Something new at 8th Generation is their collaboration with Kristi Manke of Salubrious Seeds, a local producer of grape seed oil who make a number of products from grape seed oil including beauty products such as facial exfoliants, hand and foot scrubs, lip oils, hair treatments and body oils. Aren't grapes amazing – wine and all of this as well. As Kristi told me, "…our kids are 5th generation Summerlanders. Steve and I were determined to develop a socially responsible, environmentally friendly local business that would support our family remaining in the Okanagan for generations to come." I learned that every variety of grape produces a different oil, each with its own distinctive character. So far they offer ten different oils that are available at a variety of Okanagan tasting rooms. I bought a red grape seed oil and I can attest to its wonderful flavour and versatility in the kitchen. All these oils are cold pressed and unrefined.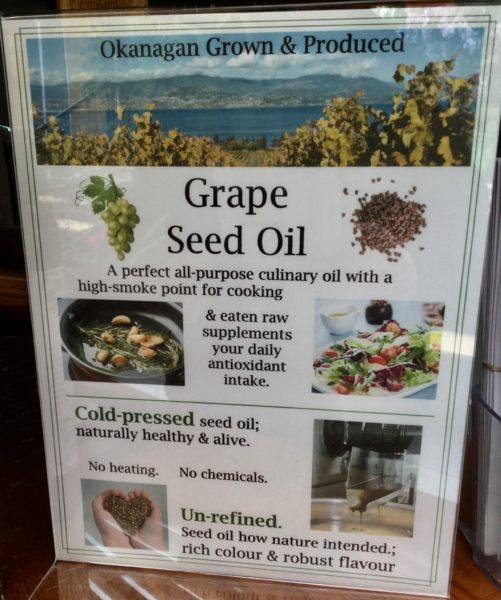 For more information visit them at http://www.salubriousseeds.ca/.
(All photos, except as noted – Sam Hauck)