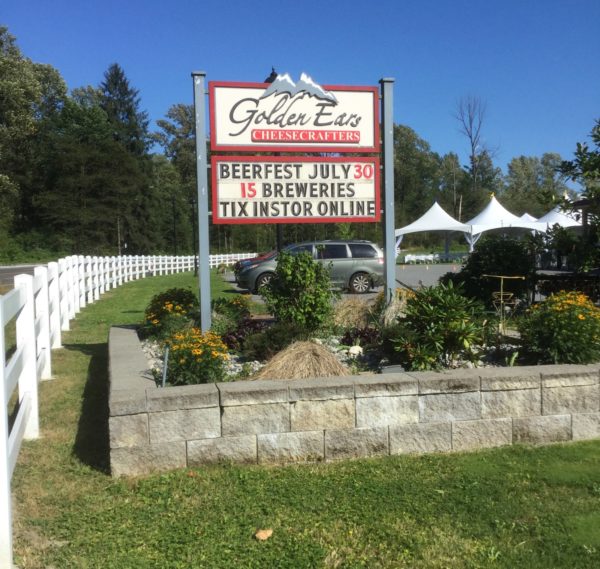 July 24.   Where would you find any foodie or wine lover from Mission to Coquitlam on a weekend in late July? Why most certainly at the Golden Ears Cheese Crafters Long Table Event. This elegant soiree, designed to raise money for the Ridge Meadows Hospital Foundation, is in its sixth year and it tends to sell out very quickly. People return year after year, often requesting to sit with people they met at the previous dinner. Because tickets tend to go fast, many people end up on waiting lists on the hope that there will be last minute cancellations.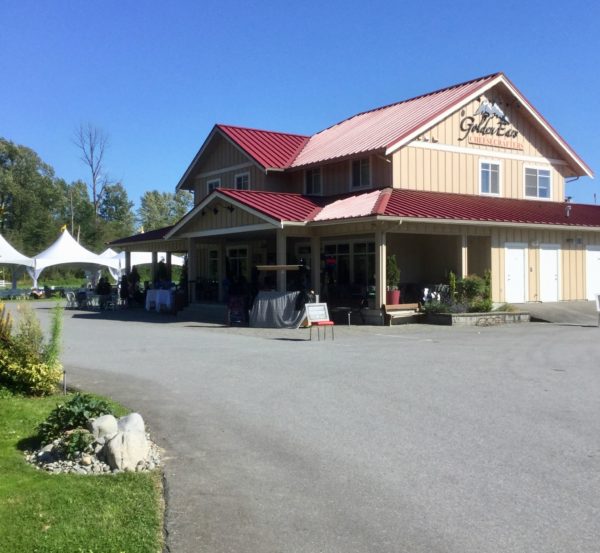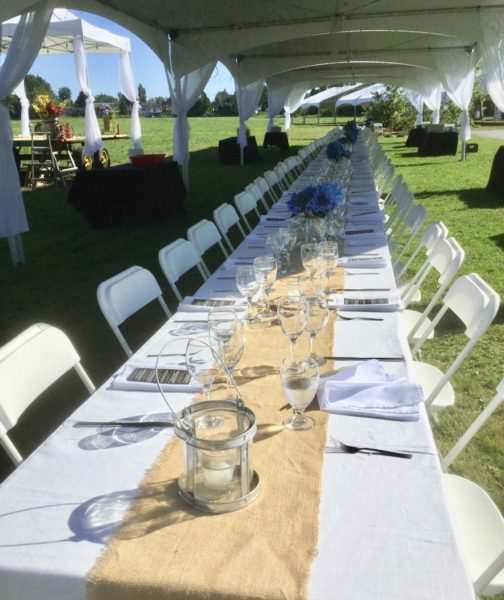 A wide variety of top chefs are invited to showcase locally sourced foods paired with BC wines. With the price of the tickets, people come here expecting to be wowed with something exceptional and unusual. They are not disappointed.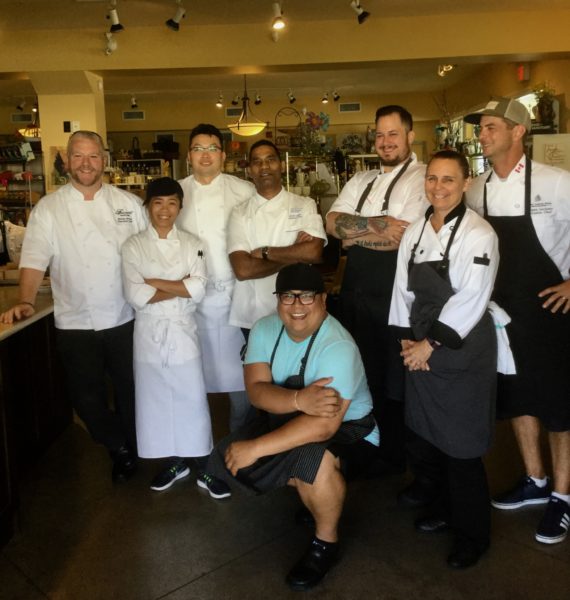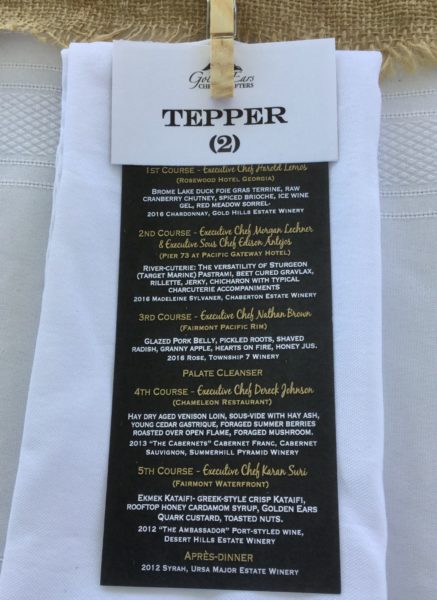 This year's participating chefs included:
Karan Suri                 Fairmont Waterfront
Harold Lemos            Rosewood at the Hotel Georgia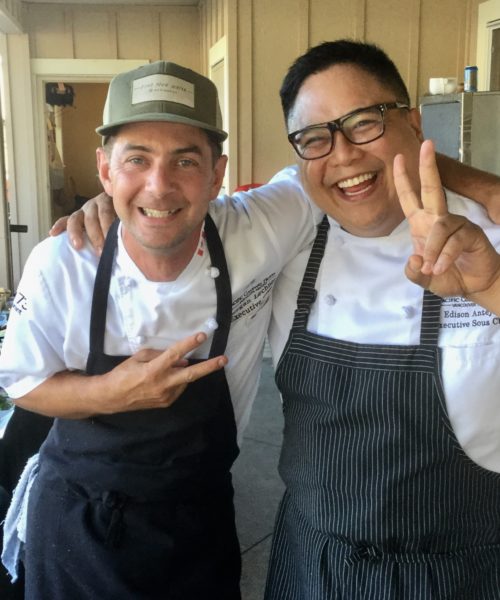 Morgan Lechner        Pier 73 at the Pacific Gateway
Nathan Brown           Fairmont Pacific Rim
Dereck Johnson         Chameleon Restaurant (Maple Ridge)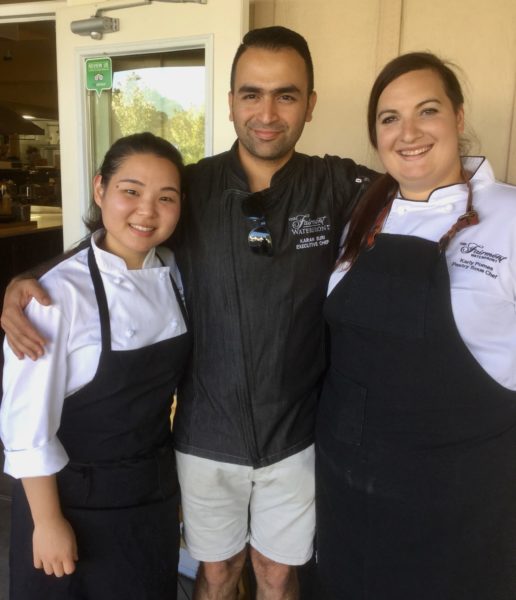 These chefs also brought their teams along, such as Karly and Kristen, pastry chefs at the Fairmont Waterfront, so there was always a buzz happening in the kitchen.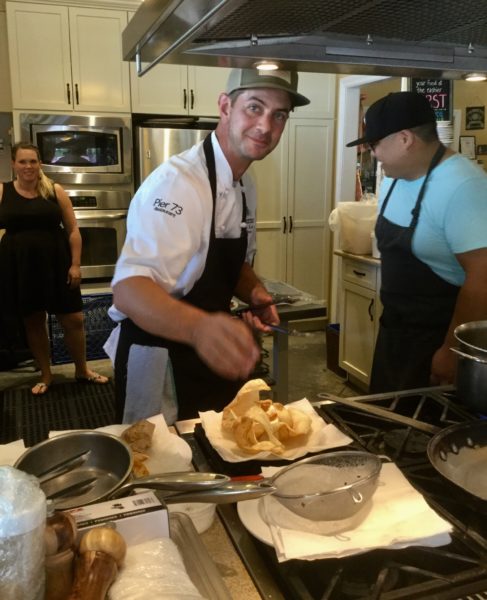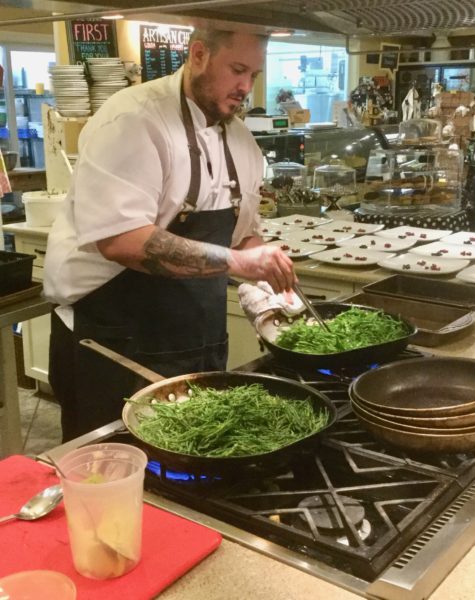 Wineries that donated to this worthwhile event included:
Chaberton
Desert Hills
Gold Hills
Summerhill
Township 7
Ursa Major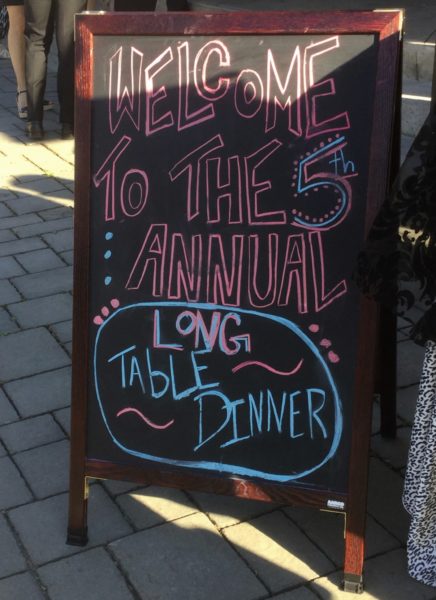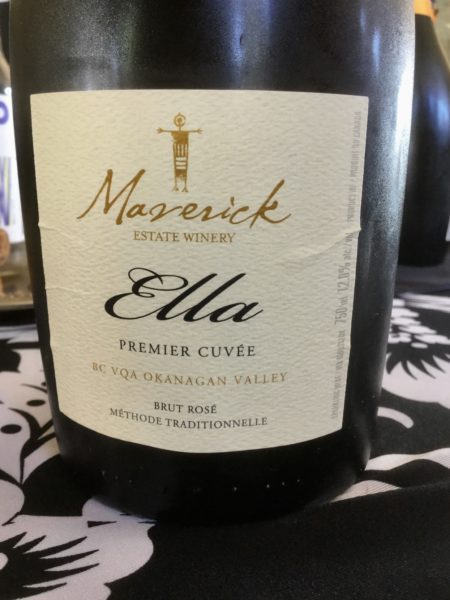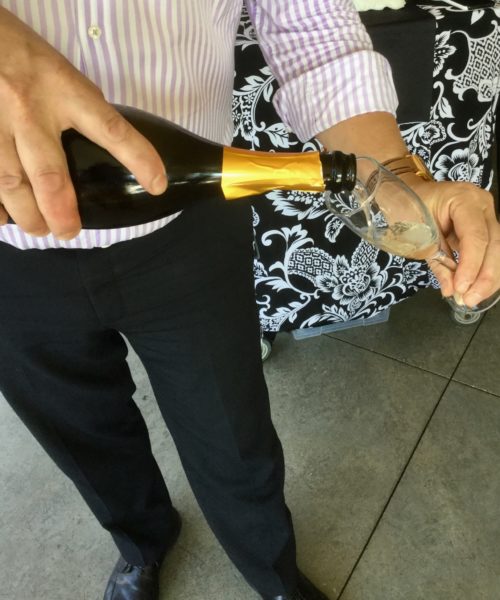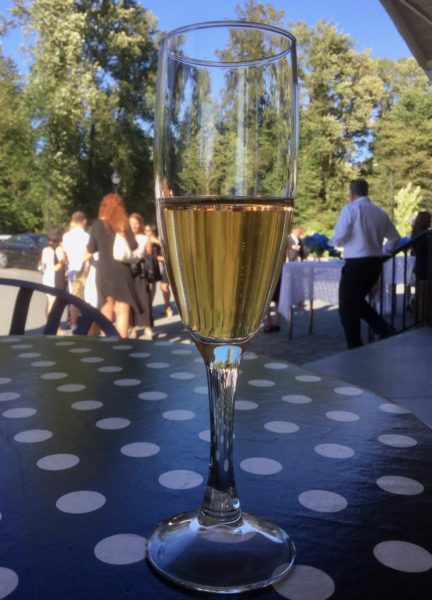 Upon arrival, Chef Kristof Gillese greeted guests with a glass of Ella, Maverick's traditional method sparkling wine made from 80% Pinot Noir and 20% Chardonnay, which accounts for its attractive, just the right hint of copper, 'champagne' colour. Classic aromas and flavours of toast, brioche, yeasty lees and nuts. Big and moussey in the mouth and packed with flavour. The lovely 'aged' quality lingers on the finish. This wine is a steal at $35.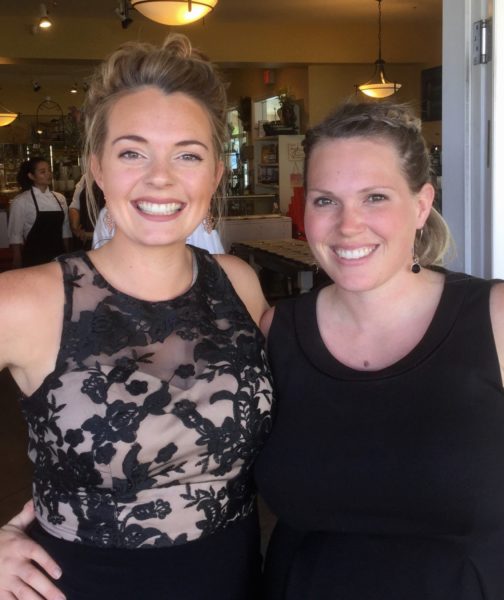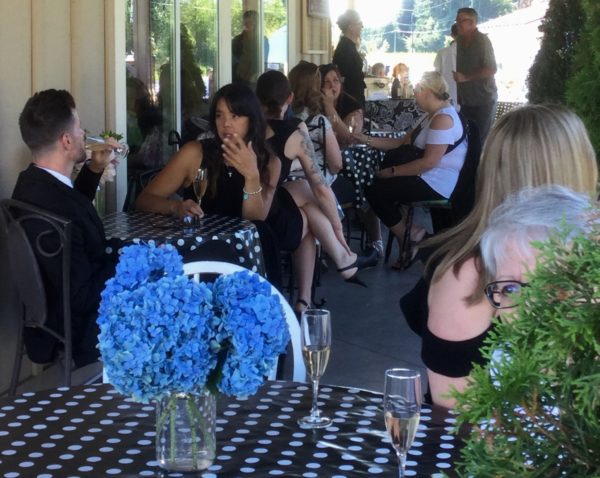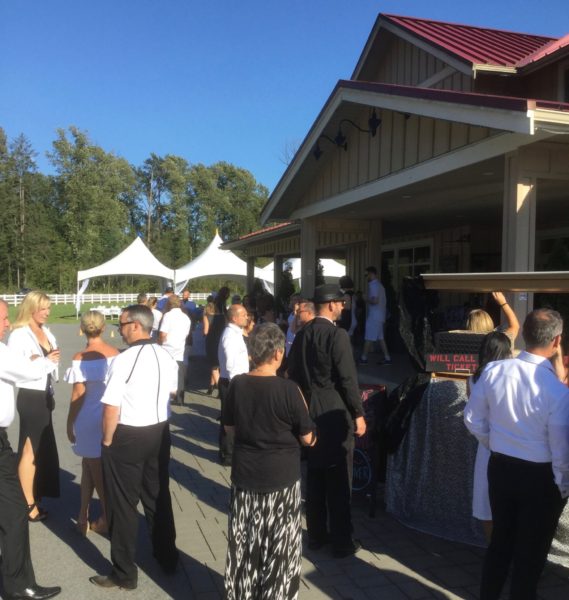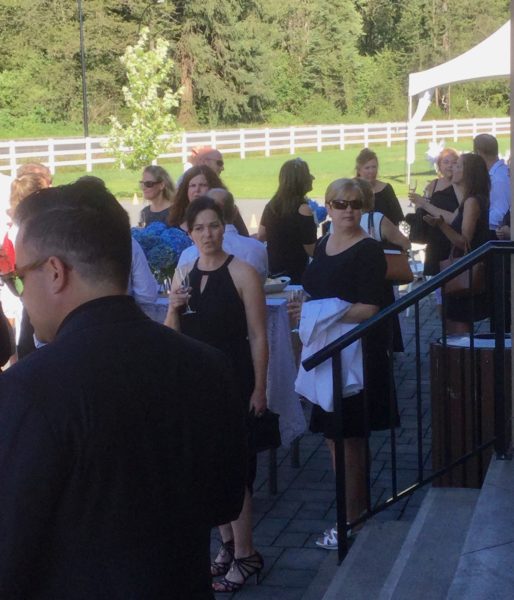 After some time to mingle and reconnect with friends old and new, guest were called out by their parties and then seated. For each course the chef explained what was on the plate and Kristof, now wearing his sommelier hat, talked about the wine he had selected to accompany it.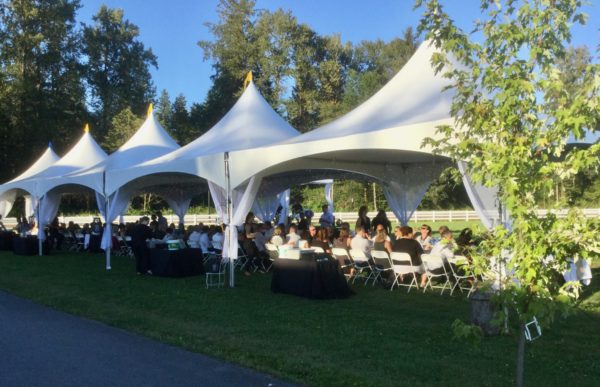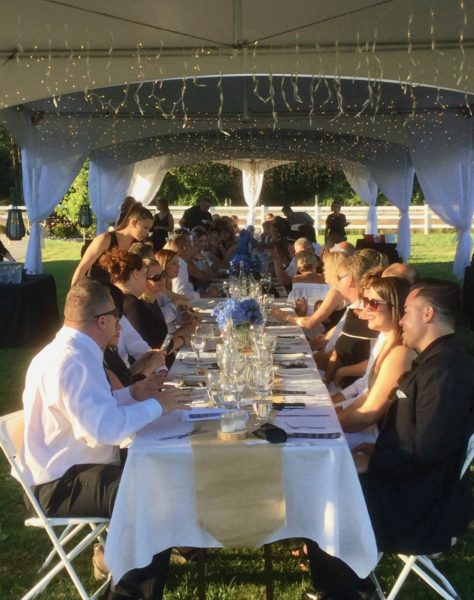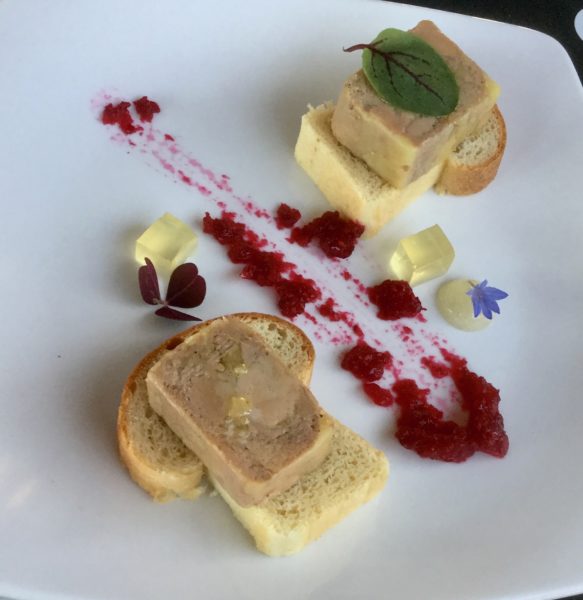 Fifteen servers ensured that the meals were served quickly. The first course, prepared by Chef Harold Lemos of the Georgia Hotel, featured Brome Lake Duck Foie Gras Terrine, raw cranberry chutney, spiced brioche, ice wine gel and red meadow sorrel. This was served with the 2016 Chardonnay from Gold Hills winery in Oliver.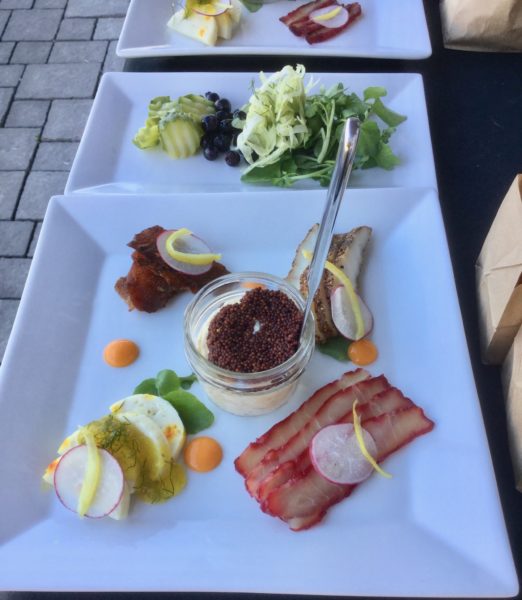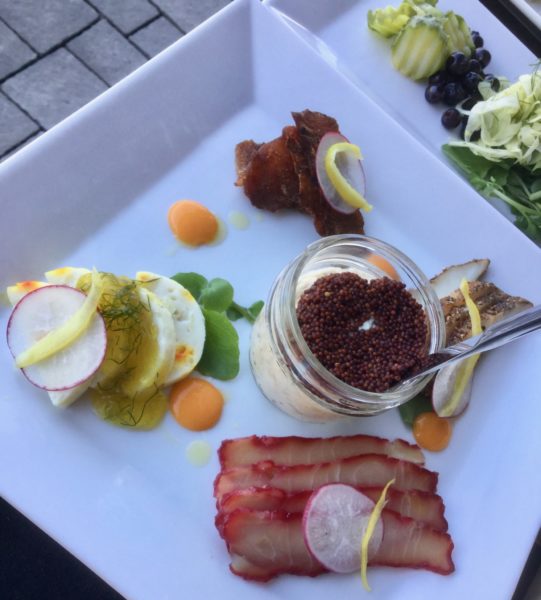 The second course was prepared by Chefs Morgan Lechner and Edison Antejos of Pier 73. It was River-cuterie-sturgeon pastrami, beet cured gravlax rillettes, jerky, chi Charon with typical charcuterie accompaniments. The wine poured for this dish was likely a new one to most people. It was a 2016 Madeleine Sylvaner from Chaberton winery in Langley.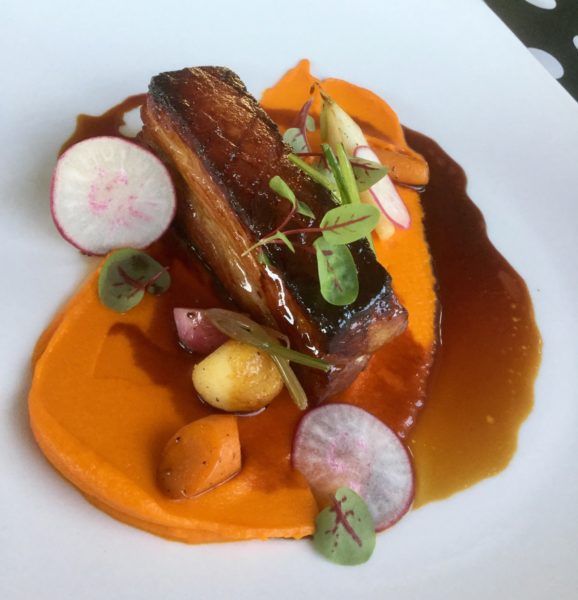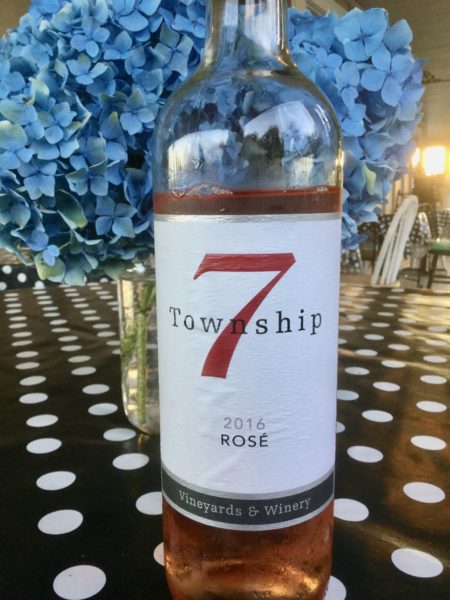 Course number three saw Fairmont Pacific Rim's Chef Nathan Brown's Glazed Pork Belly with pickled roots, shaved radish, granny apple, hearts on fire, honey jus paired with the 2016 Rosé from Township 7.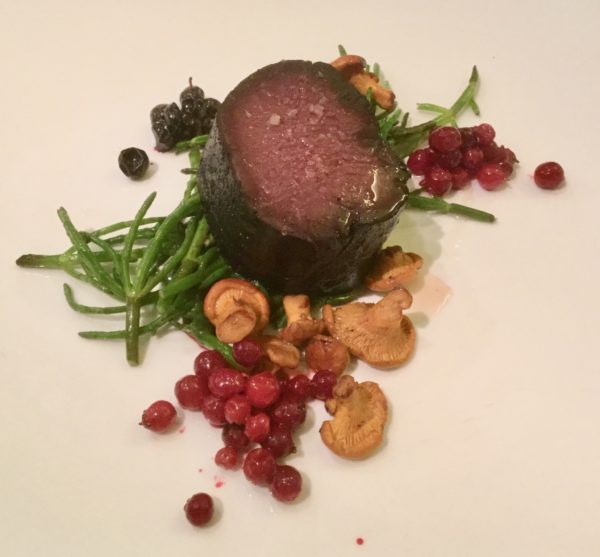 A little palate cleanser of a gin flavoured sorbet gave the guests a chance to ready themselves for the main course, prepared by Dereck Johnson of the Chameleon Restaurant in Maple Ridge, which featured Hay Dry Aged Venison Loin sous-vide with hay ash, young cedar gastrique, foraged summer berries, roasted over open flame forged mushrooms. This went very nicely with Summerhill's 2013 The Cabernets, a blend of Cabernet Franc and Cabernet Sauvignon.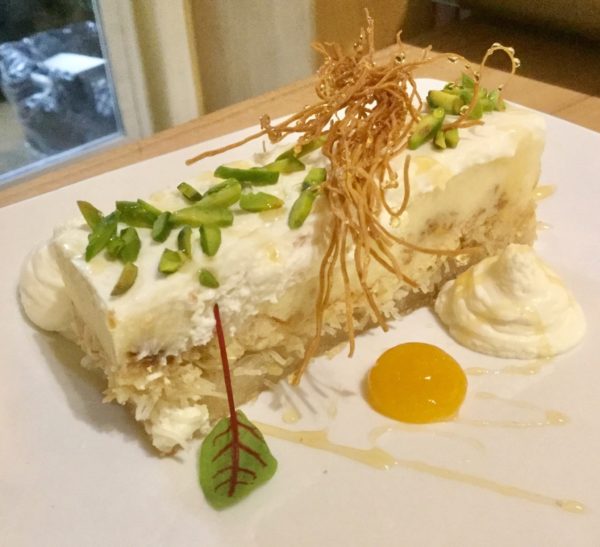 Dessert, the final course was prepared by Karan Suri from the Fairmont Waterfront. Ekmek Kataifi Greek style crisp Kataifi rooftop, honey cardamom syrup, Golden Ears Quark custard and toasted nuts. This called for something with enough sweetness to match the dessert, but not too much. Desert Hills Port-styled 2012 Ambassador was just right.
Those wishing another glass to mull the evening over were offered a 2012 Syrah from Ursa Major.
Last year, this event raised over $4000 for Ridge Meadows Hospital and when all the figures are tallied, this year proceeds are likely to be nearer $5000.
Do yourself a favour and take a drive out to Maple Ridge and visit Golden Ears Cheese Crafters.   It is a charming country store atmosphere with lots to offer. And I have it on good authority that they offer amazing breakfasts.