Forget the piped-in carols, Santa hats and Christmas decorations. For me, the holiday season doesn't start until Her Royal Meanness, the blue-haired, buxom Christmas Queen makes her appearance on the Vancouver TheatreSports™ stage.
For the past three years the Royal we all love to hate has done her best to ruin Christmas for everyone – and has been thwarted every time after many a hysterical twist and turn. And this year, Christmas Queen 4 – Secret Santa is no exception. Borrowing from the likes of Freaky Friday and All of Me, Queenie and Santa switch bodies, thanks to a ubiquitous whoopee cushion. As you can imagine, havoc ensues in Santa's workshop on Christmas Eve. But the surprises don't end there.
Improv is not easy. It's based on quick thinking, trust in your fellow performers and an acceptance of every idea thrown your way, no matter how far-fetched it might be. And as usual, the talented ensemble cast rose to the occasion and knocked it out of the park with performances driven by wacky suggestions from the packed house.
The players change frequently, and no two shows are alike. And while I loved everyone, special kudos to Brian Anderson, our Christmas Queen of the night, who delivered an appropriately evil and over the top performance, and to Allen Morrison, whose kindly Santa reminded me of Jimmy Stewart in the best possible way. Clare Filipow also shone as Marty, the elf who held the entire operation together despite a secret longing to be something she wasn't.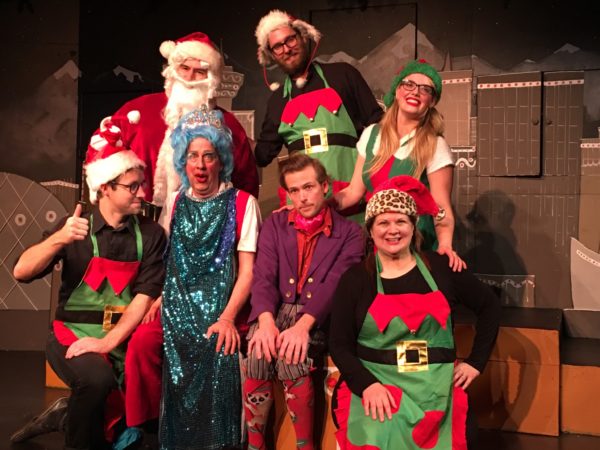 Christmas Queen 4 – Secret Santa runs Wednesday through Saturday at 7:30 pm until December 23. There will also be two additional matinee performances on Sunday, December 10 and December 17 at 2 pm. All performances take place at The Improv Centre on Granville Island. More information and tickets are available at vtsl.com.
Go. Bring a friend. You'll laugh. You'll boo (a lot). And you'll have fun. And for me, that's a great way to be filled with the holiday spirit.