Every year around this time I have friends come up to me or text me in a panic asking for help choosing a sparkling wine:
"I'm going to a party – don't know what to bring!"
Quite often the statement is followed by expletives and/or frantic emojis… and this is when I shake my head at the state of communication in the world today. Be that as it may, I completely understand and empathize with any consumer bewildered by the racks upon racks of sparkling wine that hit the shelves each December.
Quite literally there has never been a better selection of quality wine and at more affordable prices in the history of the world then there is right now. Noted Masters of Wine, who count their wine education not in years but in decades, are now heard to remark that they doubt they could pass the (wine) exams if they had to re-sit them. The world of wine has become a maze of, for the most part, wonderful choices.
The sparkling wines I've chosen are not necessarily the best wines in the world but they are, to be, some of the best quality and value in their individual classes from the hundreds I tasted in 2017. There are journalists and reviewers who do nothing but sample/review bubbly all year long and yet even they would be, rightfully, reluctant to pronounce that they knew what was or was not "The Best". In the end, there is only individual taste and a level playing field of professional quality… I hope that my taste in sparkling wines helps you make your choice this year!
*****
Making a statement with Champagne; dry
methode Champenoise aka Methode Traditionale aka "Champagne"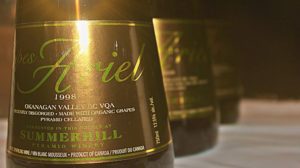 1998 Summerhill Pyramid Winery "Ariel", Kelowna, British Columbia
$92 CAD at the winery direct            delivery available in USA and Canada
93+ points, EXEMPLARY Value
To be fair: we cannot call it Champagne if it isn't from the region of Champagne… we can call it methode Traditionale or "Traditional" method. This sparkling wine treads heavily on the traditions of France and yet celebrates the nuances and terroir of Canada. It is, at the same time, utterly Old World and uniquely New World; cherishing both and becoming something of its own. The finest pearl-like mousse, crisp vibrant acid that is punctuated by a symphony of classic notes: toasty brioche and croissant, almonds, nougat, light summer flowers, Anjou and Bosc pear, golden apple, flecks of sea salt. Impressive bubbly from the winery that placed first in the world at the 2009 Decanter International Sparkling Wine Competition and, we hope, was heartily appreciated by Prince Charles when he was gifted two bottles. The only caveat to this choice is that, due to its age, this wine must be served promptly after opening; even 30 minutes later the fizz will have disappeared leaving it delicious but a still wine, not sparkling. Multi-generation family owned and run company, Canada's first bio-dynamic winery… and wonderfully kindhearted and generous human beings.
Agents in Canada: Renaissance Wine Merchants
Pleasing the crowds; dry
n/v Cristalino Brut Cava by Juame Serra, Catalonia, Spain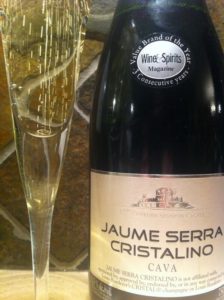 $11.99+ CAD, $8.99+ USD               (widely available)
89 points, EXCELLENT Value
It's no wonder that this (also made Methode Traditionale) is the second best selling sparkling wine in the United States; rich/creamy mousse, dry/vibrant/full/balanced acid and, for the modest price, an incredible concentration of green apple/warm straw/pear tart/lime zest aromas and flavors. Incredible on its own this is brilliant served as a Mimosa or other Champagne cocktail due to its dryness which balances superbly with liqueurs and fruit juices. Family owned and run company.
Agents in Canada: Christopher Stewart
Entertaining; off-dry
n/v Wolfberger Crémant d'Alsace Rosé, Alsace, France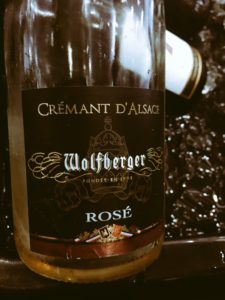 $14+ USD, £9+, $22+ CAD               (widely available)
90+ points, EXCELLENT Value
Started as one of the first cooperatives in Alsace in 1902 this trailblazing winery continues to go where few of its contemporaries tread. Enjoyed by wine-lovers in over 50 countries and on 5 continents the reason for this widely shared admiration can be lain squarely at the feet of quality and price; incredible quality for modest price yielding tremendous value. And the unique factor of the terroir lends to a flavor profile not found anywhere else. Personally, I love both the Brut and the Rosé equally, and invite you to explore more of their quality wines both sparkling and still.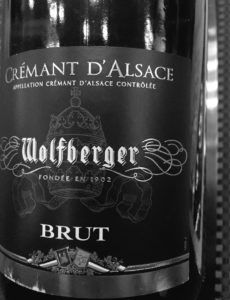 This particular Crémant sings with precision and harmony; ripe red fruit tones make a beautiful synergy with hints of white flowers, cherry blossom and gold apple. The brisk medium+ acid gives balance to the fruit, the light (fine-grained) tannin give a bit more structure to the body and the finish of flinty/saline minerality gives a decidedly grown-up impression. This is a wine that anyone can fall in love with and yet is loved by those who know their wines. No need to age further; enjoy right now!
4.  Spoiling yourself and others; off-dry
Domaine Carneros Brut Rosé "Cuvée de la Pompadour", Carneros, California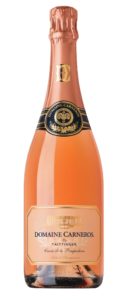 $35+ USD, £23+, $45+ CAD             (widely available)
91+ points, EXEMPLARY Value
One of the most prestigious sparkling wine producers in the world has been making iconic bubbly in California since 1986 and selling it for less than half of what they charge for a similar wine from their estates in France. Less than half… let that sink in for a moment.
Same passion, same craftsmanship, same attention to detail and the same name on the label. Here's the key: their name is on the label. Their reputation is on the line and I believe that their craftsmanship in this under-appreciated region is easily on par with what they are better known for from "across the pond".
Also made in the methode traditionale; stunning rich/creamy mousse, delicate/light body, crisp full young raspberry/cherry /blackberry/currant acid that could easily be matched to a myriad of culinary creations from seared duck breast to classic rillette to Thai coconut prawns and, yet, has an elegance (I hate to call it something as simple as "balance") that is delightful without need of accompaniment. The lightest whisper of tannin to enhance the mouth-feel and give substance; finely grained and harmonious. Deep concentration with end-notes of grapefruit zest/freshly squeezed lime… incredibly age-worthy though drinks beautifully immediately; spoil yourself with this 2017-2025.
Agents in Canada: Pacific Wine and Spirits
*****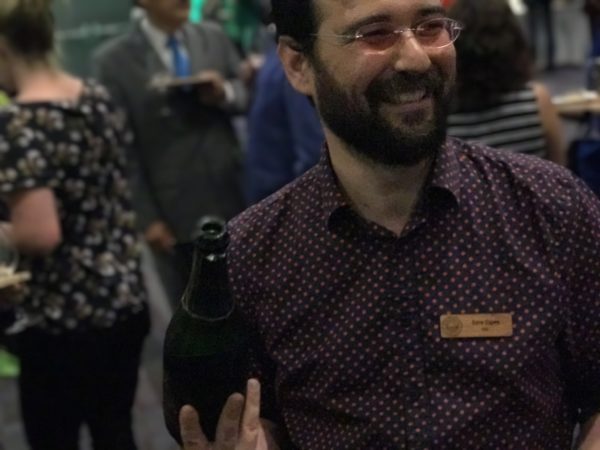 This is the time of year that we smile a little easier and make time for the friends and loved ones we haven't seen in far too long. It's a simple thing; making a meal, opening a bottle of wine, sitting by the fireplace while the kids run a-muck and smiling at the beautiful chaos. The music is always in the background; the only time of year we even consider Roger Whitaker and The Carpenters to be on the play list. And somewhere, perhaps right outside our window, snow is falling in glorious pillowy buckets; covering everything with a purity and making us for a moment forget that we'll have to dig ourselves out of it in the morning.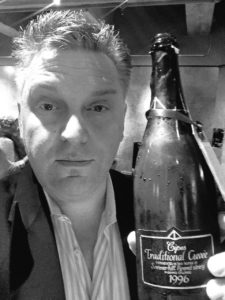 It is one of the great times of celebration of the calendar… the celebration of time with those we care for and sparkling wine is, arguably, the most symbolic wine for celebrating. I would challenge that this kind of celebrating can be engaged in at any time of year! It is a simple thing, though not always an easy thing, to tell a friend or a brother or a parent that you miss them – invite them over, watch the recording of Outlander another night and share a bottle or two of sparkling wine. Gone are the days when a bottle of bubbly was only for weddings and New Years Eve! In my house we often celebrate surviving the crammed-too-tight schedules and frantic commute home with a bottle of Cava on a Wednesday or Prosecco mimosas on Sunday.
My thanks to the many friends and colleagues who supported the writing of this article.  I hope that you make the time to explore these articulate wines; invite friends/loved ones over, cook some great food, drink some beautiful wine and create a memorable evening!
As always, I look forward to continuing our conversation:
on Twitter @AStudentofWine
on Facebook @The Chef and The Grape
 Sláinte!