– CAPS BC's Inaugural Title Is A First For Canada –
The Canadian Association of Professional Sommeliers named Blue Water Cafe + Raw Bar's Ian Wharton the 2018 Aspiring Sommelier at the organization's annual competition. As the first recipient of this newly minted award, Ian's superlative wine knowledge and service acumen earned him his coveted title amongst a talented group of six up-and-coming sommeliers.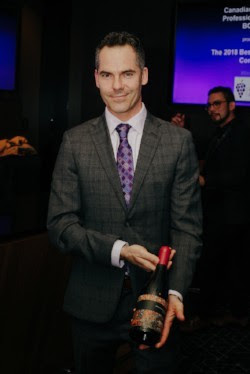 In a recent cover story in Vancouver Magazine's January/February issue, Ian is described as one of the city's new guard of sommeliers and the 'wine architect' due to his earlier studies at Carleton University before being smitten by the world of wine. This ambition is truly a case of passion conquering all.
"In many ways, Ian embodies a seasoned sommelier who builds a relationship with his dining guests to select wines based upon their preferences and the nuances of winemaking," says Blue Water Cafe's Wine Director William Mulholland. "We're delighted to have Ian as part of such a strong team to pair vintages from around the world with Executive Chef Frank Pabst's stellar cooking."
Ian's title of Aspiring Sommelier exemplifies Toptable Group's front-of-house talent pool and continues the legacy of the true art of hospitality with CinCin Ristorante + Bar's Wine Director Shane Taylor winning Best BC Sommelier in 2017, Araxi Restaurant + Oyster Bar's Wine Director Samantha Rahn in 2013, and West Restaurant + Bar's Wine Director Owen Knowlton in 2011.
ABOUT TOPTABLE GROUP:
One of Canada's leading hospitality groups, Toptable Group has seven elegant yet approachable restaurants in Vancouver and Whistler: Araxi Restaurant and Oyster Bar and The Cellar by Araxi, Bar Oso, Il Caminetto, CinCin Ristorante, Blue Water Cafe, West Restaurant, and Thierry Cafe. More information can be found online at
www.toptable.ca
.
ABOUT THE CANADIAN ASSOCIATION OF PROFESSIONAL SOMMELIERS:
Established in 1989, the Canadian Association of Professional Sommeliers (CAPS) is a pan-Canadian association, which brings together individuals within the sommelier profession, restaurant services, and other sectors of the wine industry.
As a not-for-profit organization, CAPS aims to promote and educate the sommelier profession through professional development and networking events related to the wine and spirits industry. Visit sommelierscanada.com
SOCIAL:
Facebook: @BlueWaterCafe
Twitter: @BlueWaterCafe
Instagram: @BlueWaterCafe
#BlueWaterCafe