Forbes Travel Guide today unveiled its annual Star Rating list, naming Vancouver's St. Regis Hotel as a Forbes Travel Guide Recommended Hotel. The St. Regis Hotel will be being showcased throughout the year alongside all of the Star Rating recipients on ForbesTravelGuide.com.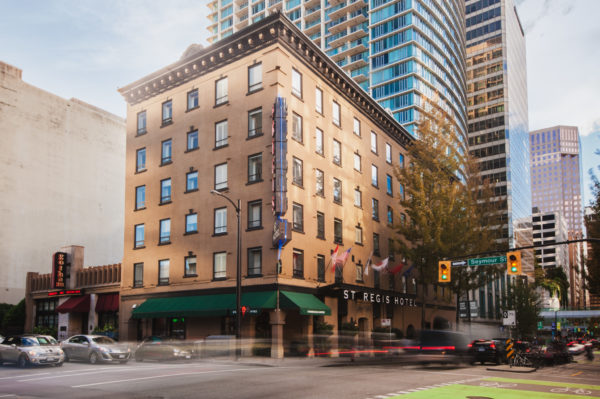 Opened in 1913, the St. Regis Hotel has welcomed visitors to Vancouver for over a century, and it continues to offer guests refined boutique accommodations in the heart of downtown. As an independent, locally-owned hotel, the St. Regis Hotel takes enormous pride in offering warm, personal service which make every visit a memorable one.
"We're thrilled to be recognized by Forbes Travel Guide as a 2018 Recommended Hotel," said General Manager Jeremy Roncoroni. "The hotel will celebrate its 105thanniversary on March 15th, and this award is a wonderful reward for the work our staff puts in to make each of our guests feel welcomed."
In preparation for this anniversary and as a sign of its commitment to offering hospitality for decades to come, the St. Regis Hotel is replacing its elevator for the first time since 1960. The brand-new elevator is the largest example of an ongoing maintenance program which sees every room in the hotel stripped, refreshed, and deep-cleaned every winter.
"Our ongoing maintenance program is unique in the hotel industry and ensures that our guests enjoy a fresh, new-feeling hotel room every time they stay with us."
To learn more about the St. Regis Hotel, visit www.stregishotel.com. For a detailed explanation of how Forbes Travel Guide compiles its Star ratings, visit https://www.forbestravelguide.com/about.
About the St. Regis Hotel:
The independent, Canadian-owned and operated St. Regis has been welcoming visitors to Vancouver since 1913. The Edwardian heritage building has been completely renovated to the highest level of modern comfort and finish. Boutique in size, the St. Regis Hotel offers the widest range of standard complimentary inclusions including free full breakfast, worldwide long distance, Wi-Fi, FIJI bottled water, and much more. Perfectly located in the heart of downtown Vancouver, the award-winning St. Regis Hotel proudly offers each guest "more than you expect, everything you deserve".
About Forbes Travel Guide:
Forbes Travel Guide is the only independent, global rating system for luxury hotels, restaurants and spas. Started as Mobil Travel Guide in 1958, the company created the first Five-Star rating system in the United States. Today, Forbes Travel Guide's incognito inspectors travel the world, evaluating properties based on up to 900 rigorous, objective standards. The company's annual Star Ratings, reviews and daily travel stories help discerning travelers select the world's best luxury experiences. For more information about Forbes Travel Guide, visit www.forbestravelguide.com.