Vancouver TheatreSports™ (VTSL) April feature show, Murder on the Improv Express, is an improvised whodunit set in the 1930's – a glamourous era when Art Deco was in vogue and anyone who was anyone travelled 'abroad' on luxury liners or trains. The best chefs, servers, and bartenders were recruited to cater to these elite travellers. Prohibition had just ended and classic cocktails were crafted and served to this sophisticated clientele.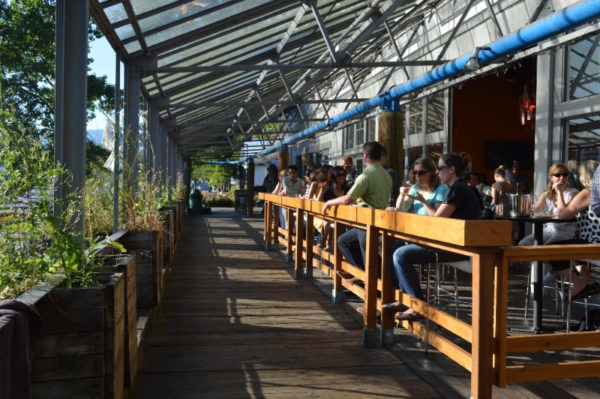 In homage to the great cocktails of the period, Vancouver TheatreSports' Bar Manager, Paul Belsito has created two 'Killer Cocktails' to complement Murder on the Improv Express. Both are priced at $8.75 for a single and $12.75 for a double:
 Corpse Reviver: Based on a classic 1930's hangover cure, it'll bring you back to life – Gin, lemon-lime juice and a splash of soda.
 Prohibition Pleaser: People couldn't drink before 1933 … but they found a way. This one looks and tastes like it's alcohol-free – it is anything but – Glayva Liqueur, Amaretto, and cranberry juice.
Another favourite libation of the era (of any era really) was champagne. No self-respecting barman would be 'caught dead' without a good supply of bubbly – after all you never knew when a train might be delayed, or stuck in an avalanche. The Club Car could not afford to be caught short. Similarly, The Neil Macrae Bar & Lounge will also be featuring piccolo-sized bottles of Henkell Rose bubbly at $9.75 in addition to its regular menu of wines, spirits and beer.
Killer Cocktails are only available during the run of VTSL's Murder on the Improv Express – A Killer Comedy from April 12 through May 26, 2018 at Neil Macrae Bar & Lounge in The Improv Centre on Granville Island. Show information and tickets can be found at vtsl.com
About VTS' Neil Macrae Bar & Lounge
Tucked away at the back of Vancouver TheatreSports™ home theatre –  The Improv Centre on Granville Island (1502 Duranleau Street), the fully-licenced Neil Macrae Bar & Lounge is a convenient place for theatre patrons to meet for pre or post-show drinks. Patrons can also take their beverages into the theatre with them to enjoy during the performance.  The Neil Macrae Bar & Lounge is open for theatre patrons Tuesday through Sunday evenings from 6:30 p.m. More information on Vancouver TheatreSports™, The Improv Centre and the Neil Macrae Bar and Lounge visitwww.vtsl.com  Vancouver TheatreSports™ appreciates the support of its season sponsors: City of Vancouver, CMHC Granville Island, The Georgia Straight and The Granville Island Hotel.