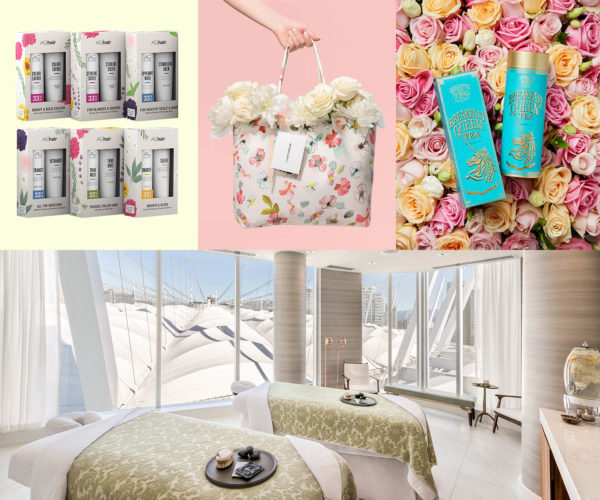 AG Hair (www.aghair.com) creates a new standard of beauty through handcrafted products that deliver on their promise. Born from a passion for quality, AG is a celebrated Canadian brand that uses a meticulous selection of natural ingredients.
Show your support for women across the world: a portion of every bottle sold supports One Girl Can (www.onegirlcan.com), a registered charity that provides educational opportunities to impoverished girls living in marginalized areas of sub-Saharan Africa.
Brighten up Mom's summer hair vibes with AG's Botanical Gift Sets (starting from $27) for every hair type. Duo boxes provide hair care solutions for all needs – Colour Savour to soothe and protect colour- treated hair, Smoooth and Sleeek to calm, smooth and add shine, Thikk Wash & Rinse to boost volume, and more.
BOTANICAL GIFT SETS
BRIGHT & BOLD COLOUR
Colour Savour Shampoo 10 oz & Conditioner 6 oz $32
FOR BLONDES & SILVERS
Sterling Silver Shampoo 10 oz & Conditioner 6 oz $27
FOR HEALTHY SCALP & HAIR
Peppermint Wash Shampoo 10 oz & Stimulating Balm Conditioner 6 oz $27
ALL THE MOISTURE
Xtramoist Shampoo 10 oz & Ultramoist Conditioner 6 oz $27
THICKER, FULLER HAIR
Thikk Wash Shampoo 10 oz & Thikk Rinse Conditioner 6 oz $27
SMOOTH & SLEEK
Smoooth Shampoo 10 oz & Sleeek Conditioner 6 oz $32
USE. LOVE. NATURAL.
Balance Apple Cider Vinegar Shampoo 12 oz & Boost Apple Cider Vinegar Conditioner 12 oz $48
Where to purchase: Available in salons and online at Chatters.ca May 1, 2018.
Indigo
Whether you know just what mom wants, or are looking for recommendations, Canada's favorite one- stop-shop, Indigo Books & Music (www.chapters.indigo.ca), is full of thoughtful gifts that mom is sure to love. From inspiring titles to scarves, totes and home decor, Indigo's Mother's Day Shop highlights our best-in-class gifts and signature items to celebrate every mom.
TWG Tea
Embracing the beauty of mothers around the world, TWG Tea introduces the Breakfast Queen Tea, a gift fit for the queen of your heart this Mother's Day. Just as the radiant light of a morning sun glimmers in hues of sparkling gold, the morning tea of sweet citrus and soft floral overtones gently awakens the senses and welcomes a new dawn. Delicately balanced with a fresh hint of sweet lemon and notes of noble rose, this vivacious green tea from the Haute Couture Tea Collection® is a stimulating and refreshing blend that calms the soul, while infusing the air with a feeling of tranquility. Inspired by the queen's graceful grandeur, its soothing turquoise tin embossed with matte gold accents lends an elegant and royal charm that will set your mom's hearts aflutter and put a smile on her face.
Price: $48 (100g)
Where to purchase: Available at the TWG Tea Salon & Boutique in Vancouver. Canadian orders can also be made online at www.VanSingDG.com.
Celebrating the endless love of mothers on this special day, TWG Tea presents an exclusive Mother's Day Brunch, Afternoon Tea Set, and Mother's Day Dinner Menu for the noblest lady in your life. Create cherished moments with your mom's favourite choice of tea, accompanied by a delectable array of tea- infused treats and a momentous keepsake gift.
Mother's Day Brunch Tea Set is offered at $48 per person from 9:30am – 1:00pm Mother's Day Afternoon Tea Set is offered at $58 per person from 11:30am – 5pm Mother's Day Dinner Menu is offered at $68 per person from 5:00pm to last order Children Tea Set is offered at $28 per person (under 12 years), 10:00am – 9:00pm
Menus are exclusively offered on Saturday, May 12th and Sunday, May 13th at the specified seating times at TWG Tea Salon & Boutique in Vancouver.
Six Seatings Available:
9:30am – 11:00am | 11:30am – 1:00pm | 1:30pm – 3:00pm 4:30pm – 5:00pm | 5:30pm – 7:00pm | 7:30pm – 9:00pm
Reservations: For reservations, please call 604.692.0071 or visit www.VansingDG.com. Location: 1070 West Georgia Street, Vancouver, BC
Spa by JW Vancouver
Give the gift of relaxation this Mother's Day with a treatment from Canada's first Spa by JW. Located on JW Marriott Parq Vancouver's 17th floor featuring vistas of False Creek and BC Place, the nearly 10,000 square foot tranquil spa features a myriad of signature treatments. Experience curated facials and massages, indulge in a mani-pedi, or get ready for Mother's Day brunch with make-up and blowouts at The Glamoury's second location at Spa by JW.
Reservations: Please book your reservation by calling 778.370.8700.
Location: 39 Smithe Street, Vancouver BC
17th floor of JW Marriott Parq Vancouver
Website: www.spabyjwvancouver.com
Press release and images: Avenue PR