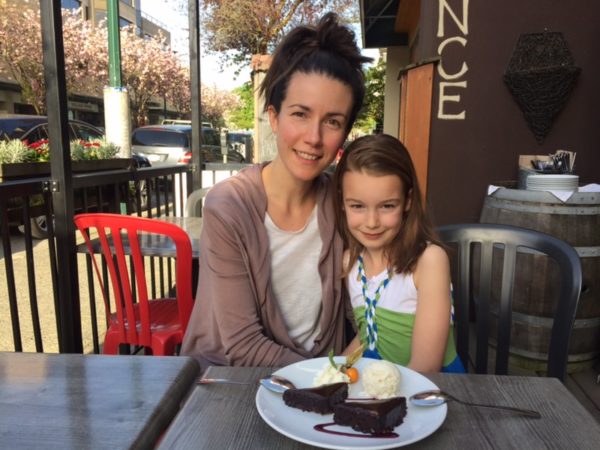 Celebrate a family friendly Mother's Day at Rocky Mountain Flatbread where the mothers in your life can relax and enjoy a sweet treat while their little ones enjoy the play area and make pizzas!
Complimentary Double Chocolate Brownies
Rocky Mountain Flatbread will be treating mothers (and grandmothers too!) who visit our Vancouver restaurants with a complimentary warm double chocolate brownie with the purchase of any brunch, lunch or dinner entrée from our new Spring Menu. Vegan and gluten free dessert options are available on request so there is a treat for everymom!
​​Pizza Making for Kids
Join us for dinner from 5:00 – 7:00 pm on Mother's Day, and let staff entertain the kids with pizza making while mom relaxes with a glass of wine and some quiet time. The kids will roll out their own dough, spread tomato sauce, sprinkle cheese and add their favourite toppings before eating their pizza creations. Perfect for little chefs of all ages. $8.50 per child.
Vegan Menu Options, Gluten Free, Nut Free 
Rocky Mountain Flatbread is a nut free restaurant and offers gluten free and plant-based vegan menu options everyday.
Reservations
​​​​We recommend reservations for this very special Mother's Day celebration!
Rocky Mountain Flatbread Main Street (4186 Main Street, Vancouver): Call 604-566-9779 or email info@nullrockymountainflatbread.ca.
Rocky Mountain Flatbread Kitsilano (1876 W 1st Ave, Vancouver): Call 604-730-0321 or email info@nullrockymountainflatbread.ca.
About Rocky Mountain Flatbread
Rocky Mountain Flatbread takes pride in providing sustainably produced, local food that connects the farm, family and community. Visit our Rocky Mountain Flatbread restaurant locations in Vancouver (Main Street & Kitsilano) or the original restaurant that started it all in Canmore, Alberta. Food court locations include Rocky Mountain Flatbread Express in Banff. For more information, visit rockymountainflatbread.ca.