Chef David Gunawan and Team Pay Homage to Mom by Offering Multi-Course Feast Featuring Familiar Homespun Favourites
Acclaimed locavore chef David Gunawan and his team at Farmer's Apprentice are taking a page out of their mothers' cookbooks and serving up a homespun feast in honour of Mother's Day on Sunday, May 14.
Maintaining Gunawan's signature philosophy of using exclusively organic, local and sustainably-sourced ingredients, the Farmer's Apprentice Mother's Day menu draws inspiration from the team's own childhood favourites.
FARMER'S APPRENTICE
MOTHER'S DAY DINNER MENU
Meatloaf, Yorkshire Pudding, Raspberry Ketchup, Farmhouse Cheddar Sauce
Salad of Asparagus, Spring Harvest
'Just-Like-Mom-Used-to-Make' Vegetable Lasagna
Baked Salmon, Potato and Sorrel Gravy
Pork Chop with Mushroom Sauce
Wild Rose and Chocolate Cookies, Vanilla and Tonka Bean Ice Cream
Farmer's Apprentice, which recently reopened its doors after a redesign of the dining room, also offers a nightly set dinner menu, weekday lunch and family-style weekend brunch.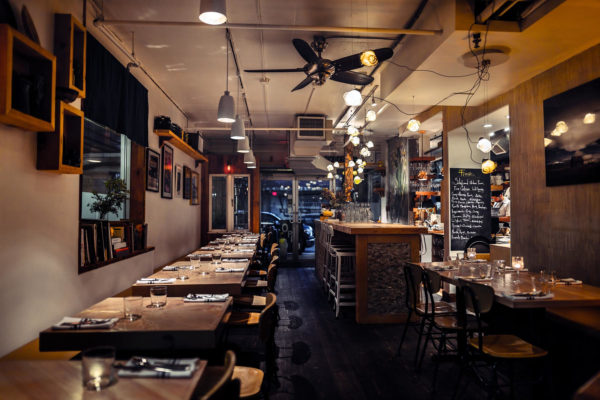 RESERVATIONS
The Farmer's Apprentice Mother's Day menu is available on Sunday, May 14 for $65 per person plus tax and gratuity. Reservations may be made by calling the restaurant at (604) 620-2070.
For more information about Farmer's Apprentice, go to www.farmersapprentice.ca. To make a reservation for dinner call (604) 620-2070 or book online.
ABOUT FARMER'S APPRENTICE | The birthplace of innovative, artisanal and sustainable cuisine in Vancouver, Farmer's Apprentice features ever-changing menus comprised of ingredients delivered fresh daily from local farms, pastures and providers and served in a casual, intellectually stimulating environment that encourages interactions between the chefs and guests. Launched in 2013 by acclaimed locavore chef David Gunawan, Farmer's Apprentice was ranked No. 2 on enRoute Magazine's annual list of Canada's Best New Restaurants in 2014, and also swept the podium that year with nods for Best New Restaurant, Best Casual Restaurant and Restaurant of the Year at the 25th annual Vancouver Magazine Restaurant Awards.
1535 W 6th Ave., Vancouver, B.C.  V6J 1R1 | Lunch Tues – Fri 11 a.m. to 2 p.m. | Dinner Mon – Sun 5:30 to 10 p.m. | Brunch Sat – Sun 11 a.m. to 2 p.m. | (604) 620-2070 | info@nullfarmersapprentice.ca | www.farmersapprentice.ca