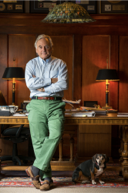 The Celebrity Waiters Luncheon governing body will present Michael Malone, a Seattle real estate developer, businessman, and local philanthropist, with the 2018 Community Service Award. This honor will be bestowed during the 34th annual Celebrity Waiters Luncheon at the Fairmont Olympic Hotel on May 11, 2018. The Community Service Award recognizes Malone's time-honored commitment for getting deeply involved with nonprofit organizations that make a difference in the lives of Seattle's less fortunate and the preservation in many of Seattle's landmark buildings in the Pike/Pine Neighborhood.
Malone is most known as the Chairman of DMX Music, formerly AEI Music Network Inc., a company he founded in 1971. He built AEI Music into a leading multi-national music programming and distribution company with operations in 38 countries before selling to Liberty Media in 2001. Malone maintains an active role at Liberty Media as a board member. He is also a past recipient of the Ernst & Young Entrepreneur of the Year Award.
"I am thrilled to be honoring Michael Malone for all of his work with local nonprofits and to be the one who presents him with the 2018 Community Service Award, which recognizes his outstanding leadership as a trusted, passionate human being and businessman," said Gene Juarez, Celebrity Waiters Luncheon Board Member. "Malone is someone we all strive to be with his tireless dedication to saving Seattle's historic buildings and his generous heart."
He has also been involved in the development of real estate since the early 1980s, and has always been passionate about preserving Seattle's historic architecture, Malone bought and renovated the Sorrento Hotel in 1981. Today, Malone has interest in several boutique hotels and restaurants on the West Coast.
Active in the community, Malone is past chairman and a lifetime member of the University of Washington TYEE Board of Advisors, as well as a Trustee on the University of Washington Foundation. In 1990, Malone served as the City of Seattle's Arts Commissioner and has also served as the City's Commissioner to the Seattle Center. Currently, Malone serves on the Seattle Police Foundation as one of the Founding members and past Chairman. Additionally, he serves on the National Council of the National Trust for Historic Preservation, the Northwest African American Museum Board of Directors, as well as the Capitol Hill Housing Board of Directors.
"I am deeply honored to have been chosen by the Celebrity Waiters Board to be recognized at the upcoming annual luncheon benefiting the Millionair Club Charity of Seattle," shared Michael Malone. "Having been involved with this great group early on, I know what it means to be honored! Most importantly, I am very pleased to do anything that will assist The Millionair Club Charity, an outstanding organization in our community."
Born and raised in Seattle, Malone graduated from the University of Washington. Along with his wife, Barbara and four daughters, Malone finds time to enjoy racing vintage cars, fly fishing, tennis, skiing, and spending time at his rural ranch in Eastern Washington.
For more information about the award, contact Suzanne Hight at (206) 236-6167, or visit www.celebritywaiters.org.
About Celebrity Waiters Luncheon
The Celebrity Waiters Luncheon was founded in 1984 by Gene Juarez with the help of Dick Friel, Michael Malone, David Wymann, Jr., Phil Smart, Jr., Brooks Whittle, and Ron Neubauer. Their objective was to create a unique and innovative lunchtime auction comprised of key business and community leaders. Guests are invited to sit at their table and are waited on by their Celebrity Waiter host. The waiter encourages their table guests to bid on auction items, donate through raise the paddle and "tip" their waiter throughout this fun-filled, themed event. This inventive formula has made Celebrity Waiters Luncheon one of the most successful daytime Seattle auctions for over 30 years. The Celebrity Waiters Luncheon Organization serves the Puget Sound area by annually raising funds for local charitable organizations in the areas of Education, Health, Human Services, and Children/Youth.
About The Millionair Club Charity
Since 1921, the Millionair Club Charity (MCC) has operated a supportive employment program that specializes in helping people who are experiencing homelessness or other barriers to employment to become job ready. The MCC's Temporary Staffing Solutions program connects men and women with employment opportunity at over 1,100 businesses and residences in the greater Seattle area. The MCC models the independence they encourage. They are proud that they have subsisted for decades primarily on private donations from individuals, foundations, and corporations. The MCC is supported by community-minded people that come from varied backgrounds and are not affiliated with any one religious, political, or social group. Despite what some assume from their name, their backers are ordinary people.