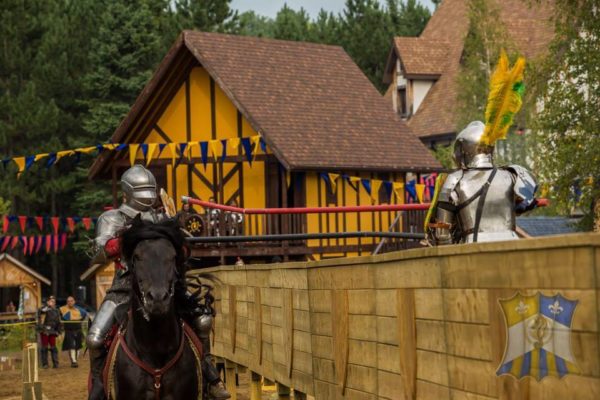 Desert Park Exhibition Society is offering school children a free barn tour of joust horses May 18 at 10am at Desert Park Race Track as a prelude to the Annual Osoyoos Medieval Faire. This is a perfect way for the children and their parents to better understand the Jousting displays on the May long weekend.
"We wanted to introduce this special form of entertainment to children so they have a more enjoyable experience when they come to the Osoyoos Medieval Faire", says Bobbie Fischer, Organizer. "We have expanded the vendor village and added more entertainment for the weekend. Audiences will see jousting Knights in full metal armor and watch mounted competitions in old world games of skill. Village vendors include food, artisans, and a variety of buskers including stilt walking juggler, fire breathers and sword fighting. New for this year are the Kelowna Axe Monkeys who offer the thrill of targeted axe throwing. Kids will enjoy be entertained with Jump'nJax inflatables, horse and pony rides and stilt walking clinics.
Contact Bobbie at clei@nulltelus.net to reserve your space for the children's Friday morning barn tour.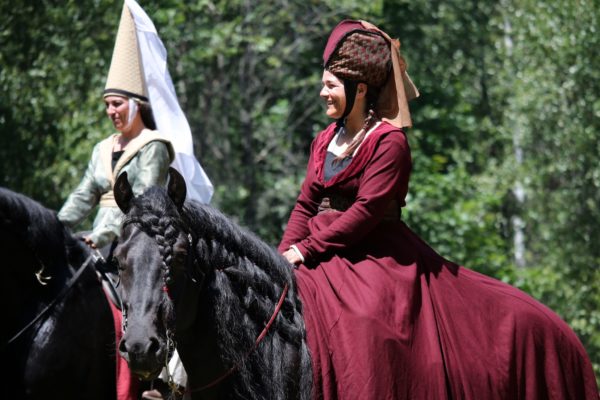 Under the tent a stage for dancers and pub with craft beers by The Cannery Brewery and wines by Adega on 49th Winery offered. In addition live music features Rob'n'Walker and Route 33 bands will add to a family friendly, tourist worthy event.
And special this year will be a separately ticketed for adults only Friday evening 6-9 Medieval Madness pub serving craft beers by the Cannery Brewery, music to dance by from talented singer performer Jeremy Messenger, in the Great Hall at 3800 Golf Course Drive. Topping off the evening entertainment will be Cosmic Co-Motion, a multi-talented circus inspired group from Kelowna, adding the perfect twist of excitement, danger, and performance art that will keep the audience intrigued with aerial acrobatics and a fire dance finale!
"This is one event you won't want to miss this summer," said event organizer Bobbie Fischer. "It's an event packed with history and entertainment for all ages." She equates it to a "demolition derby on horses."
Tickets
Tickets for each day and for Friday evening will be $25 at the gate and only $20 online at www.osoyoosfaire.com
About the Desert Park Exhibition Society
Located in Osoyoos, BC, the Desert Park Exhibition Society is a non-profit organization that hosts the annual Osoyoos Medieval Faire. Desert Park is a year-round multi-use recreation complex with a rich history in the horse industry dating back more than 40 years. Desert Park is home to a 5/8 mile dirt race track, five barns, and outdoor arena and RV Park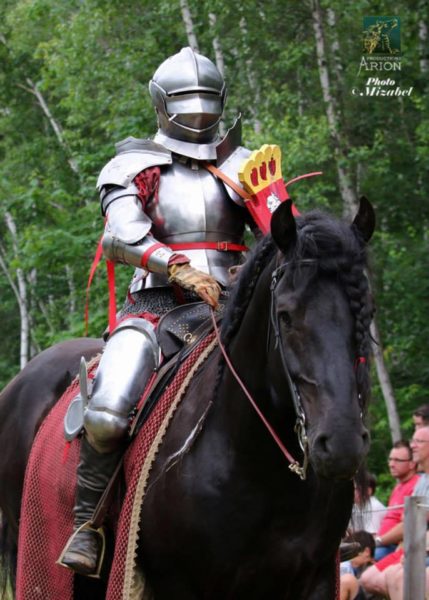 From the Laurentians, Quebec.
Caroline has always been a horse lover. She finally realized her dream and bought her first one in 2003, two years after her debut in the medieval hobby where she already was aspiring to joust. 
In 2005, she reached her goal and began to sharpen her skill in local tournaments. Sometimes exchanging the armor for medieval gowns, Caroline also loves carousels and "Pas de deux". 
Caroline had the honor to be invited by STALC as a judge in 2014 at the occasion of the Brooks Medieval fair in Alberta and had the privilege of riding with Stalc on various occasion ever since. (Brooks, Calgary Stampede Grounds, Heartland's Fearless episode) and it is a great honor to be invited to Osoyoos for the second time!
Some exciting new challenges lurks ahead, like the third jousting season of her purebred Canadian stallion Skippy, and the renewed collaboration between her company, Arion and various local fairs/ partners for the organization of renowned equestrian events.