Award ceremony is being held in Imperial Theatre, Vancouver on May 30
The Startup Canada Awards recognize those driving impact and demonstrating excellence in Canada's entrepreneurship and innovation community. 
Each year, hundreds of nominations pour in from across Canada, and thousands join to celebrate the regional winners at local, grassroots ceremonies in startup spaces and education hubs. 
Check out the recap video from last year's awards:
https://www.youtube.com/watch?v=vYhcEYeK9wo
Enjoy a toast as we celebrate those driving impact and demonstrating excellence in Prairies entrepreneurship and innovation community at the regional Startup Canada Awards, a red carpet event. Be the first to know – regional winners announced at the event!
Connect with the movers and shakers of the West Coast entrepreneurship community during the reception – network over drinks and mingle with key players, including this year's British Columbia region winners. Then join us for the ceremony.
AGENDA
6.00-7.00 pm | Reception and Networking
7.00-9.00 pm | Ceremony
*After party details TBA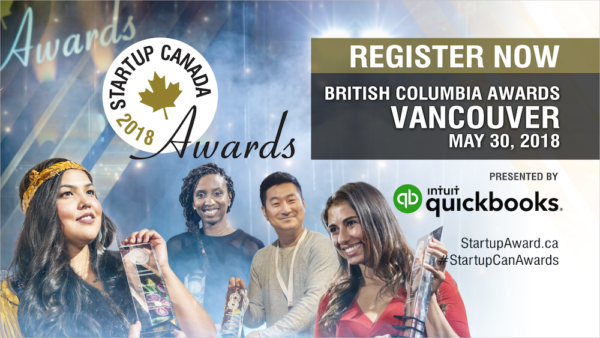 ABOUT THE STARTUP CANADA AWARDS
The Startup Canada Awards are the hallmark events celebrating outstanding achievement in Canada's entrepreneurship and innovation community.
THANK YOU TO OUR SPONSORS
The Startup Canada Awards would not be possible without the support of our esteemed sponsors who understand the importance of advancing entrepreneurship in Canada.
Thank you to our presenting sponsor Intuit Quickbooks, and to our national sponsors BDC, UPS, Scotiabank, the Centre for Social Innovation and Mastercard.
About Startup Canada
Startup Canada is the national rallying community and voice for Canada's entrepreneurs. Through flagship programs, digital platforms, and cross-sector partnerships between entrepreneurs, private sector, and government, Startup Canada offers training, resources, and a peer network to give every entrepreneur equal opportunity for success. For more information, visit www.startupcan.ca.