Burdock & Co and Royal Dinette partner up for special dinner collaboration on May 29th
Mindful sourcing and cooking are two themes prevalent in both chefs Andrea Carlson and Eva Chin's kitchens. To celebrate their deep and rewarding relationship with local producers Cropthorne Farm and Sole Foods, the two are joining forces on Tuesday, May 29, 2018 for an evening of creative, vegetable forward dishes with seafood in a long table format. Held at Royal Dinette (905 Dunsmuir Street), the dinner begins at 6 p.m. and features eight-courses with optional wine pairings.
"We treat our farming partners like family," says Chin, executive chef at Royal Dinette. "Without them, we wouldn't be able to provide our guests with such fresh, seasonal, and incredible produce. When Andrea and I met, we knew we had to collaborate to celebrate that produce – vegetables will definitely be the stars of the evening. What's even more amazing is that Cropthorne Farm and Sole Foods are both female-owned and operated."
The eight-course dinner will feature spring vegetables, such as radishes, leafy greens, wild herbs, plus local and sustainable seafood from Fresh Ideas Start Here and Coastline. The optional wine pairings, curated by wine director Claire Saksun, includes naturalist wines from the old and new world.
"Food is something that can be enjoyed so honestly and simply, and it's with the help of our local farms that we can reach this goal," says Carlson, owner and chef of Burdock & Co, known for her pioneering focus on Canadian Pacific Northwest cooking and the 100-mile diet. "We are honoured to be able to put on a dinner with Cropthorne Farm and Sole Foods and can't wait for guests to see what Eva and I have up our sleeves for the menu."
Limited tickets are available, priced at $90 without wine pairings or $150 with wine pairings and can be purchased at www.royaldinette.ca via Eventbrite.
For more information about Royal Dinette, please visit www.royaldinette.ca.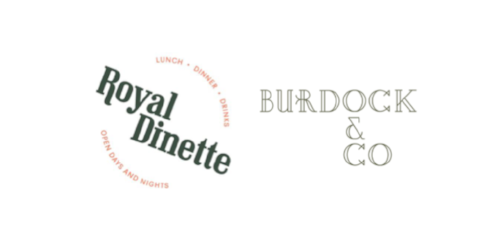 About Royal Dinette
Located in the heart of downtown Vancouver, Royal Dinette focuses on bringing together the best fresh, locally sourced ingredients for a true farm-to-table feast for the senses. Executive chef Eva Chin practices mindful cooking and her inventive-style with a modern American flare pairs well with naturalist wines and bar manager Kaitlyn Stewart's handcrafted cocktails.
905 Dunsmuir Street | 604-974-8077 | www.royaldinette.ca
Instagram: @royaldinette | Twitter: @royaldinette | Facebook: /royaldinette
About Burdock & Co
Opened in 2013, Burdock & Co is Andrea Carlson's uncompromising vision of what a restaurant can be. Located on Main Street in the heart of Vancouver, Burdock & Co presents sophisticated dining in a casual setting, with an evolving local and organic menu, naturalist wine program, and a signature way of cooking that trusts the raw materials to shine. Burdockandco.com
2702 Main Street | 604-879-0077 | www.burdockandco.com
Instagram: @burdockandco | Twitter: @burdockandco | Facebook: /burdockandco