Chefs 'walk the talk' with a wild salmon event August 25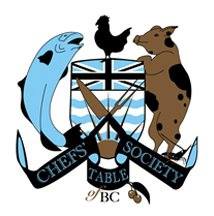 While you likely have heard of their signature events in Vancouver, (the Spot Prawn Festival, the Curry Cup and more) the Chefs' Table Society (CTS) is the organization in the background making these events and other things happen.
A non-profit organization since 2004, the CTS is a chef-administered, province-wide collaborative that supports innovative and sustainable programs that inspire, educate and nurture chefs, food producers, and the local food industry, all the while promoting standards of excellence with the aim of enhancing the reputation of our regional cuisine. Among its core values is to conduct its activities based on fraternity, mentorship and sustainability for its people, land and resources.
| | |
| --- | --- |
| | Chefs' Table Society president Robert Belcham  Photo by Chris Mason Stearns |
| | |
The CTS is making a formal statement that they are against open pen aquaculture for farmed Atlantic species in Pacific water. A land-based closed aquaculture system is recommended.
CTS president Robert Belcham says "The Chefs' Table Society has had sustainability as one of its core values since its inception. We have always taken the stance that open net Atlantic salmon farming on the west coast is misguided, dangerous for our wild salmon stocks and negatively impacts our coastal first nations' fundamental right to clean ocean waters. We believe the future of this kind of aquaculture is better suited in closed containment, land based facilities. We need to push the government to continue the research into this kind of technology."
"By having the public come out and enjoy ocean-caught, sustainable salmon, we are showcasing the best of our coast," states Belcham. "I look forward to seeing everyone there."