Featuring: Chef Curtis Luk with Long Table's Brand Ambassador, Tarquin Melnyk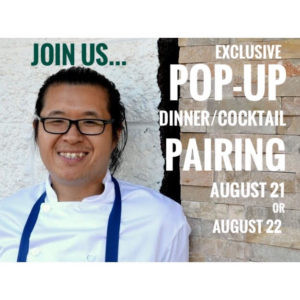 Long Table Distillery is pleased to introduce 'The Apothecary Journey'. Two nights of a one-of-a-kind collaborative pairing dinner on either Tuesday, August 21 or Wednesday, August 22, your choice.
We're working alongside one of Vancouver's Top Chef Allstars with our awarded House Bartender for a unique food and cocktail pairing experience – all held inside our beautiful distillery.
Long Table Pop-Up: An Apothecary Journey & Dinner Pairing Affair
The menu features pairings of culinary and cocktail expressions across a four-course meal.
Featuring the flavorful science of Vancouver Top Chef Canada contestant, Curtis Luk who's incorporating a range of botanical herbs and apothecary ingredients that are deeply intertwined with the making of our spirits.
Similarly, our Brand Ambassador Tarquin Melnyk will pair each featured plate with a special cocktail to complement the culinary expressions – in styles of the season.
Long Table Owner/Distiller, Charles Tremewen, elaborates "Together we've created a menu that indulges in our gallipot knowledge and treats your taste buds to a host of unique flavor expressions you might never have thought possible. A true West Coast discovery – Bon Appetite!"
MENU: The Apothecary Journey
Appetizers:
Bundled local tender herbs & greens, lightly grilled and topped with an onion & anchovy dip
Beef carpaccio, berries, pepper, served on beef-marrow bread
Paired cocktail: "Trapani Tonic" – Long Table Cucumber Gin, Ms. Better's Cypress Bowl Bitters, citrus oregano syrup, Fever Tree Mediterranean tonic, garnished with Castelvetrano olive & garden fresh oregano
First Course:
Mussels infused in cucumber, lovage and caraway
Paired cocktail: "Rosa Súrr" – Long Table Långbord Akvavit, lemon juice, rose marigold syrup, Ms. Better's Smoke & Oak Bitters, vegan foamer, garnished with garden fresh squash blossoms and marigold petals.
Second Course:
Heirloom tomatoes, fresh cheese with electuary, eggplant, guanciale
Paired cocktail: "Armistice" – Long Table Bourbon Barreled Gin, Cynar, tomatillo honey water, Ms. Better's Orange Tree Bitters, soda water, garnished with eggplant skin.
Main Course:
Pork tenderloin served over barley, sprinkled with apothecary herbs and spices
Paired cocktail: "Amargo Amuse-bouche" – chilled Long Table Amaro Linnaeus, sweetened barley tea, Bianco vermouth, Ms. Better's Elderberry gastrique & Trans Canada Bitters
Dessert:
Wine posset, stone fruit, sweet herbs
Paired cocktail: "Tsukuba Sidecar" – Pairs of Pears brandy, Long Table Bourbon Barreled Gin, lemon juice, Yuzu syrup – Cointreau – Ms. Better's Mt. Fuji Bitters, garnished with lemon peel.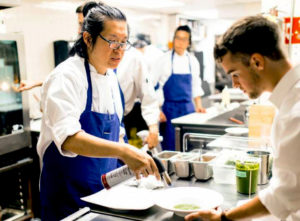 About Chef Luk
Curtis Luk studied computer science at the University of Waterloo before holding positions at various acclaimed Canadian restaurants such as George in Toronto and Atelier in Ottawa. In 2012, he fulfilled a long-time goal and competed on Top Chef Canada, where he met notable Vancouver Chef Trevor Bird. Drawn by the bounty of ingredients on the west coast, he teamed up with Chef Bird to open Vancouver's well-known Fable after the show aired.
Following his time at Fable, Curtis went on to head other Vancouver kitchens before realizing his idea of a West Coast farm to table restaurant of his own. At Mission Kits, he resided as Chef/owner until recently.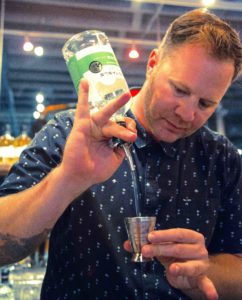 About Tarquin Melnyk
Since 2010 Tarquin Melnyk has applied his award winning bartending in numerous cities around the world. After transitioning from a career in Health Care, Tarquin set out on a quest to elevate beverage culture and provide a lasting experience for everyone he serves. In 2014 he resettled on Canada's West Coast and took-over the bar at Bambudda in Vancouver's Gastown. There, he transformed it into one of the City's most notable and adventurous cocktail bars. Tarquin shares a well known love for innovative molecular drinks which led him to a involvement with Ms. Betters Bitters, a well known line of high quality bitters, syrups, purees and their innovative Vegan Miraculous Foamer.Through his involvement, Ms. Better's became recognized in 2017 as #10 on "The Spirit's Business" list of Top 50 Most Innovative Products in the World. Today Tarquin is a member of the team at Long Table Distillery – as Brand Ambassador and Distillery Bartender. There he is actively building brand awareness for their award winning Gins, fine spirits and overseeing the growth of their popular distillery cocktail lounge. In addition Mr. Melnyk is a prolific writer, photographer, consultant and filmmaker – hosting globally recognized content on a number of sites.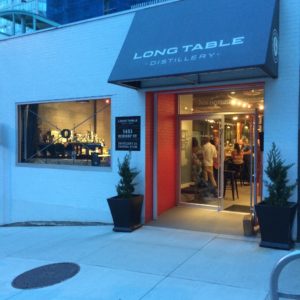 The Long Table family are Ginsmiths and makers of international award winning premium spirits. They have always been inspired by the diversity of the untamed British Columbia West Coast wilderness. From rugged coastlines, pristine waterways, alpine meadows to unique botanicals. Since becoming Vancouver's First Micro-Distillery, in 2013, they have been passionately devoted to the fine art of copper pot distilling small-batch spirits. Using noteworthy botanical blends, their spirits speak for themselves. They want you to think of Long Table as a place where kindred spirits meet and to share in the love of their craft – Genuine Canadian Spirits made with the finest Ingredients. Handmade with care.