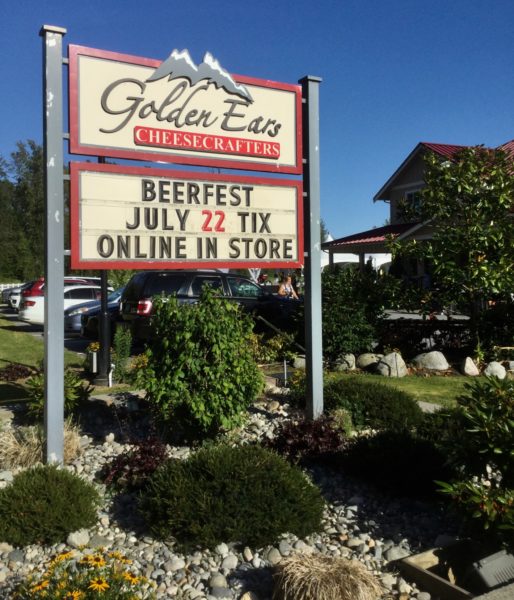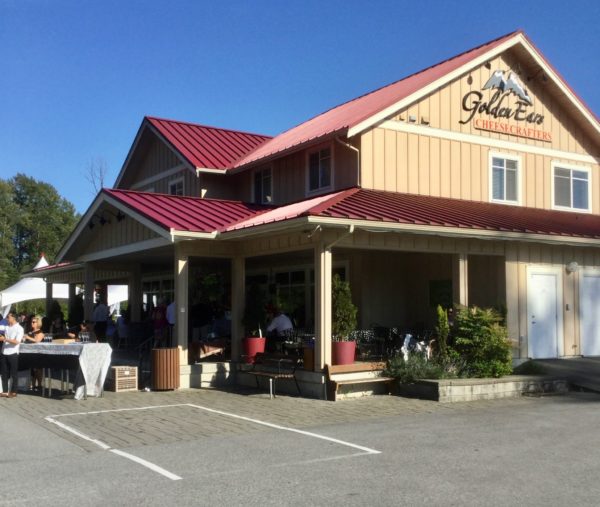 I always enjoy a drive in the country and when you combine that with great food and wine, it is just about perfect.  Golden Ears Cheesecrafters are an award-winning cheese producer in Maple Ridge. Because their cheeses are so highly respected, you'll find them at better restaurants and hotels throughout Greater Vancouver.  Their Long Table Dinner has become a symbiotic relationship, with noted Executive Chefs happy to support this culinary event, which serves as a fundraiser for Ridge Meadows Hospital always manages to raise several thousand dollars for the foundation.
Each year, they change things up a bit with different chefs, menus and wine programs.  What doesn't change though, is the quality, beautiful setting and excellent service.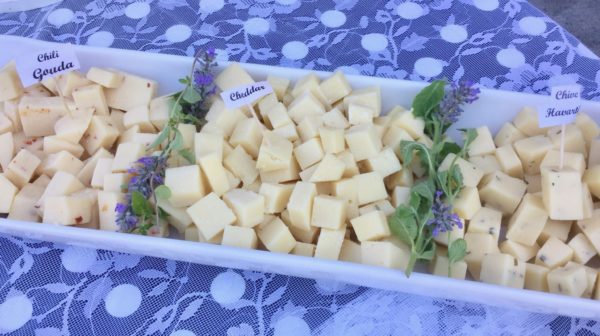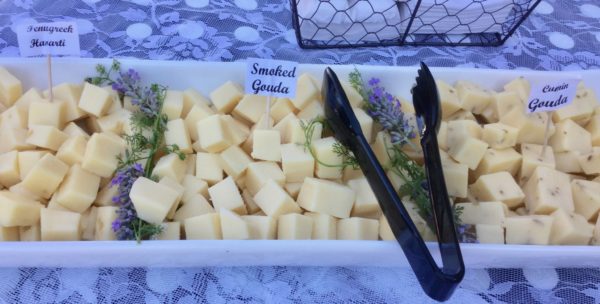 We arrived and were greeted with a glass of Lang's Rosé Bubble and offered a selection of handcrafted Golden Ears artisan cheeses.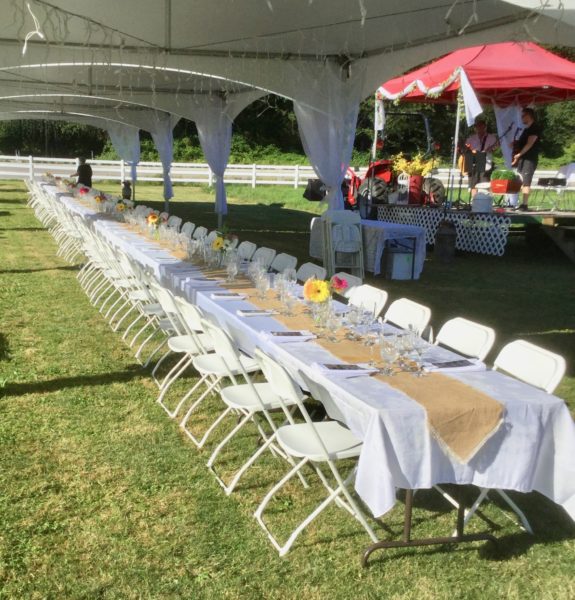 After some time to relax and socialize we were called to our seats which were all assigned.  People wanting to sit with friends, reserve in blocks while others always enjoy meeting new people every year.  Yes, there are many 'regulars' who always book their tickets as soon as they become available.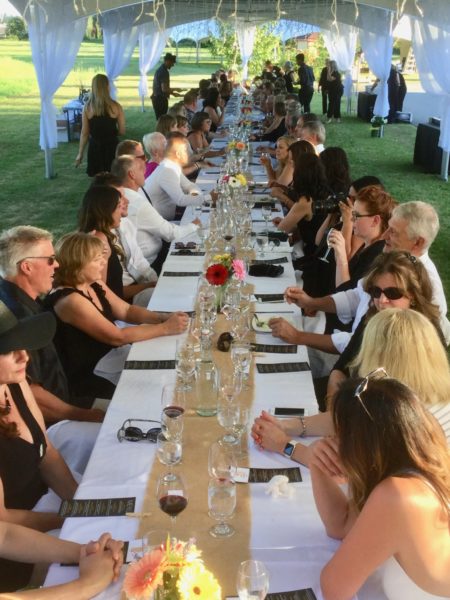 This year, Jennifer Petrichenko from KIS Consulting, was on hand to select wines from their portfolio for the dinner.
Executive Chefs, and their crews, included:
Sean Murray                Pan Pacific Hotel
Harold Lemos              Rosewood at the Hotel Georgia
Jean-Jaques Kabuya   Salt n Sear Catering
Mike Mulcahy              Big Feast Bistro (Maple Ridge)
Karan Suri                   Fairmont Waterfront
The focus throughout was on fresh and local.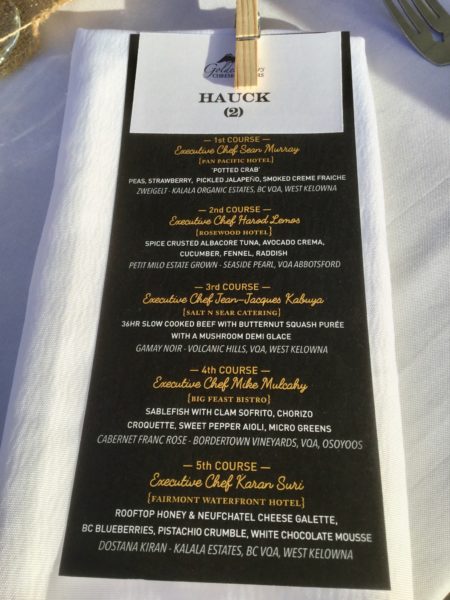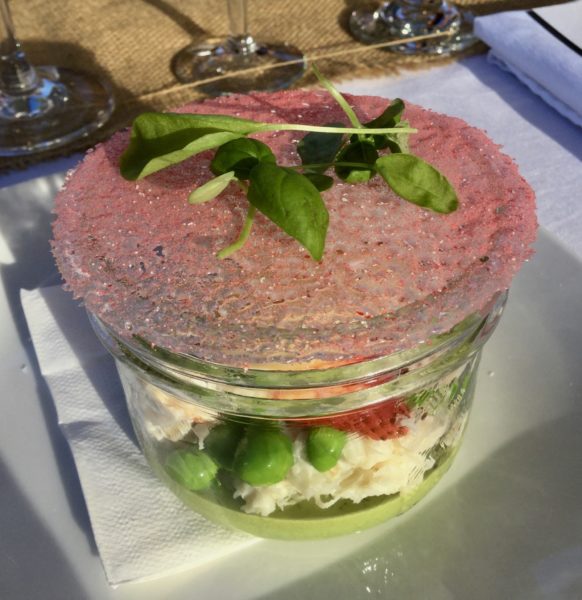 Our first course was so colourful and pretty, it was almost a shame to put a spoon to it. Almost.  Sean Murray from the Pan Pacific Hotel gets the credit for the Potted Crab with peas, strawberry, pickled jalapeño and smoked crème fraiche.
Interestingly, this was paired with a red wine, Kalala's Zweigelt.
"Aromas of cassis and black cherry. On the palate, the wine is juicy and bright with a nice black cherry and cassis flavour, mixed with a dusty earthiness. Restrained, powdery tannins. A perfect counter to the richness and fat of many grilled foods." *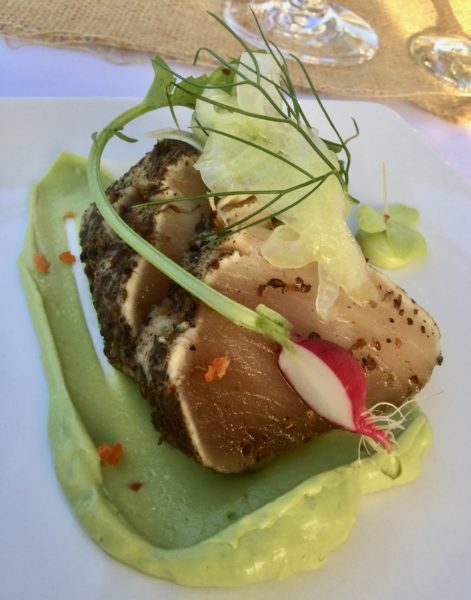 Next up was Spice Crusted Albacore Tuna with avocado crema, cucumber, fennel and radish.  Harod Lemos from the Rosewood Hotel Georgia knows how to prepare tuna to perfection.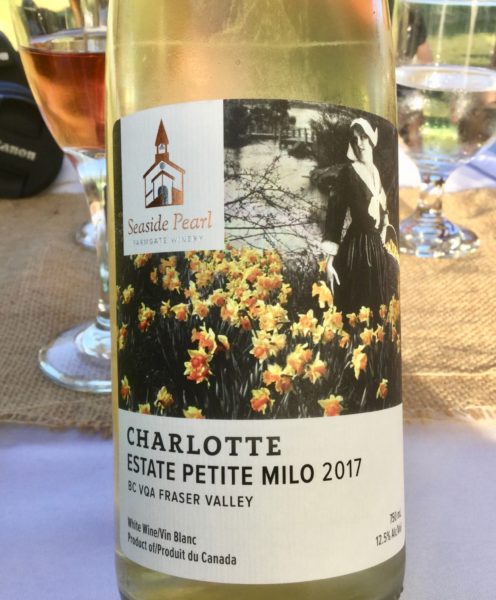 Abbotsford's Seaside Pearl Petit Milo white wine provided a good match for this dish.
"Charlotte Petit Milo is clean and elegant with honey and citrus notes on the palette, finishing with tropical aromas of guava and pineapple. This is a well-balanced wine that pairs perfectly with spicy foods, sushi and rich seafood."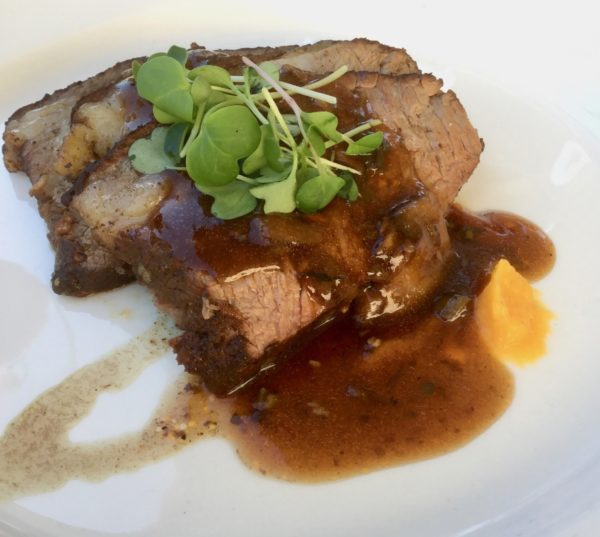 36 – hour Slow Cooked Beef, butternut squash purée and mushroom demi-glace made up our third course, thanks to Jean-Jacques Kabuya from Salt 'n' Sear Catering.  With the mushroom demi-glace, many people would have opted for a Pinot Noir, but Jenn chose Volcanic Hills 2017 Gamay Noir, which paired perfectly, complimenting all the ingredients in the dish.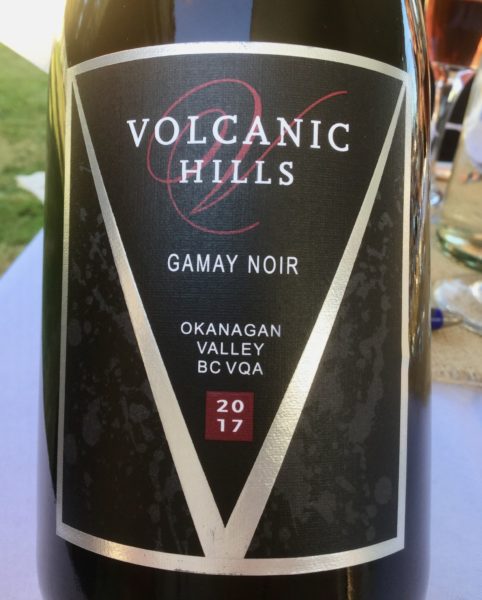 "Ruby red in colour with aromas and flavours of cherry, plum, hints of soft spice, pepper and a touch of oak. Light bodied with 14 months in French and American oak, soft tannins with medium acidity – the finish is fresh and bright. Try it slightly chilled! Serve at 14 – 16⁰C "
Our fourth course featured local chef Mike Mulcahy from Big Feast Bistro, which I can attest is well worth visiting.   His dish was Sablefish with clam sofrito, chorizo croquette, sweet pepper ailoli and micro greens.
Bordertown's 2017 Cabernet Franc Rosé was served with this dish.  I am a big fan of BC rosés and this one proves how versatile they can be.
"Bordertown is blessed with premier plantings of Cabernet Franc, and we have diverted some of these to the production of a classic French Provence style rosé. Starting with a light pink colour, the aromas are of ripe melon and strawberries. These are followed through on the palate with bright citrus, luscious red fruits and watermelon. The profile is subtle and harmonious, and it is supported by a crisp dry backbone. This is a delicious rose that's at home with summertime BBQ and as a delightful sipper on a back patio."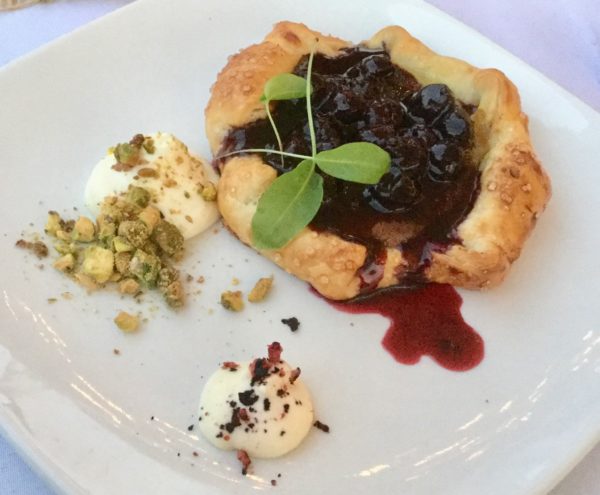 Our dessert was made by Karan Suri of the Fairmont Waterfront Hotel and featured rooftop honey & Neufchatel cheese Galette, BC blueberries, pistachio crumble and white chocolate mousse.  Just the perfect, light bite to cap the evening.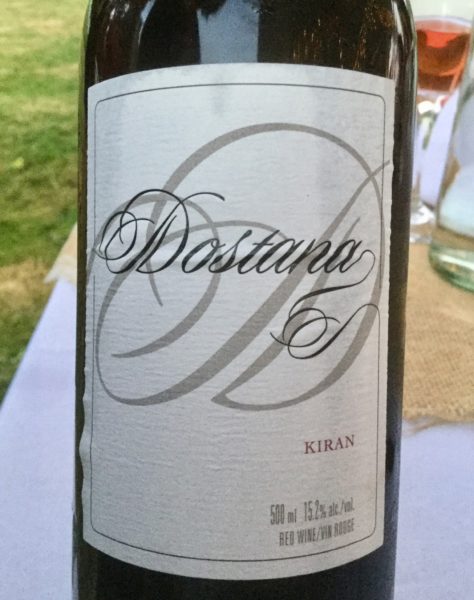 The final wine, perhaps the most interesting, and new to most people was Dostana Kiran, again from Kalala.
"This Madeira style wine displays aromas of caramel, hazelnut, dried fig and brown sugar. On the palate, the wine is sweet with flavours of roasted nuts, caramel and vanilla. Enjoy this wine with delicate or strong cheeses or with nuts and baked goods.  All of the wines were second and third pressed individual ice wines, left in barrels in the sun for three years to age. The unique taste comes from the heating of the wine. It is very robust and will keep for years to come, even centuries. Once a bottle is opened, you can take your time and slowly sip on this wine without having to worry."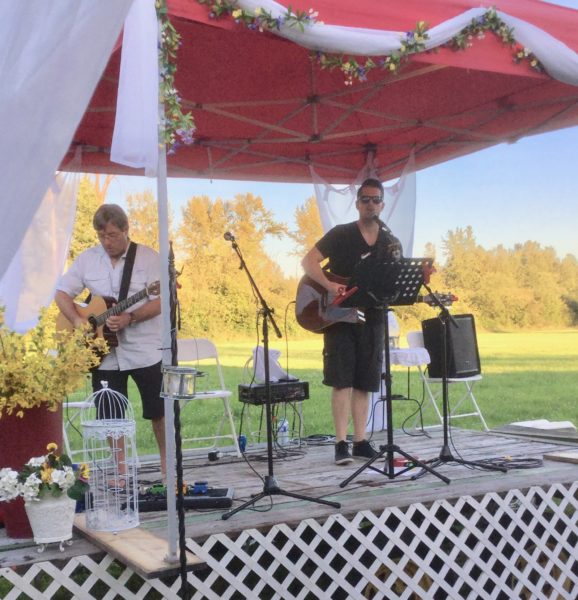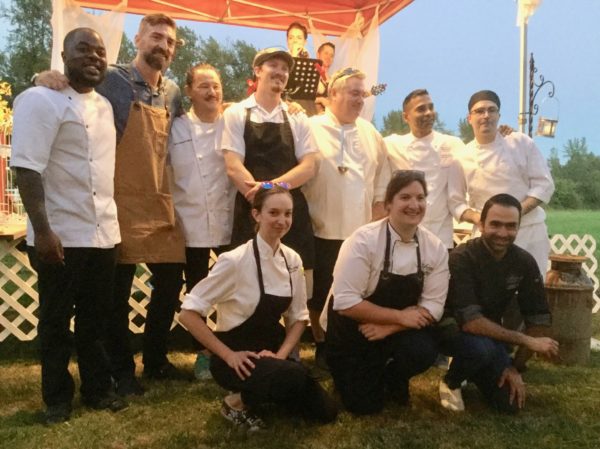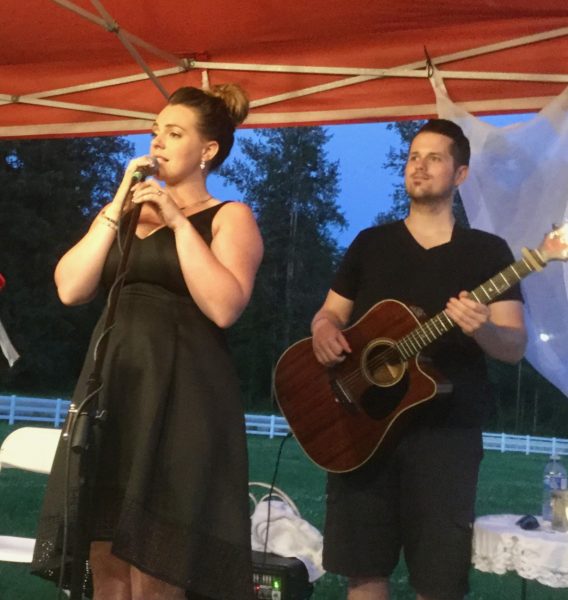 You've missed this year's dinner, but if you find yourself out in the valley, stop by Golden Ears Cheesecrafters at 22270 128th Avenue, Maple Ridge, to pick up a selection of their delectable offerings and ask to be put on the mailing list for next year's event.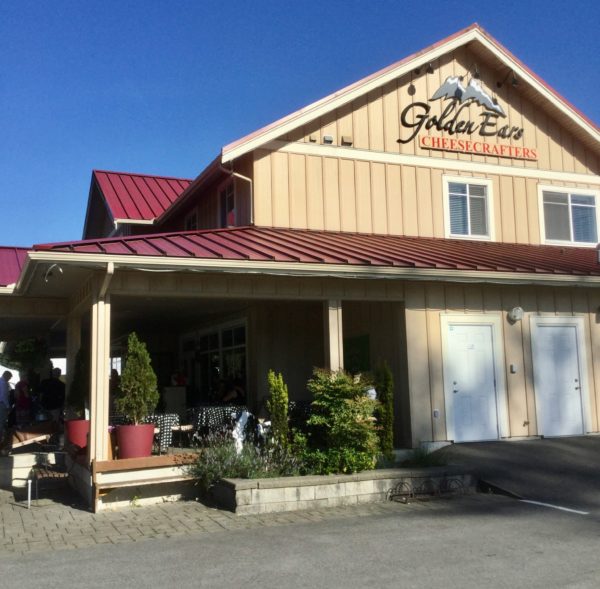 Thanks to Emma and Jenna Davison for allowing me to be a part of this memorable event.
* All wine descriptions are courtesy of the wineries.
(All photos – Sam Hauck)