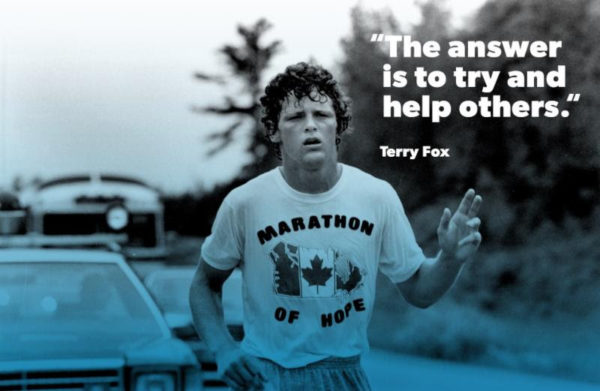 For the 38th consecutive year, Four Seasons Hotels and Resorts proudly continues its role as a founding sponsor of the annual 
Terry Fox Runs
, which supports the legacy of Terry Fox worldwide, aiming to raise awareness as well as funds for cancer research. The enthusiastic team from Four Seasons Hotel Vancouver is thrilled to stage the yearly Terry Fox Run in Vancouver which will see hundreds of like-minded runners take on the 10km Stanley Park seawall route to pay tribute to a beloved Canadian hero.
At age 21, a determined Terry Fox launched the Marathon of Hope in the spring and summer of 1980, running 26 miles a day to raise awareness for the cancer that took his leg two years earlier. Terry's determination inspired a nation to get behind the young athlete and 38 years later, Canada still runs for Terry Fox and his dream of defeating cancer. Four Seasons Hotel Vancouver invites locals and visitors alike to join in the race that has become an annual tradition for many.
More than 1,100 participants attended last year's event in Vancouver, raising over $150K to support cancer research, and the team is determined to do even better in 2018.
The friendly faces and upbeat tunes of KiSS Radio Hit Music and the new Sports Network AM650 will energize runners, while the athletes of Type A Athletics will lead the crowd through a warm-up, each generously donating their time and resources. Runners and their supporters, families and friends will be treated to a high-spirited morning that features the 10 km run, as well as a 3 km route geared toward bikes, wheelchairs, strollers, rollerblades and dogs on leash. Kids activities will be offered, along with a light breakfast from  
Four Seasons Hotel Vancouver
.
EVENT DETAILS: 
Registration: 8am
Run Start: 10am (10km); 10:15 (3km lost lagoon loop)
Event End: 12:00pm
Location: Ceperley Park, Stanley Park, Vancouver
Guest Speaker: Victor Ling, Founding President and Scientific Director of the Canada-wide Terry Fox Research InstituteTo register and donate prior to the event, click
here
.
The Marathon of Hope Continues
Four Seasons Hotels and Resorts is committed to advancing cancer research. Much of the Hotel's devotion to this important cause stems from Terry Fox's 1980 Marathon of Hope. Terry inspired Canadians to action before dying of lung cancer less than a year after striking out across Canada with the goal of raising one million dollars. To date, more than $700 million CDN has been raised worldwide for cancer research in Terry's name through the annual runs held coast-to-coast, and around the world. To learn more about Terry's courageous story, and how individuals and organizations can support cancer research, visit
http://www.terryfox.org
.
About Four Seasons Hotel Vancouver: 
As the world's leading operator of luxury hotels, Four Seasons Hotels and Resorts currently manage 111 properties in 46 countries.Open since 1976, Four Seasons Hotel Vancouver provides a preferred address for both business and leisure travelers, and the highly personalized, anticipatory service that Four Seasons guests expect and value around the world.Recent awards and honours include Condé Nast Gold List and Food & Wines World's Best Places to Eat.Information on the company and on Four Seasons Hotel Vancouver can be accessed through the Four Seasons website at 
www.fourseasons.com
.