Marion Bridge represents many things: it is a bridge, a structure joining two sides of Cape Breton land, a mention in a well-known song by Allister MacGillivray and a place of dreams and memories for our cast. In this powerful play by Daniel McIvor, it is a symbol of all that might have been good in the past, an illusion of escape and happiness, a childhood picnic at the beach, a family that travelled together but in reality were all in their own space, separated, oblivious to the needs of the others.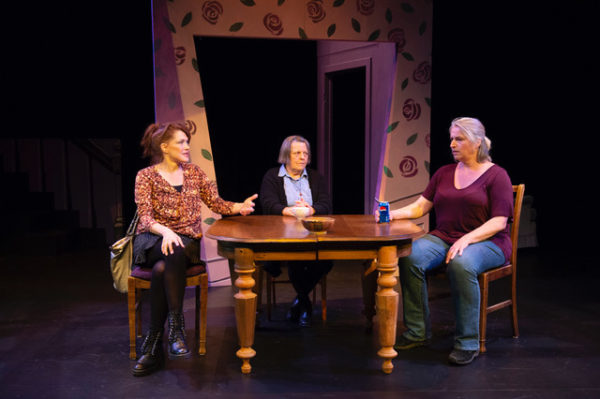 Three powerful cast members, Nicola Cavendish, Lynda Boyd, and Beatrice Zeilinger portray sisters who are dealing with the last stages of their mother's illness. Two have returned from away, Agnes (Lynda), a failing, broke actress from Toronto and Theresa (Nicola), a nun who is questioning her faith, from a convent in New Brunswick. Louise (Beatrice), the "strange" one has remained at home with their mother and is addicted to television soap operas, especially Ryan's Cove.
Just as in Ryan's Cove, life, with all its twists and turns, ends up going nowhere. Driving along a road is used as an analogy for their separate journeys, "sometimes it is best not to have expected a destination, or know where you are going".
On a very simple stage, designed by Tiko Kerr, an ocean frames the kitchen table, with a living room recliner in the background facing the invisible TV, where Kara and Justin struggle in Ryan's Cove. Each of the sisters eventually, surreptitiously, steals a few moments in the recliner that gives them a reprieve from their troubled reality. Also, in the background, the stairs up to their mother's room.
Each one in turn, at the kitchen table, reveals their deep, unresolved issues, and finally, with the mother's death, move to an understanding of each other, that eluded them before. Appropriately they finish with a picnic at Marion Bridge.
Marion Bridge is directed by Roy Surette, and Rick Rinder is the Stage Manager. Michael K. Hewitt is the lighting designer and moves this play effectively from dusk to light and darkness as each character moves in and out.
This play is excellent in every way, the acting superb, and the intimate Kay Meek Studio Theatre allows the viewer to be a part of the dialogue going on between the sisters. You will laugh at their foibles, mourn with them and empathize with their solitary existence. Each character is affected by the mother's death but moves to being a caring sister afterwards.
Seldom will you see such an amazing cast in as moving a play.  I highly recommend you will all go see Marion Bridge at the Kay Meek Studio Theatre appearing until September 20, 2018.