"Marion Bridge" at Kay Meek Arts Studio Theatre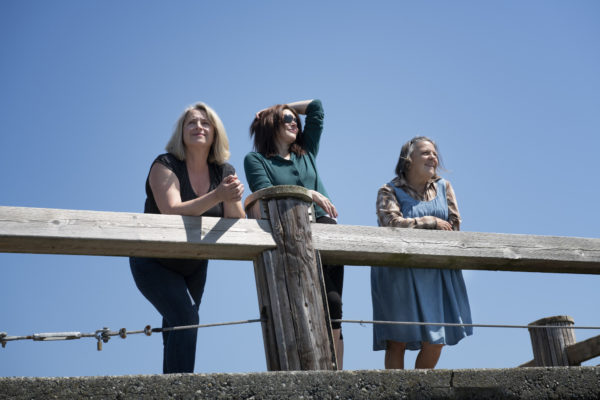 Leo Tolstoy's oft-quoted line from Anna Karenina "Happy families are all alike; every unhappy family is unhappy in its own way" applies with bracing verisimilitude to Daniel MacIvor's celebrated play Marion Bridge.
When three estranged sisters (Agnes, Theresa and Louise) make the trip home to Cape Breton to care for their dying mother, their shared past resurfaces in all of its tangled intricacy. Eldest sister Agnes (Lynda Boyd), battling addiction and failed ambition, is forced to revisit her most agonizing decision. Middle sister Theresa (Nicola Cavendish), a longtime caregiver to their mother is questioning her Catholic faith, while Louise (Beatrice Zeilinger), the youngest of the trio, is struggling towards independence. In the kitchen of the family home, the women circle their respective pain and grief, confront the ghosts of the past, and struggle towards some hope for the future.
Under the direction of Roy Surette, and featuring the extraordinary Nicola Cavendish, Lynda Boyd and Beatrice Zeilinger, this new production brings MacIvor's searing dialogue to life with delicacy and bone-deep honesty. Nominated for the Governor General's Award and adapted for the screen, Marion Bridge is filled with hard-won humanism, flinty humour and a resounding belief in the power of connection.
On the 20th Anniversary of MacIvor's classic Canadian drama, the Kay Meek Arts Centre with Wing & Prayer Productions is extremely happy to present this extraordinary work.
B A C K G R O U N D N O T E S
Playwright Daniel MacIvor was born in Cape Breton, Nova Scotia, and has written almost 20 productions in 20 years and has 15 publications to his name. His plays include See Bob Run, Wild Abandon, The Soldier Dreams, You Are Here, How It Works, His Greatness, and A Beautiful View, and with longtime collaborator Daniel Brooks he created the solo performances House, Here Lies Henry, Monster and Cul-de-sac. His play Marion Bridge received its Off-Broadway premiere in New York in October 2005, and his play Never Swim Alone won the 1998 New York Fringe's Overall Excellence Award. In 2002 he won a GIAAD Award and a Village Voice Obie Award for his play In On It (PS 122). MacIvor also has two Chalmers New Play Awards to his credit, and his collection of five plays called I Still Love You won the 2006 Governor General's Award for Drama. MacIvor is also a screenwriter and filmmaker (House, Wilby Wonderful, Marion Bridge, Past Perfect, Whole New Thing), and from 1987-2007 he was Artistic Director of the international theatre touring company da da kamera.
Director Roy Surette was Touchstone's Artistic Director from 1984 to 1997. He returned to Touchstone Theatre last year, after twenty years: ten where he enjoyed island living as Artistic Director for the beautiful Belfry Theatre in Victoria and ten at the helm of Montreal's esteemed Centaur Theatre in Montreal where he was Artistic & Executive Director. Kay Meek audiences may have seen his work directing Nicola Cavendish in The Goodnight Bird by Colleen Murphy, one of more than a dozen projects he and Miss Cavendish have done together, among the first being Shirley Valentine in 1990. Roy directed Lynda at Touchstone in 1986 in Farther West by John Murrell and Beatrice in The Number 14 in 1992. He has worked with stage manager Rick Rinder many times and at many theatres and with set designer Tiko Kerr on Boy Wonder for Ballet BC in 1997. He is tickled about working on this beautiful play about a special reunion.
Nicola Cavendish (Cast – Theresa) was born in Cirencester, Gloucestershire County, England, November 11, 1952, raised in rural British Columbia. She lives in North Vancouver, and has worked in major theatres across the country. Among her credits are performances in the world premiere of Sharon Pollock's The Komagata Maru Incident at the Shaw Festival. She also performed in the Festival's The Millionairess, Pygmalion,Cyrano de Bergerac, Present Laughter and Camille. Her best-known role has been that of Shirley Valentine, in hundreds of performances across Canada in the one-hander, most recently at Theatre Calgary (2012). Of her performance, critic Bob Clarke writes: "Transformation in the theatre can be utter magic. But in the case of Nicola Cavendish as the title character in Willy Russell's famous 1986 comic monologue of a play…the transformation is so completely captivating from start to finish, that watching her becomes a matter of sheer exhilaration, too: a hugely funny, touching treat" (Calgary Herald 3 Mar 2012). She has played on Broadway in Blithe Spirit (directed by Brian Bedford), and in 1999, in Denise Filitrault's Canadian Stage production of Michel Tremblay's Les Belles-soeurs.  Nicola Cavendish has a huge range, from the neo-classical ladies to the sturdy mother she played so well in the English-language premiere of Tremblay's Encore une fois, so vous le permettez /For the Pleasure of Seeing her Again at Centaur Theatre. She subsequently toured across Canada with the play, and won the Montreal English Critics Circle Award for her performance. She performed the work in Washington DC, at the Arena Stage in the autumn of 2000. In 2014, she returned to the Arts Club Theatre at the Stanley Industrial Alliance Stage in the comic role of the 91-year-old grandmother in 4000 Miles (dir. Roy Surette). Her play It's Snowing on Saltspring is an annual Christmas favourite and has played often at the Arts Club Theatre.
Lynda Boyd (Cast – Agnes) is an award winning actor/singer with an extensive background in theatre, music, film and television. Most memorable roles include starring opposite Diane Keaton in the Lifetime movie On Thin Ice, Leslie Neilsen in a remake of the movie classic Harvey; Lucas Black in Fast & Furious 3: Tokyo Drift (both for Universal); with Owen Wilson in I Spy (Columbia Tristar), Amanda Bynes in She's The Man (Dreamworks), Jennifer Lopez in An Unfinished Life (Miramax) and as Blake Lively's bff in The Age of Adeline. Lynda starred as 'Rose Doyle' in CBC's hit series Republic of Doyle for six seasons for which she garnered her third Canadian Screen award nomination. Tin Star for UK's Sky Atlantic is her current series project, where she's starring alongside Tim Roth and Christina Hendricks.
Beatrice Zeilinger (Cast – Louise) Beatrice is delighted to be working with such an amazing and talented group of artists in this celebratory production of Marion Bridge. Since graduating from Studio 58 three decades ago she has toured North America, in particular with the award winning The Number 14 (original cast/co-creator) and worked with many local theatre companies.  Most recently she was seen in the Arts Club's touring production of Mom's The Word: Nest ½ Empty.  She is the recipient of three Jessie Richardson awards. She also works in film and television – most recently in The Good Doctor. Upcoming is the Ruby Slippers production of Les Belles-Soeurs at the Richmond Gateway.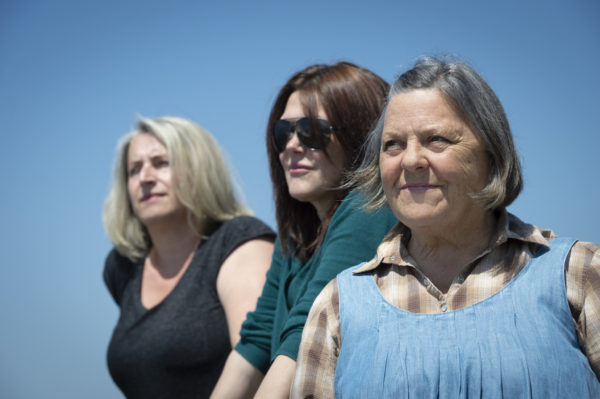 The Kay Meek Arts Centre offers world-class arts experiences and opportunities for the communities of the North Shore, and is central to its vibrant cultural fabric. Presenting more than 300 performances, to over 60,000 people every year the venue provides a space for artistic excellence for professional artists, youth and community groups.
Perhaps it's fitting that in a community where so many successful entrepreneurs make their home, this performing arts centre is very much the product of one person's vision, passion and financial generosity. Mrs. Kay Meek made this building come alive.
Born in England, Kay spent most of her life in West Vancouver. A long time supporter of Lower Mainland arts organizations, Kay had a goal to see a learning-based, performing arts centre built in the community she loved. She wanted to do it, as she said many times, "for the children."
In 1998, a trust was established and funded by Kay Meek with an initial donation of $1 million to search for a possible location. Things began to move ahead in 2000 when the West Vancouver School District proposed that the new arts centre be built beside West Vancouver Secondary School. In 2002, a Joint Use Agreement was signed between the West Vancouver School District and the West Vancouver Arts Centre Trust, which oversees the Centre's operations.
Meek often commented that the construction of the theatre was what kept her going. Kay Meek died in 2004 on the day of the first public performance at the Centre that now bears her name. She was 98.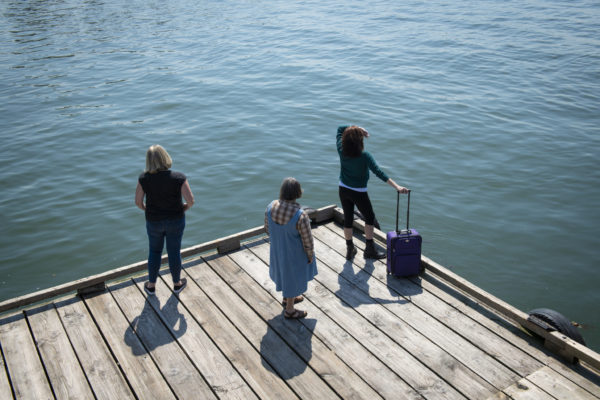 "Marion Bridge"
Dates: Sept. 6th – 20th, 2018 Time: 7:30 pm (No performances Mondays)
Preview: Wed., Sept. 5 @ 7:30pm / Opening: Thurs., Sept. 6 @ 7:30pm
Matinees: Saturday, Sept. 8th & 15th and Sunday, Sept. 9th & 16th, Time: 2:30pm
Venue: Kay Meek Studio Theatre, 1700 Mathers Ave., West Vancouver
Admission: Adult $45; Senior $42.75; Students $15 Tickets: On Sale Now
 Box Office: 604-981-6335 | Monday – Friday 1pm-6pm Online: https://kaymeek.com
Playwright: Daniel MacIvor / Director: Roy Surette
Set Designer: Tiko Kerr / Scenic Painter: Tracy-Lynn Chernaske
Lighting Designer: Michael K. Hewitt / Stage Manager: Rick Rinder
Featuring: Nicola Cavendish, Lynda Boyd, Beatrice Zeilinger