The World's Largest Poutine Eating Competition Will Host Top-Ranked Pro and Amateur Eaters, plus a CEO Charity Challenge with 25 High Profile Eaters 
PLAID NATION Fans from around the world will once again make the trip to Toronto's Yonge-Dundas Square to experience the 9th Annual Smoke's Poutinerie World Poutine Eating Championship (#WPEC2018). This epically jam-packed Poutine ROCK N' ROLL STAGE SHOW is not only the source of 100% SMOKE-IFIED Entertainment, but also promises to satisfy all WEIRD, WILD + WACKY cravings on October 13th, 2018 from 10am – 4pm.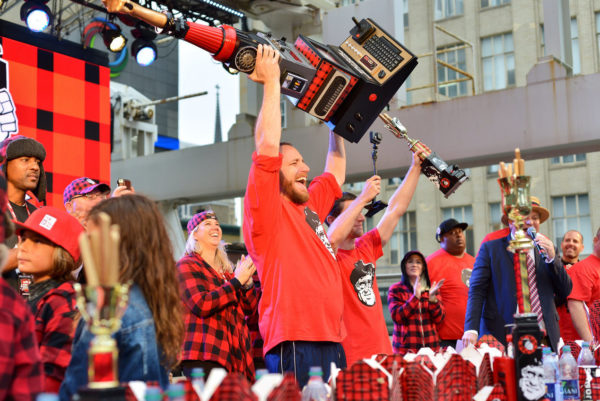 WPEC is the LARGEST Poutine Eating Competition and 2nd largest Professional Eating Competition in the world, sanctioned by Major League Eating (MLE). The event will feature THREE gravy-fueled eating competitions! Major League Eaters from all over the world will take part in the Professional Eat-Off, aspiring eaters from the Official Regional Qualifier Competitions held across Canada will join the Amateur Eat-Off, and an impressive assembly of 25 high profile food service industry CEO's will devour endless boxes of Fries, Curd & Gravy in the CEO Charity Eat-Off.
The CEO Charity Eat-Off has raised over $100,000 in charitable donations to benefit the brand's national charity partner, Friends of We Care. Donations this year are heavily dependent on the generous top business leaders from food, entertainment, and even cannabis industries. Over 25 executives will bring their own form of entertainment and raise even more cash for Friends of We Care! Additional fundraising on-site will be raised through donations at the two competing Smoke's Poutinerie food trucks, the Friends of We Care S'mores Station and donation boxes located throughout the square.
"#WPEC2018 will be a battle of EPIC proportions!" says Ryan Smolkin, CEO (Chief Entertainment Officer) of Smoke's Poutinerie and the creative mastermind behind WPEC. "We're stoked to pull our crazy Gravy Train into Yonge-Dundas Square, with all of our event partners & sponsors onboard! Together, we'll be serving up more than Fries, Curd & Gravy…it's all about the ENTERTAINMENT!"
The world's #1-ranked professional eater, Joey "Jaws" Chestnut of San Jose, California, currently holds the ULTIMATE Poutine Eating World Record of 25.5 pounds eaten in 10 minutes, set in 2016. Chestnut returns to WPEC in 2018 to defend his title and will attempt to break his own record, and for the first time in WPEC history he will compete against the top female eater in the world and #7-ranked overall, Miki Sudo from Las Vegas, NV.
Smoke's Poutinerie is proud to announce that WPEC has also launched the careers of professional eaters through its Amateur Eat-Off, such as Jesse Kankula and Darrien Thomas. Last year, #36-ranked Thomas from Orillia, ON was crowned 2017 WPEC Amateur Champion, and he will now be battling for the EPIC Pro Championship title.
Other top Major League Eating athletes will include #5-ranked Darron Breeden from Orange, VA, #9-ranked Michelle Lesco from Tucson, AZ, #18-ranked George Chiger from Pocono Pines, PA, #19-ranked Derek Jacobs from Vandalia, OH, #23-ranked Eric "Badlands" Booker from Selden, NY, #26-ranked "Buffalo" Jim Reeves from Boston, NY and #39-ranked William "Wild Bill" Myers from Allentown, PA.
"This competition will require a combination of jaw strength, hand speed and stomach capacity," says Sam Barclay, emcee of Major League Eating. "The finest eaters in the world will gather in Toronto to prove their skill in pursuit of the Smoke's Poutinerie World Poutine Eating Championship title."
There will be no shortage of lumberjack plaid and 80's glam rock tunes as the amps are turned up to eleven!  Q107's Johnny 'Flairboy' Garbutt, will bring the entertainment as the official event emcee, and KISS cover band Destroyer will ROCK the square with LIVE music!  Fans can also indulge in FREE POUTINE, FREE samples of Tennent's Lager and Magners Irish Cider, Monster Energy's Get Gronked Nerf Football Activation & sampling, mini gaming tournaments from Activision with the release of the next installment in the Call of Duty franchise – Call of Duty: Black Ops 4, Smoke's Lego Cabin with Creative Club and much more!
To learn more about Smoke's Poutinerie and #WPEC2018, please visit www.smokespoutinerie.com
About Smoke's Poutinerie
Founded in 2009 by creative genius Ryan Smolkin, Smoke's Poutinerie is the World's Largest & Original Poutinerie. Notorious for its signature lumberjack plaid, 80's glam rock music and Canadiana culture, Smoke's Poutinerie serves over 30 varieties of its famous Poutine. With 150-plus locations throughout Canada and the United States, the brand is on course for "GLOBAL DOMINATION!"
For more information about available franchise opportunities, contact Mike Graham, Vice President of Franchise Development, at mike@nullsmokespoutinerie.com or call (905) 427-4444, ext. 205.
About Major League Eating
Major League Eating (MLE), the world governing body of all stomach-centric sports, conducts more than 80 events annually, including the Nathan's Famous Fourth of July International Hot Dog-Eating Contest in Coney Island, N.Y. The competitive eating community is made up of more than 8,000 veteran and rookie gurgitators who travel the nation in search of top titles and the glory that they provide. For more information, visit www.IFOCE.com, www.facebook.com/eatfast or twitter @eatingcontest.